September prep
September has historically been one of the stock market's weakest months
It's been up more in recent years, but large losses have been more common
Market on longest monthly win streak since 2017
The plentiful red bars on the following chart are a reminder of one of the realities of the rapidly approaching fall season: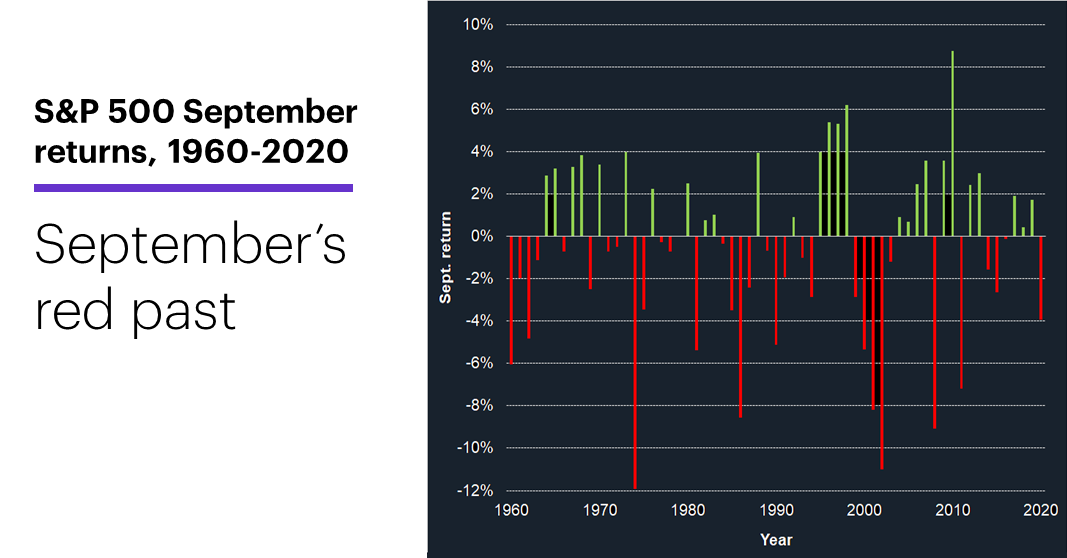 Source: Power E*TRADE (For illustrative purposes. Not a recommendation.)
---
Over the past 61 years, September has, hands down, been the weakest month for the S&P 500 (SPX)—the only one with a negative average return (-0.6%) and the only one to decline more often than it rallied (27 up vs. 34 down).1
If you look closely, though, you'll see that the first 30 years or so were responsible for one aspect of that negativity: The SPX lost ground in a whopping 65% of Septembers between 1960 and 1990—but many of these were relatively small (less than -2%) setbacks. Since then, September has been up more often than it's been down (16 times vs. 14 times).
Unfortunately, that was still the lowest winning percentage (53%) of any month of the year.
Similarly, the most recent 20 years have seen even a slightly higher percentage of positive Septembers—55% (11 up vs. nine down), a rate that was tied for second-to-last place with three other months. Also, September's average return during this stretch was -0.8%—dead last in the rankings, thanks to handful of big losses (2001, 2002, 2008, and 2011). In other words, September has been a loser less often in recent decades, but when it did fall, it tended to do so more sharply: Since 2000, it's had five losses of -5% or more, which was twice the rate of the previous 41 years. Last September's -3.9% loss—the worst month for the market since March 2020—was actually a little smaller than the average losing September (-4.2%) over the past 30 years.
These numbers aren't great, but they aren't reason for investors to panic and traders to operate exclusively from the short side over the next four weeks. They are, however, a good reminder to focus on risk management and be prepared for any curveballs the markets may throw your way.
Market Mover Update: By the way, the SPX notched its seventh-straight up month in August—its longest streak since 2017. It was also the SPX's best January–August return since 1997, and its sixth-best since 1960. August was also the ninth-consecutive month the SPX hit either a higher monthly close or high, another milestone with possible implications for September (see "Living with the 'T' word").
Today's numbers include (all times ET): Challenger Job-Cut Report (7:30 a.m.), International Trade in Goods and Services (8:30 a.m.), Weekly jobless claims (8:30 a.m.), Productivity and Costs (8:30 a.m.), Factory Orders (10 a.m.).
Today's earnings include: Broadcom (AVGO), Hewlett Packard Enterprise (HPE), DocuSign (DOCU), MongoDB (MDB), Ooma (OOMA), PagerDuty (PD).
Click here to log on to your account or learn more about E*TRADE's trading platforms, or follow the Company on Twitter, @ETRADE, for useful trading and investing insights
---
1 All figures based on S&P 500 (SPX) monthly closing prices, December 1959–December 2020. Supporting document available upon request.
What to read next...
09/01/21
Using options to take advantage of potential price breakouts may sound easy, but there's a big catch.
---
08/31/21
Using options to take advantage of potential price breakouts may sound easy, but there's a big catch.
---
08/30/21
Stocks will seek to build on late-week bounce after renewed taper talk and ongoing delta uncertainty tripped up market.Market walks the walk as Fed talks the talk
---