September market prep
September has been, historically, the weakest month for stocks
Month has been weaker when market is negative YTD through Aug.
Average returns over past 30 years have been less bearish, though
Traders and investors may be mostly focused on this week's key economic releases, but they shouldn't forget they're also about to enter one of the traditionally rockier stretches of the stock-market calendar.
A reason to panic? Absolutely not, but a reason to pay attention—for more reasons than one.
Between 1960 and 1991, September was a down month for the S&P 500 (SPX) almost twice as often as it was an up month (11 times vs. 20), and it also had the worst median return (-0.7%) of any month of the year. Also, the SPX has fallen 5% or more in September 10 times since 1960, but rallied 5% or more only four times: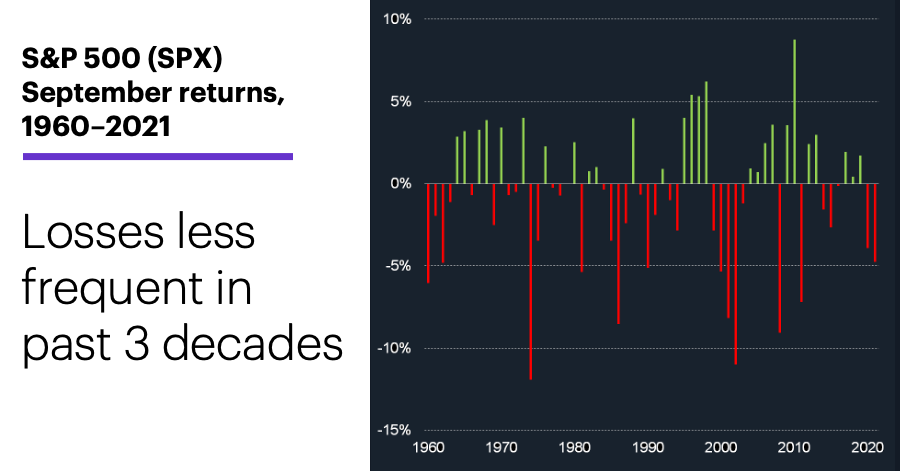 Source (data): Power E*TRADE. (For illustrative purposes. Not a recommendation.)
---
Over the past 30 years, though, the SPX has lost ground in September less frequently: It's been up 16 times and down 14, although that 53.3% winning percentage was still the lowest of any month. Also, September's 0.6% median return during this period was only the 10th weakest, although its -0.3% average return still ranked last, dragged down by some exceptionally large losses in 2001, 2002, 2008, and 2011. In fact, four of the six weakest Septembers of the past 62 years have occurred since 2001.
The stock market's typical performance throughout September has shifted over time, too. The following chart compares the SPX's intramonth path for two periods, 1962–1991 (red line) and 1992–2021 (blue line):1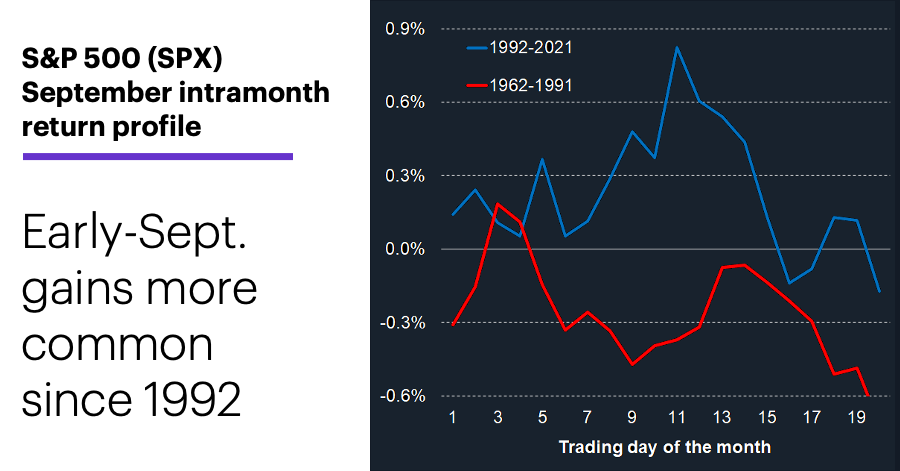 Source (data): Power E*TRADE. (For illustrative purposes. Not a recommendation.)
---
While from 1962–1991 the market tended to lose ground in two major downswings separated by a mid-month bounce, from 1992–2021 the SPX was more likely to be bullish in the first half of the month and bearish in the second half.
Down Septembers have also been more common when the market had a negative year-to-date return through August. Since 1960, the SPX has been up through August 42 times and down 21 times, including this year. In the up years, September was positive 21 times and negative 21 times. But when the SPX was down through August, September was a negative month 13 out of 20 years (65% of the time).
Overall, although September has been slightly less bearish over the past three decades, it hardly transformed into the type of month that bulls looked forward to. Its historical record of volatility argues for patience on the part of long-term investors and discipline on the part of traders—an idea that may carry extra weight in a year like this one.
Today's numbers include (all times ET): S&P Case-Shiller Home Price Index (9 a.m.), FHFA House Price Index (9 a.m.) Job Openings and Labor Turnover Survey, JOLTS (10 a.m.), Consumer Confidence (10 a.m.).
Today's earnings include: Ambarella (AMBA), Best Buy (BBY), Big Lots (BIG), PVH (PVH), ChargePoint (CHPT), Chewy (CHWY), Hewlett Packard Enterprise (HPE), HP (HPQ), CrowdStrike (CRWD).
Click here to log on to your account or learn more about E*TRADE's trading platforms, or follow the Company on Twitter, @ETRADE, for useful trading and investing insights.
---
1 All figures reflect S&P 500 (SPX) daily price data, 12/31/59–12/31/21. The September "intramonth path" represents the SPX's median percentage return from the last trading day of August to each of the next 20 trading days, calculated from 1960–2021. Supporting document upon request.
What to read next...
08/29/22
Despite another inflation downtick, stocks slip as traders react to perceived Fed hawkishness.
---
08/23/22
School is in session, and the S&P 500 started a new week with a pop quiz.
---
08/22/22
Stock market's streak of positive weeks halted at four.
---