Will jobs report shake up taper timeline?
Stocks post fourth up week out of past five despite Friday dip

Tech and small caps lead, oil and gold hit one-month highs
This week: Wholesale inflation, Fed Beige Book
The US stock market will kick off the first full week of September having set new records on two of the first three days of the month, but a jobs report shocker ended last week on an uncertain note.
In one of the bigger economic surprises in recent weeks, Friday's employment report showed the US added only 235,000 jobs in August—less than a third of what analysts had expected, and the weakest reading in seven months—as rising COVID cases appeared to trip up the travel and leisure industry.1
But after slipping to a three-day low early Friday, the S&P 500 (SPX) rallied to end the day with only a marginal loss, bagging its second-straight up week and fourth out of the past five: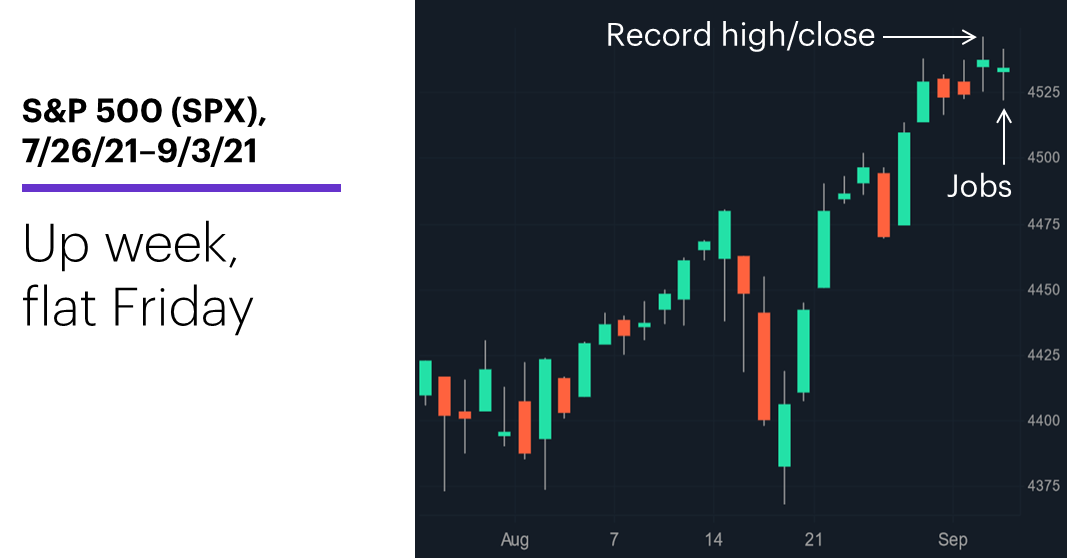 Source: Power E*TRADE. (For illustrative purposes. Not a recommendation.)
---
The headline: Stocks edge into September with more records despite jobs miss.
The fine print: Given Friday's flat initial response, it remains to be seen whether the market will interpret the latest jobs data negatively ("the economy is on shakier ground than previously thought"), or positively ("the economy is on shakier ground than previously thought, but that could delay tapering").

The number: 11, the number of months the S&P 500 (SPX) has now made a higher monthly high. Since 1960, the SPX has matched this run once and exceeded it only twice.
The scorecard: The Nasdaq 100 tech index led for the week and also jumped into first place for the year, while the small-cap Russell 2000 (RUT) climbed out of the year-to-date basement: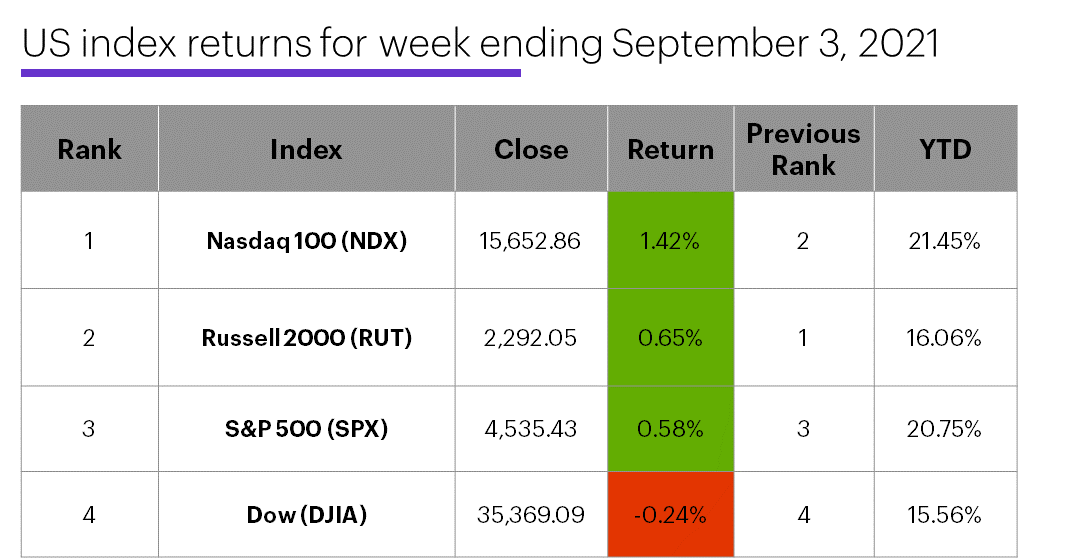 Source: Power E*TRADE. (For illustrative purposes. Not a recommendation.)
---
Sector roundup: The strongest S&P 500 sectors last week were real estate (+4%), utilities (+1.8%), and health care (+1.7%). The weakest sectors were financials (-2.3%), energy (-1.5%), and materials (-0.7%).
Highlight reel: Affirm (AFRM) +47% to $99.59 on Monday, Ambarella (AMBA) +27% to $131.96 on Wednesday. On the downside, Adtran (ADTN) -17% to $20.51 on Monday, Forte Biosciences (FBRX) -82% to $5.06 on Friday.
Futures action: Thanks to a big jump after Friday's jobs report, December gold (GCZ1) ended last week at a one-month high of $1,833.70/ounce. October WTI crude oil (CLV1) also pushed to its highest level in four weeks, tagging $70.61/barrel on Thursday before pulling back Friday to $69.29. Biggest up moves: September Ether (ETHU1) +21.5%, November lumber (LBSX1) +21.3%. Biggest down moves: November orange juice (OJX1) -6%, December corn (ZCZ1) -5.4%.
Coming this week
This week's numbers include:
●Wednesday: JOLTs (job openings), Beige Book, Consumer Credit
●Thursday: Weekly Jobless Claims
●Friday: Producer Price Index (PPI), Wholesale Inventories

Earnings this week include:
●Today: Casey's General Stores (CASY), Coupa Software (COUP), Smartsheet (SMAR), UiPath (PATH), RH (RH)
●Wednesday: Lululemon Athletica (LULU), National Beverage (FIZZ), GameStop (GME), Oracle  (ORCL), HealthEquity (HQY)
●Thursday: Dave & Buster's Entertainment (PLAY), Verint Systems (VRNT), Zscaler (ZS)
●Friday: Kroger (KR)
Check the Active Trader Commentary each morning for an updated list of earnings announcements, IPOs, economic reports, and other market events.
VIX check: The opposite of fear
The Cboe Volatility Index (VIX) is often referred to as the stock market's "fear gauge," but for most of 2021 it's only occasionally spiked to a level that registered much more than butterflies in the market's stomach.
On the other hand, the VIX has highlighted several instances when the market may have been feeling especially "fearless" as it pushed higher. The following chart shows 10 days this year (last Thursday was the most recent one) when the VIX closed higher the same day the SPX made a longer-term high:2
Source (data): Power E*TRADE. (For illustrative purposes. Not a recommendation.)
---
Because the VIX and the SPX tend to move in opposite directions (i.e., the VIX usually jumps when the SPX sells off, and vice versa), it's worth taking note when this pattern breaks down. Here's the quick take on what happened after these 10 SPX-VIX up days:
●In every case but one (August 24, the second to last arrow), the SPX closed lower the next day.
●Two of the signals (June 14 and August 16) immediately preceded three- to four-day pullbacks.
●The February 8 and April 26/29 signals occurred in the runups to the market's two biggest downturns of the year.
Trying to pick tops is a fool's errand—there's a reason short-selling stocks is so challenging—but as these examples suggest, knowing when the market may be feeling more anxious even while it's pushing to new highs can be potentially useful information.
Click here to log on to your account or learn more about E*TRADE's trading platforms, or follow the Company on Twitter, @ETRADE, for useful trading and investing insights.
---
1 Reuters. Soaring COVID-19 infections restrain U.S. job gains in August. 9/3/20.
2 The specific pattern consists of a day when 1) the Cboe Volatility Index (VIX) closes higher after closing lower the previous day, and 2) the S&P 500 (SPX) sets 50-day (or longer) intraday and closing high. Supporting document available upon request.
What to read next...
09/03/21
Fading a trend without reason often results in financial pain, but many traders and investors may be more contrarian than they realize.
---
09/02/21
No two ways about it, the ninth month of the year has not been friendly to bulls—but is its bearish reputation entirely deserved?
---
08/31/21
Using options to take advantage of potential price breakouts may sound easy, but there's a big catch.
---