Market tapers September losses
Market snaps back from Monday slide, stocks close green for the week
Oil bubbles to key level, long-term interest rates hit two-month high
This week: Debt-ceiling showdown, Fed inflation gauge, home prices
The US stock market has four days left to avoid a red September, but a sharp turnaround last week after its worst day in months helped it sidestep what would have been its first three-week losing streak in a year.
After tumbling nearly 3% intraday last Monday and closing lower Tuesday, the S&P 500 (SPX) charged higher the rest of the week, with most of its gains coming after the Federal Reserve appeared to solidify the timeline for scaling back its economic stimulus program: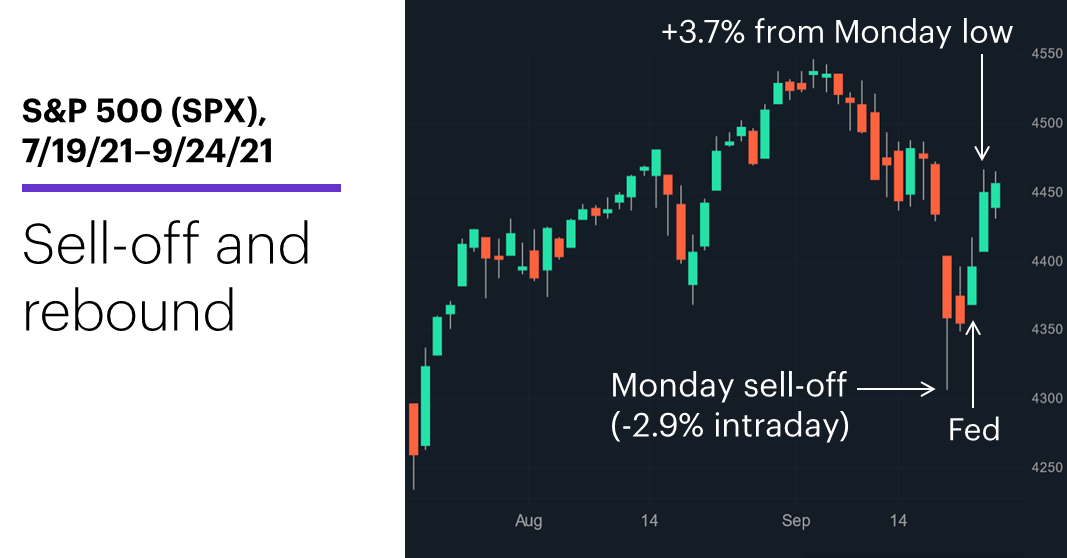 Source: Power E*TRADE. (For illustrative purposes. Not a recommendation.)
---
The headline: Stocks rebound even as Fed kicks off taper countdown.
The fine print: Monday's sell-off and Wednesday's FOMC announcement dominated the financial news cycle last week (Fed Chairman Jerome Powell said tapering may begin as soon as November and wrap up by the middle of next year1), temporarily overshadowing what could be a key storyline this week: The debt-ceiling debate and the risk of a US government shutdown and debt default.
The number: 9/30, as in Thursday, September 30—the deadline for Congress to pass a resolution to raise or suspend the debt ceiling.2 Treasury Secretary Janet Yellen has said the government will likely run out of money to pay its bills at some point in October.3
The scorecard: Unlike the SPX, the Nasdaq 100 (NDX) did suffer a third-straight down week, although it's still the year-to-date index leader: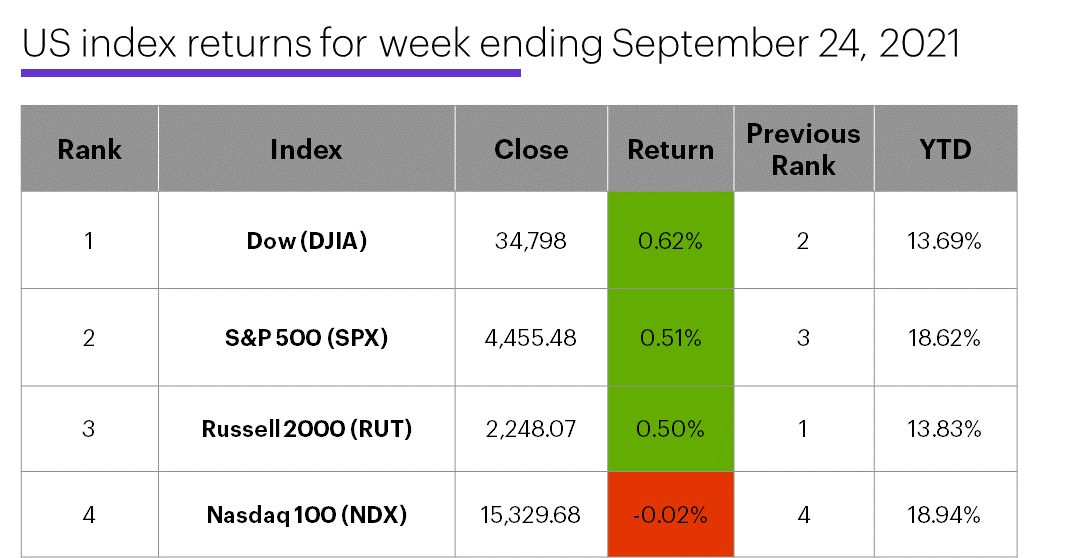 Source: Power E*TRADE. (For illustrative purposes. Not a recommendation.)
---
Sector roundup: The strongest S&P 500 sectors last week were energy (+5%), financials (+2.3%), and information technology (+1%). The weakest sectors were real estate (-1%), utilities (-0.9%), and communication services (-0.6%).
Highlight reel: Aterian (ATER) +29% to $16.72 and Dynavax Technologies (DVAX) +26% to $18.79, both on Wednesday. On the downside, BeyondSpring (BYSI) -33% to $15.36 and Protagonist Therapeutics (PTGX) -26% to $12.95, both on Monday.
Futures action: November WTI crude oil (CLX1) closed at a new contract high of $73.98/barrel on Friday, challenging resistance dating back to early July. It was another Thursday sell-off and another down week for December gold (GCZ1), which closed Friday at $1,751.70/ounce after trading as low as $1,737.50 on Thursday. Biggest up moves: December oats (ZOZ1) +6%, October platinum (PLV1) +5.3%. Biggest down moves: September ether (ETHU1) -15.4%, September bitcoin (BTCU1) -10.8%.
Coming this week
This week's crowded economic calendar includes the latest reading from the Fed's preferred inflation gauge (PCE Price Index) on Friday:
●Today: Durable Goods Orders (8:30 a.m. ET)
●Tuesday: Goods Trade Balance (advance), S&P/Case-Shiller Home Price, House Price Index, Consumer Confidence, Advance Wholesale and Retail Inventories
●Wednesday: Pending Home Sales
●Thursday: Q2 GDP (final)
●Friday: Personal Income and Spending, PCE Price Index (inflation), Markit Manufacturing PMI, ISM Manufacturing Index, Construction Spending
This week's earnings include:
●Today: Comtech Telecommunications (CMTL), Concentrix (CNXC)
●Tuesday: Micron (MU), Cal-Maine Foods (CALM), United Natural Foods (UNFI), Thor Industries (THO)
●Wednesday: Cintas (CTAS), Jabil (JBL)
●Thursday: AngioDynamics Inc (ANGO), Bed Bath & Beyond Inc (BBBY), CarMax Inc (KMX), Paychex Inc (PAYX)
This week's IPOs include:
●Tuesday: Amplitude (AMPL)
●Wednesday: Warby Parker (WRBY), Allvue Systems Holdings (ALVU)
●Thursday: Olaplex (OLPX)
Check the Active Trader Commentary each morning for an updated list of earnings announcements, IPOs, economic reports, and other market events.
Debt ceilings, market floors
From our colleagues at Morgan Stanley: Although some see the so-called "X date" (the day the debt ceiling actually needs to be raised or suspended in order to avoid a default, expected in October or early November) as the key deadline, they note markets may be more focused on this Thursday, which is when Congress must authorize new spending to avoid at least a partial government shut-down.4
The good news: Congress has, to date, always hammered out a deal to raise or suspend the debt ceiling, which allows the Treasury to keep borrowing (i.e., by issuing bonds) to pay its bills. It's done it 78 times since 19605—three times just during the previous administration.
The bad news: When Democrats and Republicans push things to the brink, the markets don't always respond well. Exhibit A: The SPX's July–August 2011 nosedive when debt negotiations were also held hostage to political wrangling. The SPX found its footing only after a 12-day, 18% slide: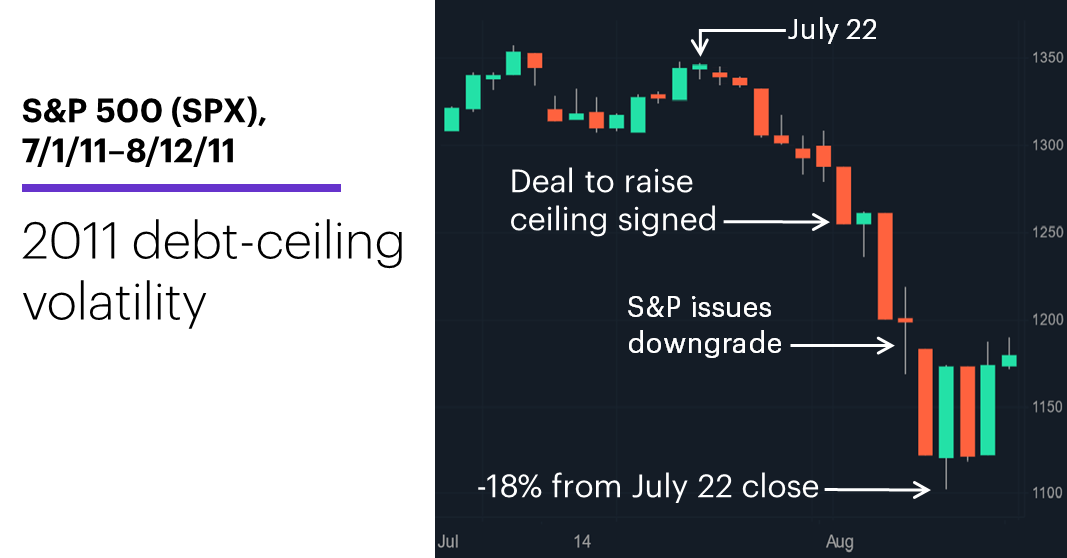 Source: Power E*TRADE. (For illustrative purposes. Not a recommendation.)
---
An important point: The market kept falling—and Standard & Poor's lowered the US credit rating for the first time in history—even after an agreement was signed on August 2.
Click here to log on to your account or learn more about E*TRADE's trading platforms, or follow the Company on Twitter, @ETRADE, for useful trading and investing insights.
---
1 Bloomberg.com. Powell Says Taper Could Start in November, Finish in Mid-2022. 9/22/21.
2 Reuters. U.S. House approves bill to suspend debt limit, fund government. 9/22/21.
3 TheHill.com. Yellen: US on track to default on national debt in October. 9/8/21.
4 Morgan Stanley. Two Potential Catalysts to Watch for Fall Volatility. 9/23/21.
5 CNBC.com. The fight over the debt ceiling has the potential to tank the U.S. economy—here's what it means. 9/23/21.
What to read next...
09/24/21
Big options trades in this food stock put focus on its volatile earnings history.
---
09/23/21
Will solar stock's tight consolidation attract traders looking for a break(out) in the clouds?
---
09/22/21
On the verge of earnings, some big prints on the options tape raise questions about which way traders may be leaning.
---