Another September slip
Broad market drifts lower, but energy sector gains on oil surge
Inflation moderate, retail sales and manufacturing surprise to upside
This week: FOMC meeting, housing data, UN confab
Well, it is September, after all.
Heading into the back half of the month, the US stock market has, so far, lived up to its seasonal reputation, having brushed off a fair amount of friendly economic data to log its first two-week losing streak since February.
While the major index's losses were fairly modest, investors probably didn't relish the fact that the S&P 500 (SPX) closed Friday at a three-week low: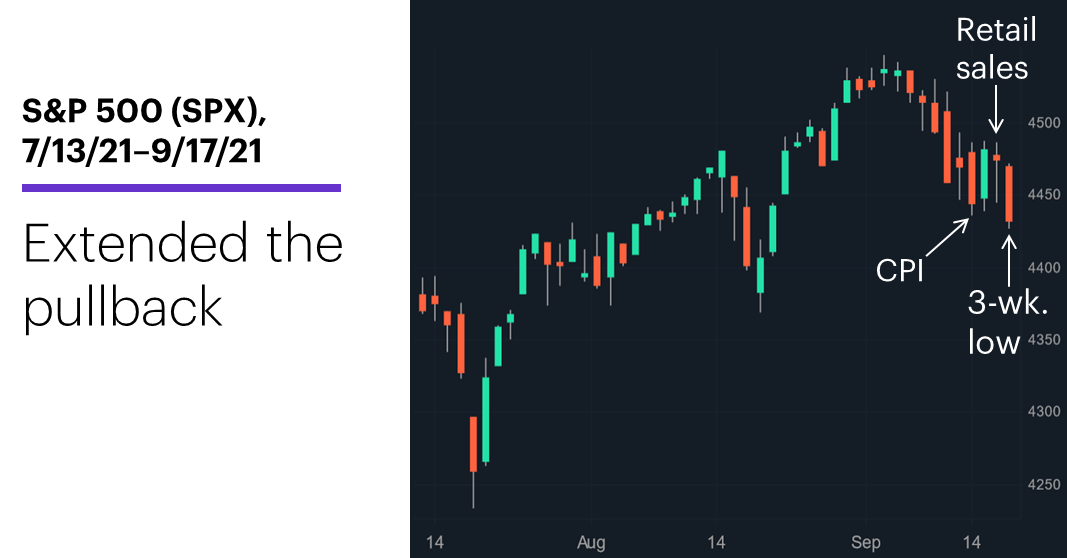 Source: Power E*TRADE. (For illustrative purposes. Not a recommendation.)
---
The headline: Stocks extend September slump.
The fine print: Last week's bearish stock action unfolded against a backdrop of mostly robust economic data: Last Tuesday's Consumer Price Index (CPI) showed consumer inflation increased less last month than economists had expected, and the August Retail Sales report was an even bigger surprise—analysts had anticipated a decline, but the number came in at +0.7%. And both the Empire State Manufacturing Index and the Philadelphia Fed Manufacturing Index were much stronger than expected.
The scorecard: The Nasdaq 100 (NDX) took the biggest step back last week, while the Russell 2000 (RUT) posted a gain thanks to a surprising Friday rally: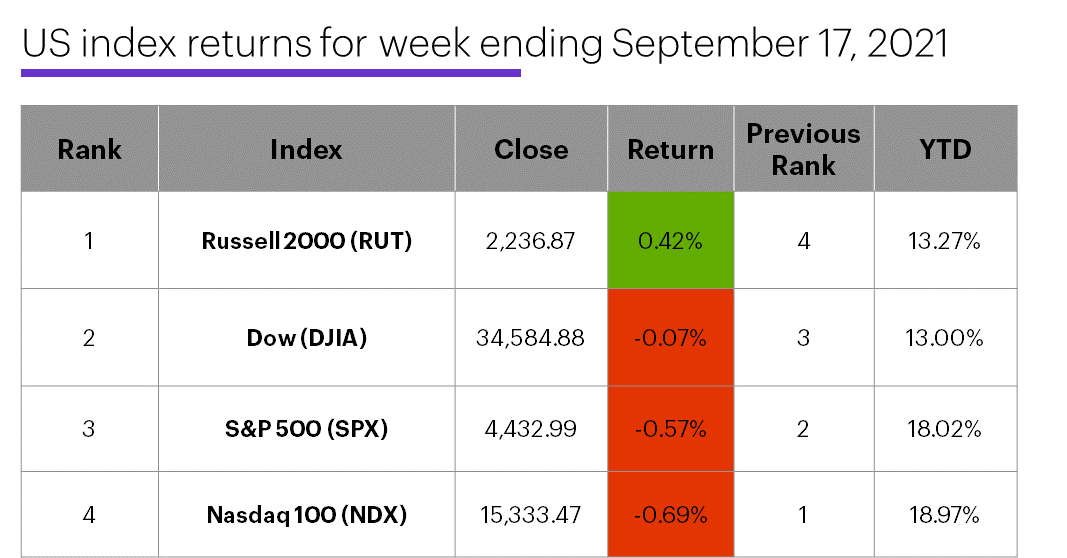 Source: Power E*TRADE. (For illustrative purposes. Not a recommendation.)
---
Sector roundup: The strongest S&P 500 sectors last week were energy (+3.3%), consumer discretionary (+0.5%), and financials (-0.1%). The weakest sectors were materials (-3.2%), utilities (-3%), and industrials (-1.6%).
Highlight reel: Aterian (ATER) +52% to $17.98 on Monday, Offerpad Solutions (OPAD) +59% to $19.97 on Thursday. On the downside, Aterian (ATER) -39% to $10.96 on Tuesday, Protagonist Therapeutics (PTGX) -62% to $17.53 on Friday.
Futures action: November WTI crude oil (CLX1) jumped to a two-month high of $72.87/barrel on Wednesday before pulling back to end the week at $71.82. Last Thursday's 2.3% breakdown sank December gold's (GCZ1) week, which closed Friday at a five-week low of $1,751.40/ounce. Biggest up moves: December oats (ZOZ1) +10.1%, December hard red wheat (KWZ1) +4.5%, November lumber. Biggest down moves: December gold (GCZ1) -2.2%, November feeder cattle (GFX1) -1.9%.
Coming this week
Wednesday's Fed announcement is the week's big-ticket item, but there's also housing data, leading indicators—and possible headlines from the week-long United Nations General Assembly:
●Today: NAHB Housing Market Index (10 a.m.), UN General Assembly (all week)
●Tuesday: Q2 Current Account, Housing Starts and Building Permits
●Wednesday: Existing Home Sales, Fed Interest Rate Decision
●Thursday: Chicago Fed National Activity Index, Markit Manufacturing PMI (flash), Leading Indicators
●Friday: New Home Sales
This week's earnings include:
●Today: Cognyte Software (CGNT), Lennar (LEN)
●Tuesday: InnovAge (INNV), Adobe (ADBE), FedEx (FDX), Stitch Fix (SFX)
●Wednesday: General Mills (GIS), KB Home (KB)
●Thursday: Nike (NKE), Costco (COST), Accenture (ACN)
Check the Active Trader Commentary each morning for an updated list of earnings announcements, IPOs, economic reports, and other market events.
Surveying September's back nine
Not only was this the first time since February that the SPX suffered back-to-back losing weeks, the time before that was—you guessed it—September 2020. The following chart compares the SPX's performance through Friday with the average return profile for all Septembers since 1962 (the percentage gain or loss from the last trading day of August to each trading day of September):
Source (data): Power E*TRADE. (For illustrative purposes. Not a recommendation.)
---
This SPX's bearishness so far this month may appear to embody "classic" September weakness (a recent Morgan Stanley podcast discussed some of the headwinds US stocks may be facing), but it has differed from the historical norm in one respect: The market has typically performed fairly well toward the middle of September, while weakness has been more evident toward the end of the month. On average, September's return peaked at the 13th trading day of the month (which this year is today) and trended lower the remainder of the month.1
Click here to log on to your account or learn more about E*TRADE's trading platforms, or follow the Company on Twitter, @ETRADE, for useful trading and investing insights.
---
1 All figures reflect S&P 500 (SPX) daily closing prices, December 1961–September 2020. Note: Depending on the year, September had a few as 19 or as many as 21 trading days, which means day 20 on the chart was sometimes the first trading day of October. Supporting document available upon request.
What to read next...
09/17/21
China's regulatory push intensified this week—find out which stocks may be near key price levels.
---
09/16/21
If the market makes another shift, some recently sleepy stocks could return to the momentum spotlight.
---
09/15/21
Stock's test of resistance could have traders with different outlooks trading the same type of strategy.
---