Stocks take a cautious turn
Broad market slides, small-caps dive
Wholesale inflation (PPI) high, but down from previous month
This week: More inflation data (CPI), retail sales
It wasn't a bloodbath by any stretch of the imagination, but the stock market managed to dole out a certain measure of September bearishness last week.
What was a ho-hum pullback as of last Thursday may have taken on added significance with Friday's follow-through selling, which came on the heels of a higher-than-expected Producer Price Index (PPI) reading—a reminder that inflation is still present even if it's not in the headlines every day. Friday also marked the second day in a row that the S&P 500 (SPX) gave up a solid intraday gain to close in the red:
Source: Power E*TRADE. (For illustrative purposes. Not a recommendation.)
---
The headline: Market matches longest losing streak of the year.
The fine print: The SPX may have closed lower five days in a row as of Friday, but it fell only 1.75% below September 2's record close in the process—which means the current down move is (so far) smaller than all but one of this year's eight multi-day pullbacks. In fact, the SPX has lost more than 1.75% in a single day four times this year.
The number: 0.7%, the PPI's monthly increase in August—a tick hotter than the 0.6% estimate, but lower than July's 1% increase.
The scorecard: The Nasdaq 100 (NDX) lost the least ground, while the Russell 2000 (RUT) took the biggest hit: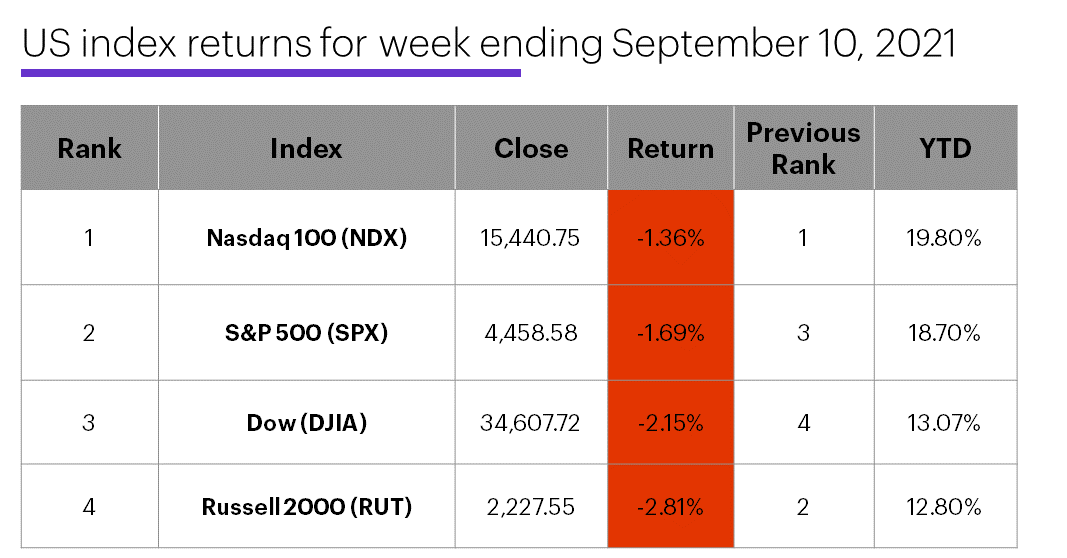 Source: Power E*TRADE. (For illustrative purposes. Not a recommendation.)
---
Sector roundup: The strongest S&P 500 sectors last week were consumer discretionary (-0.2%), communication services (-1%), and consumer staples (-1.1%). The weakest sectors were real estate (-3.4%), industrials (-2.9%), and health care (-2.4%).
Highlight reel: Rocket Lab (RKLB) +37% to $20.72 on Thursday, Echo Global Logistics (ECHO) +52% to $47.70 on Friday. On the downside, INmune Bio (INMB) -23% to $21.57 on Wednesday, Apellis Pharmaceuticals (APLS) -37% to $34.93 on Friday.
Futures action: October WTI crude oil (CLV1) ended an up-and-down week with a 2%-plus rally on Friday to end the week with a slight gain at $69.72/barrel. December gold (GCZ1) suffered its biggest down day in a month (-1.6%) last Tuesday, then waffled the rest of the week to close Friday at $1,792.10/ounce. Biggest up moves: October VIX (VXV1) +7.7%, October natural gas (NGV1) +7%. Biggest down moves: September Ether (ETHU1) -12.5%, December palladium (PAZ1) -11.9%.
Coming this week
Tuesday's CPI release and Thursday's Retail Sales report highlight the week's economic calendar:
●Today: Federal budget (2 p.m.)
●Tuesday: NFIB Business Optimism Index, Consumer Price Index (CPI)
●Wednesday: Import and Export Prices, Industrial Production, Capacity Utilization
●Thursday: Retail Sales, Business Inventories
●Friday: Consumer Sentiment (preliminary)
Earnings this week include:
●Today: Oracle (ORCL)
●Tuesday: Skillsoft (SKIL)
●Wednesday: JinkoSolar (JKS), Lennar Corp (LEN)

Check the Active Trader Commentary each morning for an updated list of earnings announcements, IPOs, economic reports, and other market events.
An 18 months for the record books
As our colleagues at Morgan Stanley have noted, there are reasons to believe the market—despite last week's mild pullback—may be downplaying certain risks, and that "stock-price resilience likely reflects an overpriced market" (see "Is the U.S. Market Due for a Breather?").
But for a moment, forget about interest rates and corporate profits. Forget about the fact that September is, historically, the US stock market's weakest month, and that October is its most volatile. Forget about tapering, inflation, and COVID.
Instead, simply consider the fact that the S&P 500 gained 107.4% from its March 2020 low to this month's (current, but not necessarily ultimate) high. The following chart compares this gain to the index's 20-biggest 18-month gains since 19601—and shows just how exceptional the 2020–2021 rally has been:
Source (data): Power E*TRADE. (For illustrative purposes. Not a recommendation.)
---
In fact, it's not even a horse race—the second-biggest gain (March 2009–September 2010) checks in at 73.5%.
What may not be so obvious from the chart is that most of these returns were parts of larger rallies that extended more than 18 months. For example, the 13th-largest return on the chart was the 63.8% gain as of January 1998. But the 18-month returns through February, March, April, May, and July of that year also appear on this chart because the market kept rallying (despite a nasty downturn in July). In other words, an exceptionally high 18-month gain didn't necessarily signal the end of an uptrend.
That said, the SPX's average performance after its 20-largest 18-month runs was notably sub-par:
1. The next month, the SPX closed below the high of the 18th month 16 out of 20 times. (In other words, if the pattern played out this year, the SPX would close October below September's high.) The average decline was 4.1%.
2. Three months after these 18-month runs, the SPX was lower 13 times out of 20, with an average loss of 2.2%.2
Although investors never like to be reminded that what goes up (dramatically) must come down (at least partially), it's a fact of life in the markets. It's better to embrace that reality—and trade with an eye on risk—than to pretend a trend will never end.
Click here to log on to your account or learn more about E*TRADE's trading platforms, or follow the Company on Twitter, @ETRADE, for useful trading and investing insights.
---
1 "18-month gain" refers to the SPX's percentage return from the low of one month to the (intra-month) high 18 months later.
2 All figures reflect S&P 500 (SPX) monthly prices, December 1959–September 2021. Supporting document available upon request.
What to read next...
09/10/21
Will this stock's recent pause attract volatility traders looking for renewed momentum?
---
09/09/21
When a dormant stock surges, it's good to remember the first rule of breakouts: Don't chase the breakout.
---
09/07/21
Market coming off another winning week despite Friday's jobs miss.
---