Sentimental trading journey
3M topped earnings numbers yesterday morning
Shares jumped more than 5% in pre-market
Stock reversed to slip into negative territory by mid-day
Veteran traders know that first impressions can be deceiving, especially during earnings season.
Industrial manufacturer 3M (MMM) beat—some would say crushed—its Q2 headline numbers before yesterday's open,1 and the following two-minute chart shows the stock initially responded just as most people would expect, with a 4.5% initial jump in pre-market trading: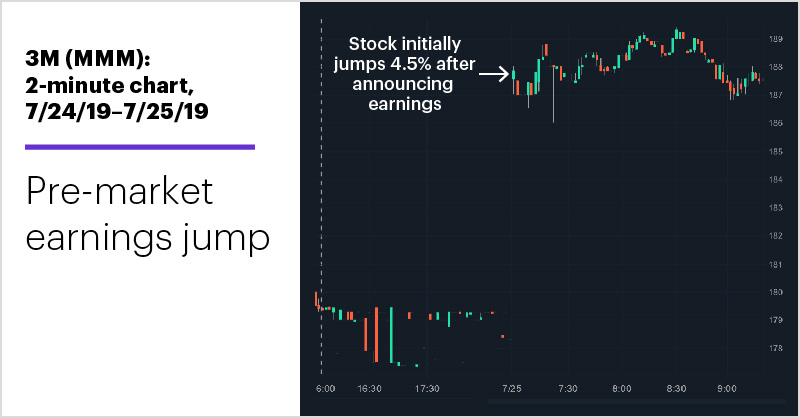 Source: Power E*TRADE
---
The stock inflated that gain to around 5.5% before the opening bell rang, and it even inched a little higher after that, tagging $187.72—its highest price since May 1—in the first minutes of the regular trading session.
But that was as good as it got. The initial glow of beating its headline numbers faded quickly, and the stock steadily gave back its gains throughout the morning. Not long after noon ET it stumbled into negative territory, creating this dramatic-looking bar on the daily chart: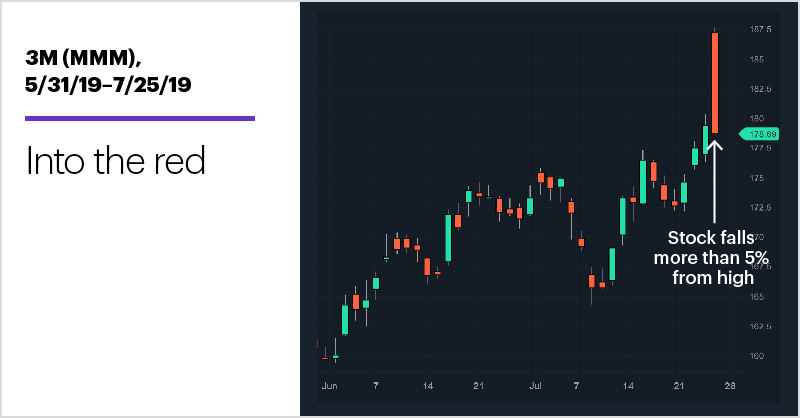 Source: Power E*TRADE
---
Volatility is par for the course around earnings releases, but the price action in MMM's yesterday is instructive on a couple of levels. First, there's a difference between beating your numbers and those numbers being objectively good. Granted, "objectively good" is itself a pretty slippery concept, but more than one observer yesterday morning pointed out that 3M (like many other companies) had gone to great lengths in recent months to lower its expectations regarding Q2 earnings.2
On that score, it succeeded, as the initial reaction to the report suggested. But that didn't obscure analysts from highlighting that 3M's sales declined, earnings contracted, and the company may need a lot of things to go right (including the US–China situation) to reach its growth targets for the year.3 In that light, yesterday's intraday reversal appears to make more sense.
Second, the pattern of spiking to a notably higher high and reversing to close weakly (i.e., near the bottom of the day's range, below the previous day's close, or both) has a track record of foreshadowing short-term weakness in MMM.
Let's consider what yesterday was: A day with a high more than 2% above the previous day's high that closed in the bottom fifth of its range, or a 20-day high that was also at least 1% above the previous day's high, which closed below the previous day's close? Surprise—it was both. And it came as the stock was trading below its six-month high (which it made in April).
If we review the highlight reel, both of these patterns—variations on the theme of an initially strong day reversing into weakness while the stock is not in a longer-term uptrend—have more often than not been followed by additional short-term selling: Since 1971, on average, MMM was trading lower five days after both patterns.4
3M is still, by most measures, a quality dividend stock5 that is well off its longer-term highs, so the question is hardly whether it's ever going to rally again. It's whether current sentiment and historical trade patterns are pointing to shorter-term opportunities for adept traders.
Today's numbers: GDP (8:30 a.m.), Baker-Hughes Rig Count (1 p.m.).
Today's earnings include: Phillips 66 (PSX), Aon (AON), AbbVie (ABBV), McDonald's (MCD), Weyerhaeuser (WY), Cabot Oil & Gas (COG), Colgate-Palmolive (CL), Twitter (TWTR).
Click here to log on to your account or learn more about E*TRADE's trading platforms, or follow the Company on Twitter, @ETRADE, for useful trading and investing insights.
---
1 StreetInsider.com. 3M Co. (MMM) Earnings. 7/25/19.
2 Bloomberg.com. Did 3M Buck the Trend or Is It Just in Denial?. 7/25/19.
3 MarketWatch. 3M's stock surges after profit and sales fall less than expected, guidance maintained. 7/25/19
4 Supporting document available upon request.
5 Morningstar. Is 3M Still a Good Choice for Dividend-Seekers? 6/19/19.
What to read next...
07/25/19
There's more to the tech sector than the names that dominate financial news.
---
07/24/19
Breakout watch: Implied volatility surges in a range-bound stock.
---
07/23/19
Options volume highlights a stock's rebound from recent earnings report.
---