Semiconductor surge
AMD has soared since Oct., outpacing industry by wide margin
Stock in trading range after a three-month, 70% rally
Earnings currently scheduled for January 27
It may be a little ironic to some people that semiconductor stocks slumped yesterday as the US and China signed off on "Phase One" of what investors everywhere no doubt hope will be a multi-phase trade deal.
Over the past couple of years, chip stocks were one of the most conspicuous canaries in the trade-war coal mine, alternately getting hammered by breakdowns in US-China trade negotiations or jumping on reports of progress. So, with the broad market in the green yesterday as pen was put to paper, a PHLX semiconductor index (SOX) down more than 1% may have seemed a little incongruous.
Then again, chip stocks ultimately shook off the volatility and cranked out repeated record highs in the second half of 2019, and the SOX is just two days removed from its latest all-time high despite yesterday's downturn.
Source: Power E*TRADE
---
One chip stock that wasn't in the red yesterday was Advanced Micro Devices (AMD), which has outpaced the semiconductor industry by a wide margin over the past three-and-half-months (chart above). The stock's recent rally has unfolded against the backdrop of a strong Q4 for PC sales,1 as well as the company's push into the supercomputing arena.2
But despite being up more than 1% for a good chunk of yesterday's session, AMD has been in a trading range for the better part of two weeks (even if it did bang out a new record intraday high in the middle of it):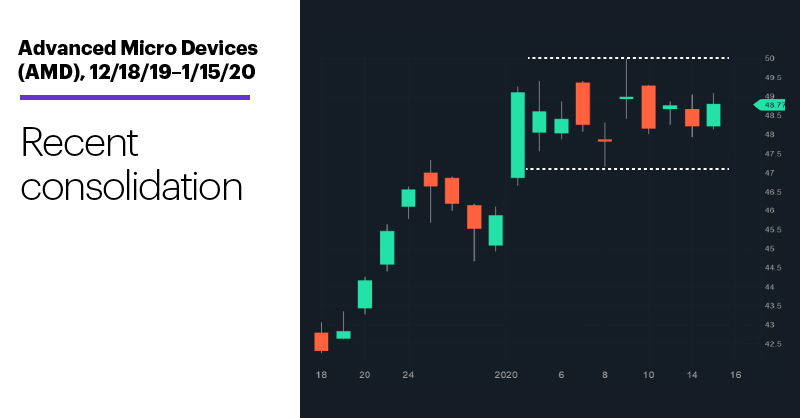 Source: Power E*TRADE
---
Many short-term traders who see a consolidation like this one are likely to be ambivalent about which way to trade the stock—i.e., they'll play the breakout, regardless of whether it's up or down—while others may take more of the bigger picture into consideration.
And while some people may see a stock that has gotten too far ahead of its counterparts in recent weeks, others may be inclined to recall the old trading maxim that price is most likely to break out of a consolidation in the same direction it entered it—in this case, to the upside.
Such bulls would also likely factor in the potential for continued sector tailwinds—in other words, if the tech/semiconductor run isn't over, perhaps AMD stock's relative strength will still be intact, at least for a while.
The breakout, whenever it occurs, could be a telling moment.
Market Mover Update: Prestige Brands (PBH) shot up more than 4% intraday yesterday (see "Fuel for the fire?"), while Pinterest (PINS) added on to Tuesday's breakout with an early 6%-plus jump—before reversing to close near the bottom of the day's range (see "Never a dull moment").
The Dow Jones Industrial Average's (DJIA) new record high yesterday brought the blue-chip index to within 3% of 30,000.
And from the Better-Late-Than-Never Department: Don't look now, but yesterday the Russell 2000 (RUT) rallied to its highest level since September 28, 2018, trading to within 3.1% of its all-time high from August 31 of that year.
Today's numbers (all times ET):  European Central Bank (ECB) minutes (7:30 a.m.), Retail Sales (8:30 a.m.), Import and Export Prices (8:30 a.m.), Housing Market Index (10 a.m.), Business Inventories (10 a.m.), EIA Natural Gas Report (10:30 a.m.).
Today's earnings include: Bank of New York Mellon (BK), CSX (CSX), Morgan Stanley (MS).
Click here to log on to your account or learn more about E*TRADE's trading platforms, or follow the Company on Twitter, @ETRADE, for useful trading and investing insights. 
---
1 Zacks.com. AMD's ECMWF Supercomputer Contract Irks INTC & NVDA. 1/14/20.
2 IDC.com. Traditional PC Volumes Close Out an Impressive 2019 with Fourth Quarter Growth of 4.8%, According to IDC. 1/13/20.
What to read next...
01/15/20
Don't let a slow trading day fool you—there are usually price moves worthy of your attention.
---
01/14/20
Heavy options activity and volatility highlight potential trader interest in healthcare stock.
---
01/13/20
Stocks shrug off US–Iran confrontation, scale new heights in first full week of 2020.
---