Semiconductor overload
MCHP sold off more than 10% over past three days
Stock hit record high in January
Heavy call options volume yesterday amid test of support
Yesterday was another rough day for the semiconductor space, which has been one of the hardest-hit industries during the coronavirus scare.
But when formerly high-flying stocks sell off sharply—especially because of emotion–driven trading—at some point traders will wonder if there's an opportunity to pick up momentum names at discount prices.
Are we there yet? Who knows, but yesterday's continued retreat brought at least some analysts out of the woodwork to cite potential upside in specific chipmakers, including Intel (INTC) and Applied Materials (AMAT).1
But there was also some interesting action in Microchip (MCHP), which specializes in microcontrollers, development tools and analog, interface, mixed-signal and timing products. Yesterday MCHP call volume was more than double its average rate in early trading, with the bulk of the action taking place in the April $100 and $110 calls (4,800 of the former and 4,700 of the latter):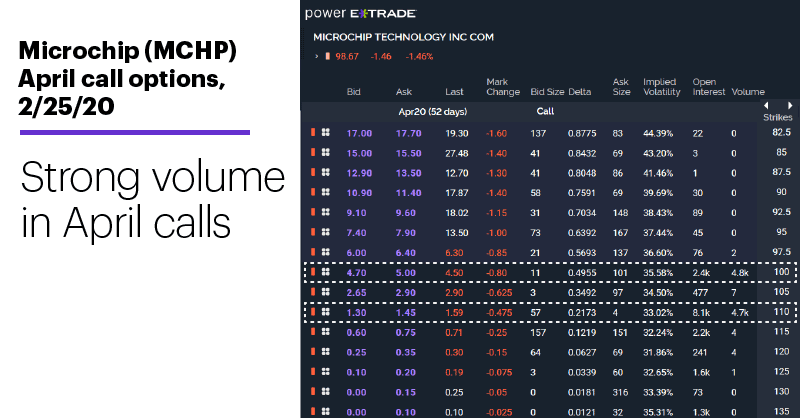 Source: Power E*TRADE
---
At first glance it may have looked like a trader had been putting on (or adjusting) a $100-$110 bull call spread (long the $100 calls and short the $110 calls), but the fact that the open interest (number of unclosed positions) in the $100 calls was less than the volume (2,400 vs 4,800) means some of those options positions were being liquidated, not opened. Nonetheless, there were still plenty of open trades in the $105, $110, $115, $125, and $135 calls, which suggests some traders were still expecting MCHP to challenge its recent highs around $111–$112.50, or push to new highs: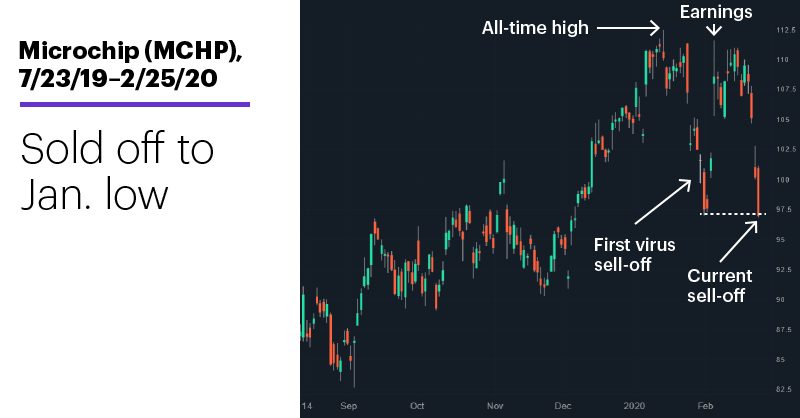 Source: Power E*TRADE
---
An optimistic outlook given MCHP shares tumbled more than 10% in the past three days? That may be the point: Before the chip–crushing coronavirus story took hold, MCHP had been on a roll, rallying 24% off its November low to its January 14 record high before taking a hit in the first wave of the scare. The chart also shows the stock surged again after beating its earnings numbers on February 5, nearly tagging its previous high before retreating again on the most recent virus–fueled downturn.
More than one analyst upped its MCHP price target in the wake of that earnings announcement (the current average is around $123, with a range of $105–$1402), pointing out that MCHP's products have been in high demand and the company is facing an order backlog.3 It's also in a specific industry (Semiconductor–Analog and Mixed) that, at least by one metric, is in the top third of all industries in terms of bullish momentum.4
So, is MCHP poised to rebound in the near future?
That will very likely hinge upon coronavirus headlines. Yesterday the stock fell a little below its January 31 low—perhaps not quite a violation of support, but a heads up for many traders that if the stock doesn't quickly reverse off this level, it may be headed for the next obvious technical target—the November lows.
Source: Power E*TRADE
---
And while yesterday's options action may not have meant a mega-trader was putting on an MCHP bull call spread, conservative traders who expect the coronavirus story to cycle into a lower gear (at least temporarily) may see this limited-risk, limited-reward strategy as an opportunity to play a potential rebound back toward recent highs. The chart above shows the risk profile for the April $100–$110 bull call spread when the stock was trading a little above $98.
The trade's cost (and maximum risk) was $360 per spread—roughly half of what it was three days earlier, before the stock broke to the downside—with the potential to return $640 per spread if MCHP rallies to between $100–$110 before expiration.
Market Mover Update: Yesterday, the S&P 500 (SPX) blew past the 38.2% retracement level of its October–February rally and traded a little below the 50% retracement around 3,225 before closing slightly above it. If that floor doesn't hold, many Fib traders will be eyeing the 61.8% retracement level around 3,061 as the index's next downside target (see "Pullback watch").
And for what it's worth: Of the 26 other times since 1962 the SPX dropped 6% or more in two days, it closed higher the next day 21 times (81%).5

Today's numbers (all times ET):  New Home Sales (10 a.m.), EIA Petroleum Status Report (10:30 a.m.).
Today's earnings include: Apache (APA), Booking Holdings (BKNG), L Brands (LB), Carvana (CVNA), TJX (TJX), Wendy's (WEN), Lowe's (LOW), Square (SQ), NetEase (NTES), Marriott International (MAR).
Click here to log on to your account or learn more about E*TRADE's trading platforms, or follow the Company on Twitter, @ETRADE, for useful trading and investing insights.  
---
1 CNBC.com. Intel and two other chipmakers are best bets in sell-off, according to these traders. 2/25/20.
2 TipRanks. Microchip Price Target & Analyst Ratings. 2/25/20.
3 StreetInsider.com. Microchip Technology (MCHP) PT Raised to $132 at Rosenblatt. 2/5/20
4 Zacks Equity Research. Microchip Technology (MCHP): Strong Industry, Solid Earnings Estimate Revisions. 2/25/20.
5 Based on S&P 500 closing prices, 1/1/1962 – 2/25/2020. Analyzed 6% or larger two-day declines that were not preceded by two-day declines of equal or larger size. Supporting document available upon request.
What to read next...
02/25/20
Some opportunistic traders will be watching key levels as market trims early 2020 rally.
---
02/24/20
The final week of a strong February opens with US stocks pulling back from their most recent records.
---
02/21/20
As gold tops $1,600, will trend traders keep things shiny?
---