Sell-off a discount or trap?
BRZE down 23% intraday Tuesday in wake of earnings
Beat estimates, but guidance was soft
Volatility spike inflated options premiums
While it can be difficult to gauge how much a stock's performance on any given day is impacted by larger market conditions, there are times when the interplay between the two highlights potentially unique situations.
Customer-engagement software company Braze (BRZE), for example, had the misfortune of announcing earnings after the close on Monday, which means most traders and investors didn't get the chance to react until Tuesday morning—when the S&P 500 was mired in what would turn out to be its biggest down day of the year.
Braze, which began trading last November (debuting around $93), quickly sold off 23% to an 11-week low of $37.37: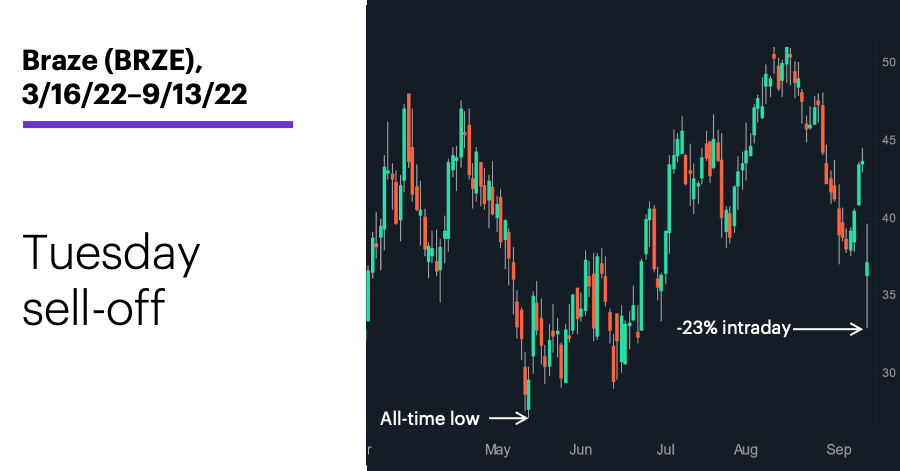 Source: Power E*TRADE. (For illustrative purposes. Not a recommendation.)
---
The company topped its headline earnings and revenue estimates, but issued a softer-than-expected Q3 outlook.1 While weak guidance is often a recipe for a sell-off in a stock that otherwise beats its numbers, some traders may have wondered whether yesterday's market-wide decline exacerbated BRZE's losses.
On Monday, BRZE's 30-day implied volatility (IV) was around 74% higher than its historical volatility, which means the options market was expecting the stock to be more volatile over the next 30 days than it had been over the past 30. In addition to the jump in put options prices because of the stock's down move, Tuesday's volatility surge likely inflated premiums even more (around midday, the at-the-money October $35 put was up more than 85% from Monday). For bulls expecting a rebound, that may make selling puts (or multi-legged strategies including short puts) more attractive than buying calls, since any IV decline will work in their favor.
Of course, IV is likely to decline only if a stock rebounds or at least holds its ground, and few individual stocks can completely shrug off exceptionally strong moves in the broad market—especially strong down moves, which are often fueled by emotion. But when traders suspect larger market conditions may have contributed to an exaggerated move in an individual stock, that ticker may make its way on to a few more watchlists.
Either way, in volatile conditions, traders need to be especially conscious of which market factors are working for them and which may be working against them.
Market Mover Update: Yesterday's hotter-than-expected Consumer Price Index (CPI) may have been the flashpoint for the stock market's sell-off, but some traders may have noticed on Monday that the Cboe Volatility Index (VIX) was signaling the potential for volatility on Tuesday: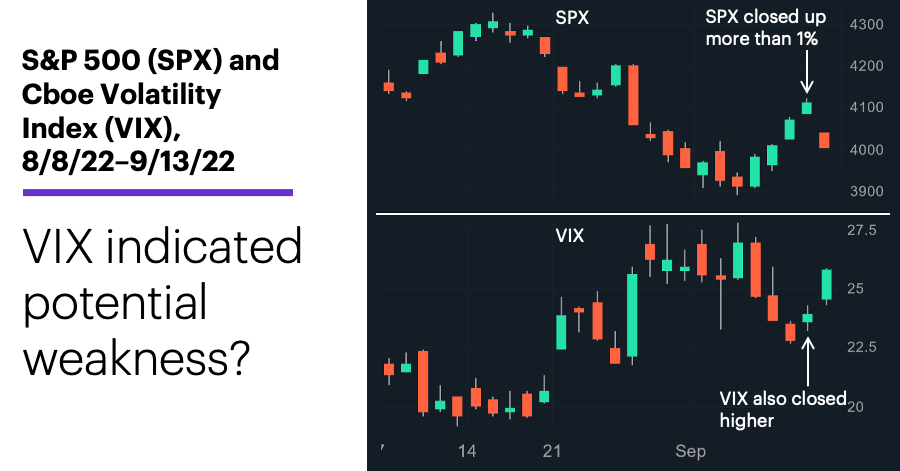 Source: Power E*TRADE. (For illustrative purposes. Not a recommendation.)
---
The VIX typically closes lower when the market closes strongly higher—in fact, since March 1997 the VIX closed lower 94% of the time on days the S&P 500 (SPX) gained 1% or more. But on Monday the VIX closed higher when the SPX closed up more than 1%—something that's happened only 50 other times since then (the last time was on April 5, 2021). This pattern has been followed by a down day 54% of the time—not insignificant, considering the SPX's 54% historical probability of closing higher on any given day.2
Today's numbers include (all times ET): Mortgage applications (7 a.m.), Producer Price Index, PPI (8:30 a.m.), Atlanta Fed Business Inflation Expectations (10 a.m.), EIA Petroleum Status Report (10:30 a.m.).
Today's earnings include: Tsakos Energy Navigation (TNP).
Click here to log on to your account or learn more about E*TRADE's trading platforms, or follow the Company on Twitter, @ETRADE, for useful trading and investing insights.
---
1 StreetInsider.com. Braze Shares Plunge 5% Despite Better Than Expected Q2 Results. 9/12/22.
2 Figures reflect S&P 500 (SPX) and Cboe Volatility Index (VIX) daily prices, 3/16/97–9/13/22. Supporting document available upon request.
What to read next...
09/13/22
A large—and new—position in soon-to-expire calls offers a front-row seat to stock–options dynamics.
---
09/12/22
Market makes most of holiday-shortened week, snaps losing streak.
---
09/09/22
Was a large options trader targeting near-term gains in this cloud stock?
---