Sell-offs and options selection
Recent drop has exacerbated ongoing declines in certain high-profile stocks
NFLX down nearly 50% since November, approaching March 2020 lows
Inappropriate options selection can sabotage even the best timing
It's difficult to find corners of the market that haven't been impacted by the recent market volatility—even the energy sector is slightly in the red over the past five days—but certain areas stand out more than others.
Tech, of course, has fallen more than the broad market, as have some of the stay-at-home stocks that staged massive rallies in 2020–2021. Many of these names were declining well before recent sell-off, too. For example, Peloton (PTON), which climbed 749% between March 2020 and January 2021, is now pretty close to where it started that rally after falling more than 85% over the past year.
Similarly, Netflix (NFLX) gained more than 130% between March 2020 and November 2021 (when it hit its record close of $691.69), but it's since fallen around 46%, with a big chunk of that correction following last week's earnings release. After falling 22% on Friday, the stock followed through to the downside on Monday to its lowest level since March 2020: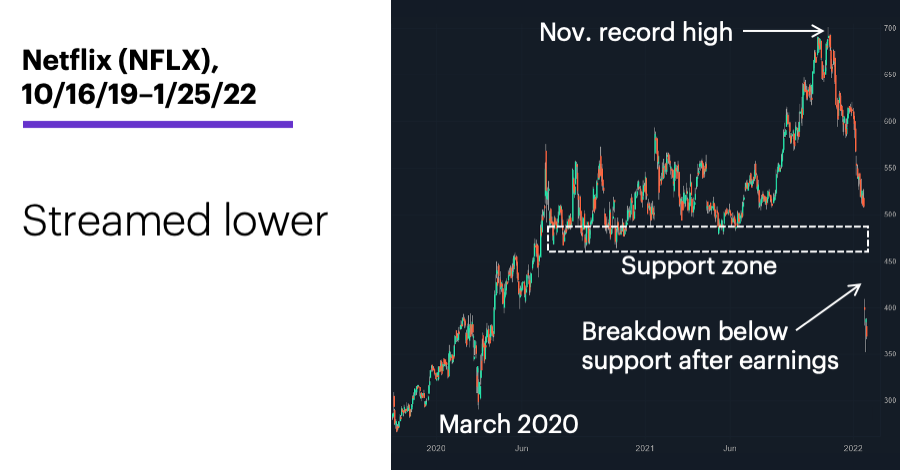 Source: Power E*TRADE. (For illustrative purposes. Not a recommendation.)
---
The apparent dagger: Despite topping earnings estimates and meeting revenue expectations, Netflix surprised the Street by adding less than half the expected number of new subscribers in Q1.1 Several analysts lowered their price targets, and the earnings sell-off marked a definitive breakdown below a longstanding support zone (roughly $460–$480) that captured the majority of NFLX's swing lows between June 2020 and June 2021. (As an aside, Morgan Stanley & Co.'s current target of $450 is lower than the Street average of $521,2 but still more than 20% above where the stock was trading yesterday.)
While dramatic sell-offs—especially in high-profile stocks—can naturally attract bargain-hunting investors (as well as traders anticipating a shorter-term counterreaction),3 it's always impossible to know when the market or an individual stock will bottom. That makes controlling risk especially important. And one aspect of limiting risk is avoiding disadvantageous strategies.
While the following chart highlights the dramatic jump in NFLX's historical volatility (the stock's price movement) after last week's earnings release, the implied volatility level may be more notable, especially for options traders: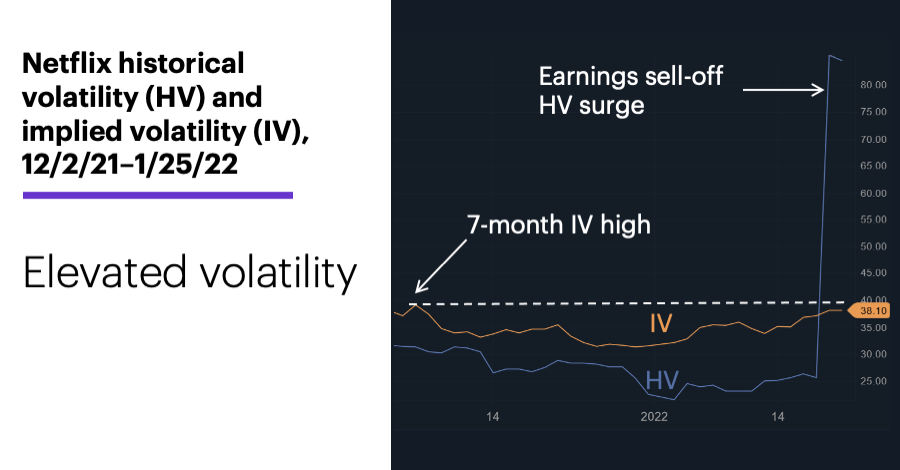 Source (data): Power E*TRADE. (For illustrative purposes. Not a recommendation.)
---
Yesterday, IV was a little below its early December high, but because that level was actually the highest since last March, NFLX's current IV is fairly close to its 10-month highs. The options chain also showed IV for NFLX's February monthly options was around 23% above average. High IV can sometimes translate into overpriced options, which is a plus for potential sellers, but a negative for potential buyers—regardless of which side of the market they're on.
The lesson: Deciding whether or not a stock is oversold is one thing, but options traders always need to try to avoid compounding their risk by selling underpriced options or buying overpriced ones. Consulting implied volatility can be a good place to start.
Today's numbers include (all times ET): Mortgage Applications (7 a.m.), Advance International Trade in Goods (8:30 a.m.), Advance Retail and Wholesale Inventories (8:30 a.m.), New Home Sales (10 a.m.), EIA Petroleum Status Report (10:30 a.m.), Survey of Business Uncertainty (11 a.m.), FOMC announcement (2 p.m.).
Today's earnings include: Boeing (BA), General Dynamics (GD), AT&T (T), Kimberly-Clark (KMB), Freeport-McMoRan (FCX), Abbott Labs (ABT), Automatic Data Processing (ADP), Intel (INTC), Tesla (TSLA), Xilinx (XLNX), Teradyne (TER).
Click here to log on to your account or learn more about E*TRADE's trading platforms, or follow the Company on Twitter, @ETRADE, for useful trading and investing insights.
---
1 StreetInsider.com. Netflix (NFLX) Stock Plummets on Weak Guidance to Prompt Several Downgrades to Neutral. 1/21/22.
2 TipRanks.com. Netflix Stock Forecast & Price Targets. 1/25/22.
3 Barron's. Investors Are Giving Up on Netflix. That's a Good Reason to Buy. 1/21/22.
What to read next...
01/25/22
When the market is in sell-off mode, many traders watch the VIX for signs of capitulation—short-term and long-term.
---
01/24/22
The market is 0-for-2022 after suffering its worst week in nearly two years.
---
01/18/22
Outside the oil patch, volatility continued to reign in the stock market.
---