Sell-offs: Buying stock vs. options
EPAM up more than 19% intraday Wednesday after 46% Monday drop
Tech company has major operations in Ukraine
Options volatility at highest levels in nearly two years
Even casual market watchers are aware of the volatility introduced by Russia's invasion of Ukraine. But beyond the well-known impact on oil prices and the stock market as a whole, individual stocks with more direct exposure to the conflict have dramatically illustrated its damaging effects. They also offer some important lessons for potential options traders.
One example: EPAM Systems (EPAM), which yesterday morning was enjoying the market's ninth-biggest percentage gain (fourth-biggest among stocks trading above $10):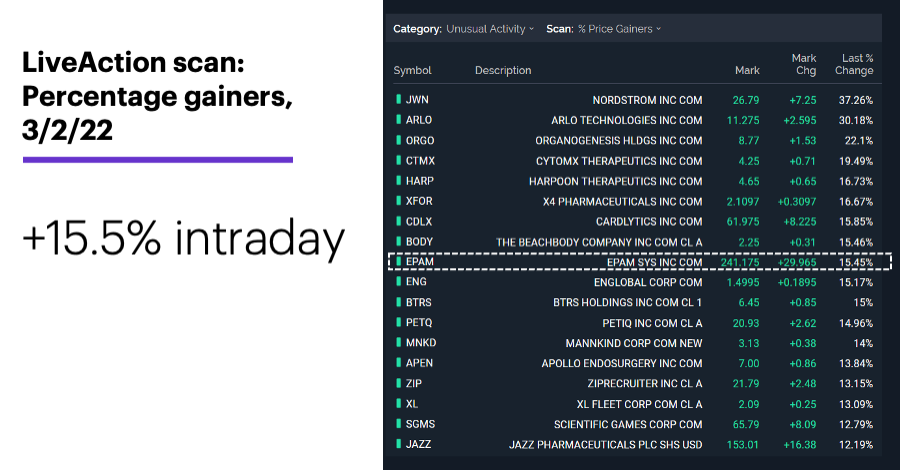 Source: Power E*TRADE. (For illustrative purposes. Not a recommendation.)
---
The stock also appeared on LiveAction scans for unusual call and put options volume, both roughly 11 times average around midday.
While a double-digit percentage gain and heavy options activity would understandably have some traders wondering who's buying and why, this snapshot leaves out critical background. EPAM, which is headquartered in the US and specializes in software-development/engineering services, has a heavy footprint in Eastern Europe—its largest software development center is, in fact, in Ukraine.1
The stock, which by late January had already retreated significantly from its November all-time highs above $700 (reflecting the larger pressures on growth and tech names), tumbled 46% on Monday to $207.75 as the company withdrew its forecasts for Q1 and the year amid the uncertainties of the invasion:2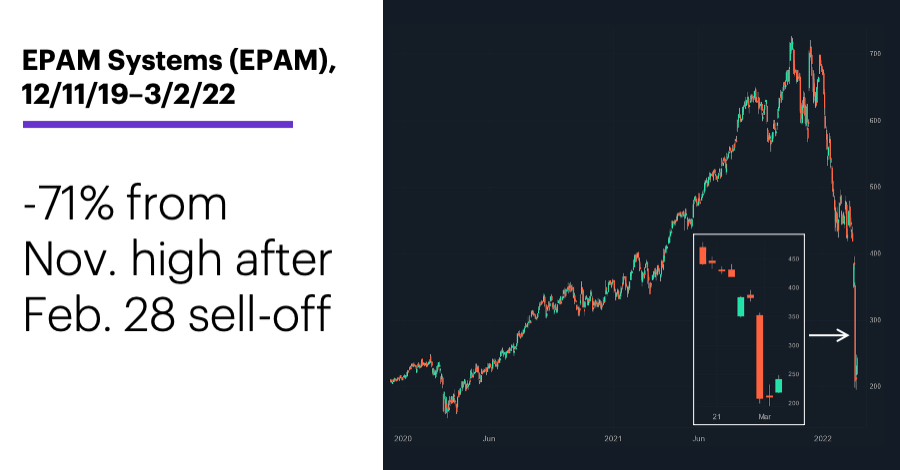 Source: Power E*TRADE. (For illustrative purposes. Not a recommendation.)
---
The stock's price volatility was accompanied by soaring options volatility. Yesterday, EPAM's overall implied volatility (IV) was as high as it's been since March 2020, IV for March options was more than double its 30-day average (126% vs. 58%), and IV for April options was more than 50% above average (97% vs. 60%).
These statistics aren't just a matter of adding "color" to a volatile market event. Large sell-offs like the one in EPAM often attract bargain hunters anticipating at least a short-term rebound. But these moves can also push IV to such levels that it can be difficult for options buyers to profit—even if their market outlook turns out to be correct—because they may have purchased significantly overpriced options. In such situations, if uncertainty subsides, so may IV—and options prices along with them. (Those same factors may, of course, work in favor of traders who instead sell options.)
In other words, being a stock bull and an options bull are sometimes two different things.
Market Mover Update: On Wednesday, April WTI crude oil futures (CLJ2) rallied more than 8% for the second straight day, topped $112.50/barrel intraday, and notched the market's biggest three-day gain—more than 20%—since May 2020.

Today's numbers include (all times ET): Challenger Job-Cut Report (7:30 a.m.), Weekly Jobless Claims (8:30 a.m.), Productivity and Costs (8:30 a.m.), PMI Composite Final (9:45 a.m.), Fed Chairman Jerome Powell's semiannual congressional monetary policy testimony, day 2 (10 a.m.), Factory Orders (10 a.m.), ISM Services Index (10 a.m.), EIA Natural Gas Report (10:30 a.m.).
Today's earnings include: Big Lots (BIG), Kroger (KR), Sibanye-Stillwater (SBSW), Burlington Stores (BURL), BJ's Wholesale Club (BJ), Duolingo (DUOL), Broadcom (AVGO), Gap (GPS), Costco (COST).
Click here to log on to your account or learn more about E*TRADE's trading platforms, or follow the Company on Twitter, @ETRADE, for useful trading and investing insights.
---
1 Barron's. EPAM Systems Withdraws Financial Forecasts. It Makes Software in Ukraine. 2/28/22.
2 MarketWatch.com. EPAM Systems Shares Slide 37% as Guidance Withdrawn After Ukraine Invasion. 2/28/22.
What to read next...
02/28/22
Stocks sell-off, then surge as Russia invades Ukraine.
---
02/25/22
This week may feel unique, but the market may provide a roadmap for similar moves.
---
02/24/22
Options traders looking to "trade the range" sometimes make adjustments to get the most out of their positions.
---