Trading at a premium?
SLF options volatility up nearly 80% week-over-week
Insurer has closely tracked financial sector over past year
Company beat earnings last week
Insurance companies know a thing or two about collecting premiums. So do long-time options traders. Yesterday the two worlds collided, as higher-than-average volatility in one insurance company's options may have grabbed the attention of the premium-collection crowd.
Tuesday morning, Canadian insurer Sun Life Financial (SLF) appeared on the LiveAction scan for biggest one-week implied volatility (IV) increases, with IV up around 78% from a week earlier:
Source: Power E*TRADE (For illustrative purposes. Not a recommendation.)
---
A week ago today, Sun Life released earnings that topped estimates on the back of strong growth in its funds-management business.1 Higher IV around an earnings announcement is nothing out of the ordinary, although it typically declines dramatically soon after earnings day, especially if the numbers aren't a negative surprise. The following chart shows SLF's IV was also above its 30-day average yesterday for all expiration months, but especially for the August options expiring on August 20: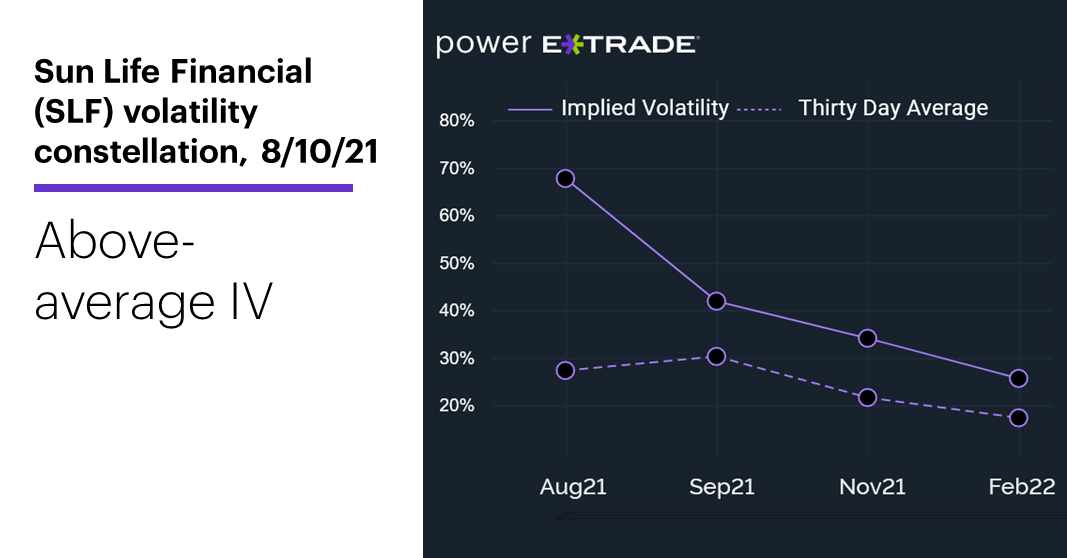 Source: Power E*TRADE (For illustrative purposes. Not a recommendation.)
---
Because high IV often pumps up options premiums, some traders may have been looking into the possibility of selling SLF options regardless of their outlook on the stock, the idea being that it's better to sell a potentially overpriced asset than buy it: Bulls would look to sell puts (instead of buying calls) while bears would look to sell calls (instead of buying puts), perhaps with the expectation of getting assigned a long or short position in the stock, but always with the goal of being short potentially overpriced options that stand to lose at least some of their value over time. Sell high, buy low.
With the stock trading at $52.67 yesterday at noon ET, the overwhelming majority of SLF's open interest was in three out-of-the-money options expiring next week: the August $45 puts and $50 puts (3,100 and 2,100 contracts, respectively), and the August $50 calls (5,000 contracts). Traders who shorted the $50 calls would need SLF to fall at least 5% from where it was trading yesterday at noon to avoid getting assigned a short stock position at expiration (unless that's exactly what they want). Those who shorted the $45 or $50 puts would get to keep all the premium they collected as long as the stock was above their strike price at expiration.
Source (data): Power E*TRADE. (For illustrative purposes. Not a recommendation.)
---
A daily chart shows Sun Life, which has closely tracked the S&P 500 financial sector since the March 2020 lows, rallied more than 1% intraday yesterday and closed at its highest point in two months—around 4.5% below its May high of $55.07, which is the stock's high-water mark since January 2008.
Regardless of whether they're bullish or bearish on a particular stock, options traders can either buy or sell options, calls or puts. Knowing whether volatility is relatively high or low at a given time can go a long way toward making the appropriate choice.
Market Mover Update: Willis Towers Watson (WLTW) struggled to trade in positive territory yesterday, but is still up more than 6% since August 2 (see "Stock leading the news?").
Today's numbers include (all times ET): Mortgage applications (7 a.m.), Consumer Price Index, CPI (8:30 a.m.), Atlanta Fed Business Inflation Expectations (10 a.m.), EIA Petroleum Status Report (10:30 a.m.).
Today's earnings include: Applovin (APP), Bumble (BMBL), Vroom (VRM), Nio (NIO), Blink Charging (BLNK), EVgo (EVGO).
Click here to log on to your account or learn more about E*TRADE's trading platforms, or follow the Company on Twitter, @ETRADE, for useful trading and investing insights.
---
1 Reuters. Sun Life quarterly profit beats estimates on business, assets growth. 8/4/21.
What to read next...
08/10/21
Oil and gold start out the week with big moves that tested previous inflection points.
---
08/09/21
Tech leads as market rebounds from previous week's decline.
---
08/06/21
The stocks that got the biggest jolts from yesterday's EV news may say something about the "electrification space."
---