Sell-off puts options in place
IRTC sold off 33% last Friday
Stock tested former breakout level before intraday rebound
Put premiums still elevated four days later
Nothing like a good, old-fashioned price shock to get back in the news and onto trading screens.
Cardiac device maker iRhythm Technologies (IRTC) was something of an under-the-radar gainer last year and into 2021—the stock rallied 365% from last March to last month—but it may have made a bigger splash with Friday's 33% sell-off after news broke that the Medicare reimbursement rates for its biosensor monitor would be lower than expected.1 Translation: They weren't going to be able to charge what they were hoping to charge for the device, at least for now.
The stock's plunge from $251 to an intraday low of $135.65 dropped shares to their lowest level since last August—the breakout level of a three-month consolidation, in fact: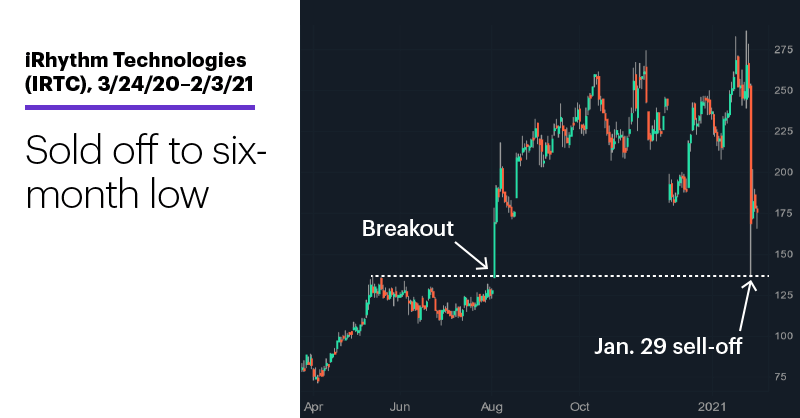 Source: Power E*TRADE
---
The stock may not look like it's done much in the past three days because of the size of Friday's move, but IRTC has actually swung in a $36 range, trading mostly above Friday's close of $168.42.
No surprise, then, that the stock made an appearance on the LiveAction scan for biggest one-week implied volatility (IV) increases yesterday morning, or that the IV for its March options was around 31% higher than average: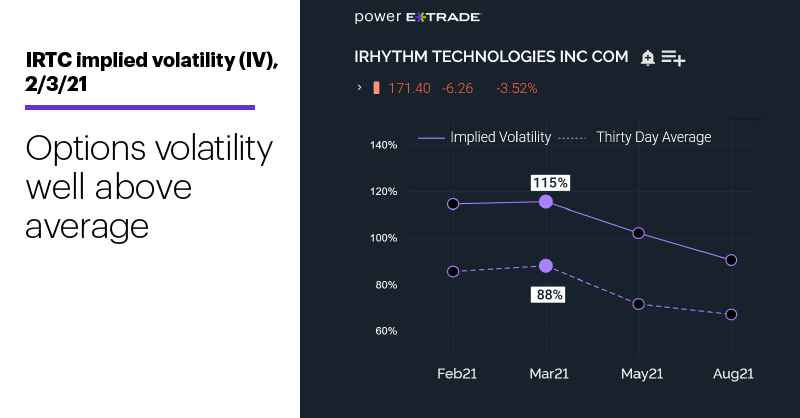 Source: Power E*TRADE
---
Monster price drops tend to pump up IV, and pumped-up IV tends to inflate options premiums—something bargain-seeking IRTC bulls will have noticed in recent days.
For instance, take a look at a chart of the March $140 puts, which yesterday morning were trading for less than half of where they were last Friday (11.30 vs. 26.61), but were still more than 10 times higher than where they were on January 21 (0.90):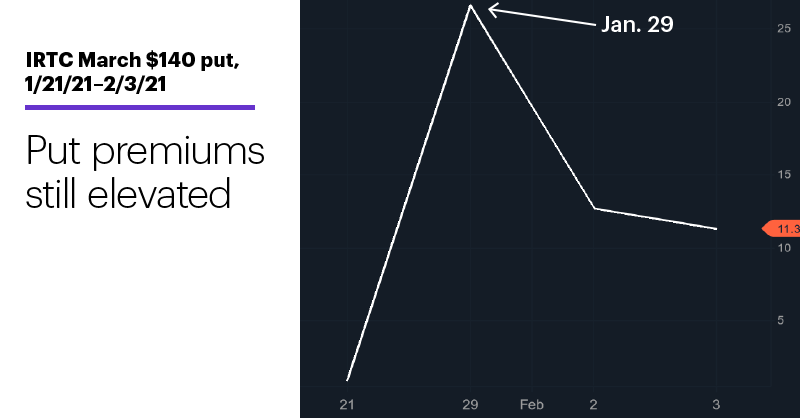 Source: Power E*TRADE
---
These types of situations present an interesting lesson in options. Bullish traders—i.e., those who believe a stock's sell-off may be overdone, at least in the near-term—will sometimes sell potentially overpriced put options instead of buying stock. For some, the goal will simply be to collect premium; for others, it will represent an opportunity to capture premium and take a position in the stock.
For example, traders who sold IRTC March $140 puts yesterday at 11.30 would be able to keep the $1,130 per contract if the stock remained above $140 until expiration. If IRTC dropped below $140 and the traders were assigned shares, they would have effectively lowered their purchase price to $129.70 (the strike price minus the premium received). Of course, some traders—say, those expecting a stock to retest its recent sell-off lows before moving higher—would choose to wait for such a move to capture potentially higher premiums.
In all cases, this type of approach is typically pursued only by bullish traders willing to own the stock, since being assigned is always a possibility. The IRTC situation is still evolving—many Street analysts have maintained 12-month price targets in recent days (around $242, on average2), but also appeared to be taking a "wait-and-see" attitude toward last week's news.
Market Mover Update: Alphabet (GOOGL) jumped more than 9% intraday to a new all-time high above $2,100 yesterday after announcing another quarter of record profits (see "Catching up with the A-listers").
Today's numbers (all times ET): Challenger Job-Cut Report (7:30 a.m.), Weekly Jobless Claims (8:30 a.m.), Productivity and Costs (8:30 a.m.), Factory Orders (10 a.m.).
Today's earnings include: Activision Blizzard (ATVI), Bristol-Myers Squibb (BMY), Baxter International (BAX), Ford Motor (F), Merck (MRK), Clorox (CLX), Ralph Lauren (RL), Quest Diagnostics (DGX), Gilead Sciences (GILD), Pinterest (PINS), Peloton (PTON), Wynn Resorts (WYNN).
Click here to log on to your account or learn more about E*TRADE's trading platforms, or follow the Company on Twitter, @ETRADE, for useful trading and investing insights.  
---
1 Seeking Alpha. iRhythm after Novitas update: Investors urged to 'prepare for a new reality'. 2/2/21.
2 TipRanks. iRhythm Technologies Stock Forecast and Analyst Targets. 2/3/21.
What to read next...
02/03/21
Call options volume ramps up after stock rebounds off technical level.
---
02/02/21
With options positions running above average, stock reverses recent correction from record highs.
---
02/01/21
A volatile end to January sends broad market back to the drawing board for the year.
---