Seen this movie before
NFLX currently near year-plus resistance level
Recent headlines cite increased challenges from competitors
Price breakout—up or down—could produce momentum move
If you want a lesson in market sentiment, do a search of market-related headlines from around the time stocks were skidding toward their December 2018 lows.
What you'll find—almost without exception—is a collection of gloom, with a healthy smattering of doom. Sure, there were probably more than a few cool heads who forecasted the drop would turn out to be a great buying opportunity, but they were drowned out by the chorus of frayed-nerve bears.
As the saying goes, history doesn't necessarily repeat, but it often rhymes, which is why Netflix (NFLX) is so interesting right now. True, the stock, which could do no wrong in early 2018 when it skyrocketed above $420, took a hit (with the rest of market) later in the year, and has spent a good chunk of 2019 in a broad consolidation between roughly $330–$385: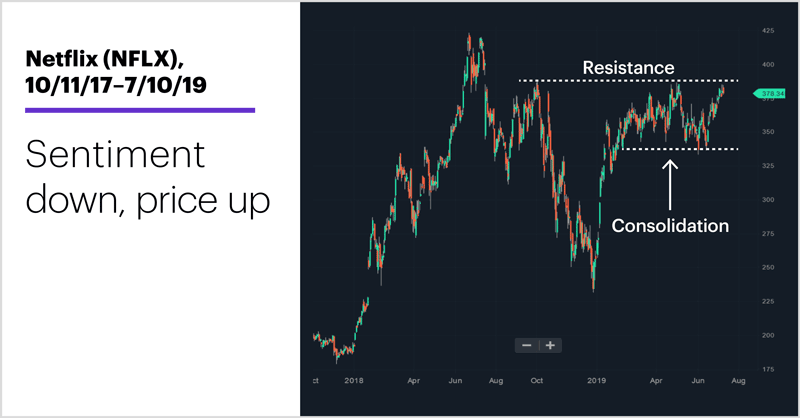 Source: Power E*TRADE
---
NFLX has been the subject of some nervous press coverage in recent weeks, which has cited new challenges from some of the very companies (Disney, Comcast, etc.)1 Netflix was credited with "disrupting" in recent years. Other analysts have fretted about the company's business model vis-à-vis those competitors.2
It's enough to make a contrarian wonder whether NFLX's recent pullback is a potential buying opportunity.
Except that the stock hasn't been pulling back. Despite the aforementioned negative sentiment, it's near the top of its consolidation, which the chart shows is a well-defined resistance level that also incorporates the October 2018 high.
When a stock does the opposite of what it's "supposed" to do—for example, trade higher in the face of "bad news"—it can be a sign that sentiment and price action aren't in agreement.
When that happens, price action can take the final word.
Note: Netflix is currently scheduled to release earnings on Wednesday, July 17.
1 CNBC.com. Netflix has now lost two of its most popular shows as old media companies flex their muscle. 7/9/19.
2 CNBC.com. 'Stranger Things' helps shine a light on the flaws in Netflix's strategy. 7/4/19.
Click here to log on to your account or learn more about E*TRADE's trading platforms, or follow the Company on Twitter, @ETRADE, for useful trading and investing insights.
---
What to read next...
07/11/19
Can the beginning of the second half of the year signal what things will look like come December?
---
07/10/19
Relative strength can provide important clues about a stock's recent momentum.
---
07/09/19
"Stacked" moving averages can provide valuable insights into a stock's trends.
---