Stock momentum, sector tailwinds
Health care sector retreating after strong 2020
S&P biotech index pulled back to potential support
Copper topper? Metal flirts with key level
There's been plenty of chatter in recent months about "rotation" in the stock market, but the truth is that even in the seemingly most stable of times, sectors, groups, and specific industries are constantly falling in and out of favor as traders and investors rebalance, reposition, and take profits.
This shorter-term ebb and flow sometimes means areas of the market that have exhibited longer-term strength may be temporarily discounted—which can attract traders looking to catch a sector on a dip.
One example—the health care sector, and specifically, biotech stocks. After a terrible 2019, health care bounced back in 2020, ending the year as the S&P 500's fifth-strongest sector. Over the past five days, though, it's been the S&P's second-weakest sector, and biotech has been the second-weakest industry within it, with the S&P biotechnology index falling 6.4% from January 25 to February 3. Two interesting things about that pullback:
1. It followed a 21% rally off the October 29 low.
2. As of yesterday, it had bottomed at the top of the November–December trading range that the index broke out of on January 7 (when it staged its most recent rally).
Where's all this going? Traders who have followed S&P health care and biotech stocks and expect near-term weakness to give way to renewed strength—in the event that the pullback described above turns out to be a successful test of technical support—may then look at individual tickers they think may benefit.
That could mean finding stocks that also pulled back but showed signs of upside momentum. Black Diamond Therapeutics, for example, sold off 32% from January 11–27—breaking below its July and September lows in the process—but has jumped 18% over the past two days: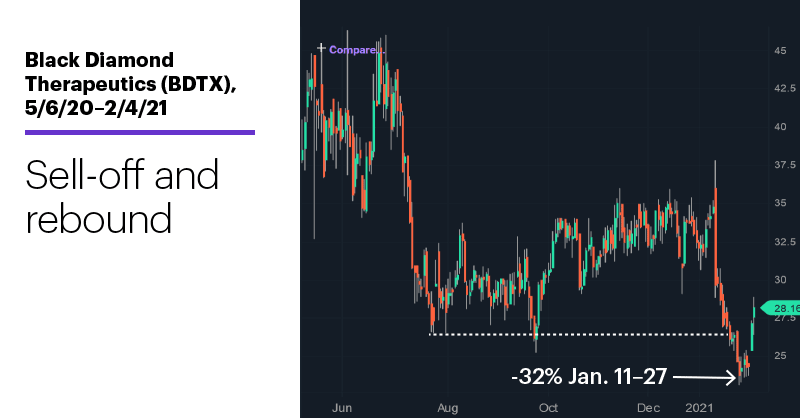 Source: Power E*TRADE
---
A lesson from these situations is that a sector's retreat to support can sometimes simply represent temporary weakness, which means traders may believe some tickers stand to benefit.
Market Mover Update: One of last year's hottest commodities (literally) has been on the back burner for a while now, and more recently has been flirting with technical support. March copper (HGH1) hasn't pulled back dramatically from its January 7 high close of 3.707—the top of its 78% rally off last March's low—but it's still nearly two months removed from its last major upswing: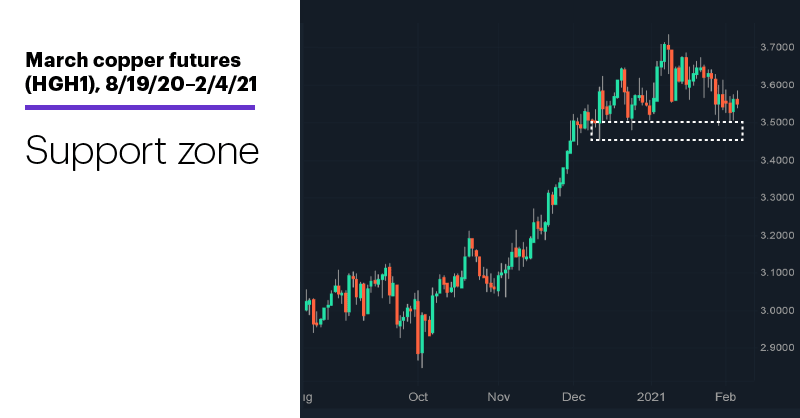 Source: Power E*TRADE
---
Many traders will likely be watching to see if the market keeps putting pressure on the support zone (roughly 3.4500–3.500) that has held up prices over the past couple of months.
Quanterix's (QTRX) 17.3% intraday surge yesterday ran the stock to a new all-time high of $84.99 (see "Correcting a correction").
Today's numbers (all times ET): Employment Report (8:30 a.m.), International Trade in Goods and Services (8:30 a.m.), Consumer Credit (3 p.m.).
Today's earnings include: Estee Lauder (EL), Ubiquiti (UI), Regeneron Pharmaceuticals (REGN).
Click here to log on to your account or learn more about E*TRADE's trading platforms, or follow the Company on Twitter, @ETRADE, for useful trading and investing insights.  
---
What to read next...
02/04/21
A medical tech stock's sharp downturn sends put premiums soaring. What will traders be looking for next?
---
02/03/21
Call options volume ramps up after stock rebounds off technical level.
---
02/02/21
With options positions running above average, stock reverses recent correction from record highs.
---