School daze
Dorm operator faces uncertainty over fall campus enrollments
Heavy open interest in May ACC put options
But longer-dated options favor calls over puts
With education in the US having migrated from the classroom to the computer screen because of the pandemic, the question of whether universities will be open for business as usual in the fall—i.e., on-campus living and in-class teaching—may seem, ahem, academic.
After all, although many colleges have said they expect to reopen with live classrooms, they've also stressed they're fully prepared to go the virtual route, if necessary. But it's a complicated issue for schools, students, and parents—not to mention some businesses most of us probably never think about.
For example, even if colleges and their students don't miss an academic beat by remaining online (a debate for another time), it's a whole different story for a company like American Campus Communities (ACC), a real estate investment trust (REIT) that owns and operates housing for roughly 138,000 college students across the country. Students learning at home means ACC has empty dorms, which isn't good for business.
ACC, which hit its current all-time high in 2016, has mostly traded in a broad range between $32 and $54 since 2013; it was probably more of interest to dividend investors than short-term traders. But yesterday, ACC appeared on the LiveAction scan for high open interest (OI), which represents the number of unclosed options trades, and is a general barometer of trader involvement. The scan showed ACC's OI was more than six times its average level:
Source: Power E*TRADE
---
Analyzing the options chain revealed a few interesting details:
1. Puts outnumbered calls in the May and June options.
2. OI was heavier in out-of-the-money puts (strike prices below the current stock price) for both of these months.
3. The biggest chunk of the OI was in the May $25 puts, which expire next week.
Because puts give their owners the right to sell the underlying stock, this information may seem to have a bearish tint—put buyers appeared to be making bets the stock would drop—but it's always important to remember that for every option buyer there's a seller, so you can't jump to conclusions about what options activity "means."
In this case, though, it's fair to argue that at least some of the heavy put positioning reflected bearish plays, or investors attempting to protect their stock positions from further selling—after all, the stock fell 57% from February 24 to March 23. The options chain shows there were 5,900 open positions in the May $25 puts: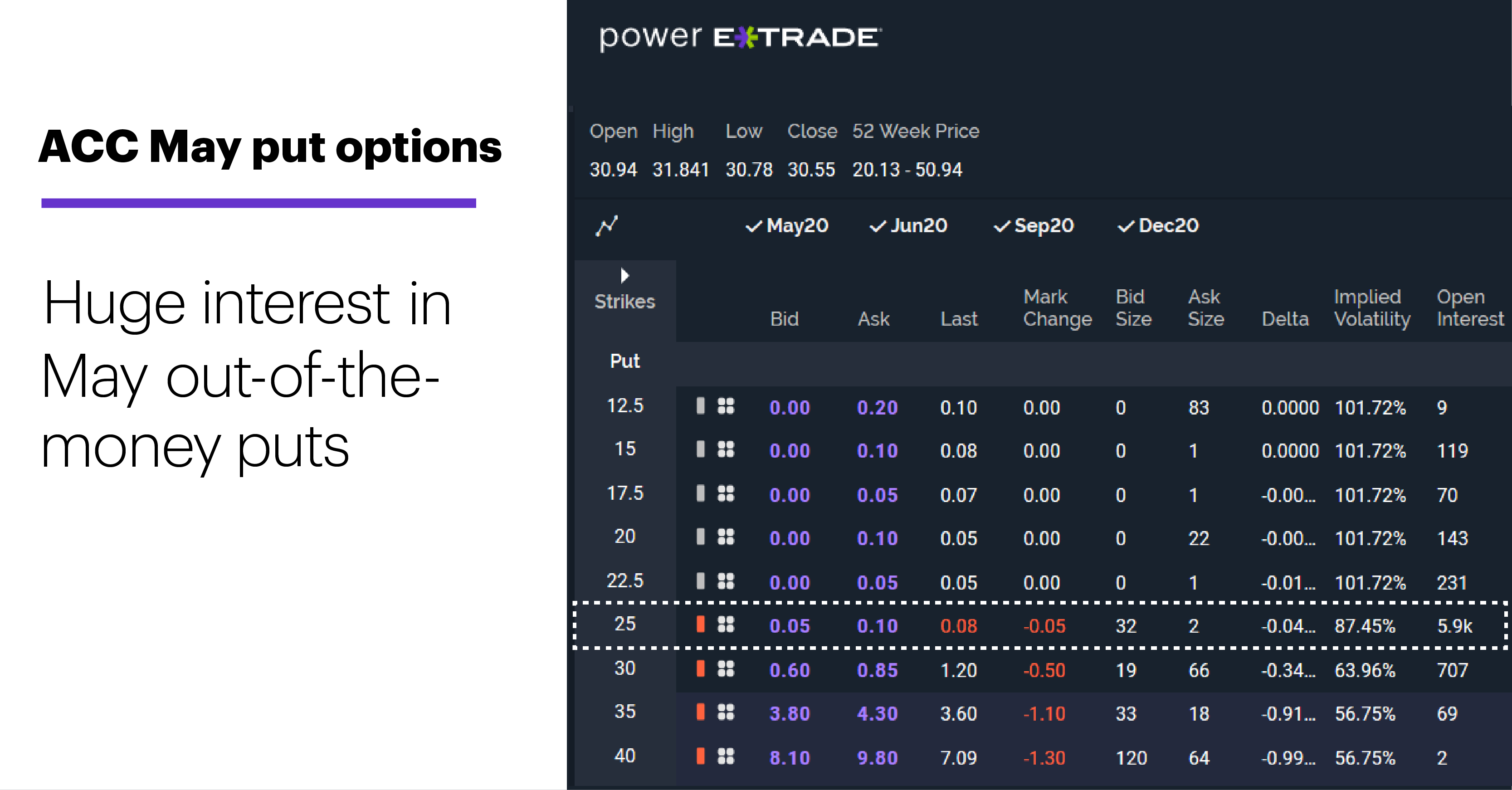 Source: Power E*TRADE
---
Those options, which were trading around $0.08 yesterday morning, will expire worthless unless ACC is below $25 by May 15, although any sharp down move will likely pump up their premiums. As the following chart shows, that would mean the stock would need to break below its April 23 swing low (upper dashed line) and at least test its April 1 low (lower dashed line) for the puts to have any value at expiration:
Source: Power E*TRADE
---
ACC rallied around 70% in the first three weeks after hitting its March low—which was the stock's lowest level since July 2009. It also knocked the socks off its most recent earnings release, on April 20.1
That's why even traders anticipating a potential near-term downturn in ACC shares should take note of one final twist to this story: The majority of OI in ACC September options is in calls—specifically, in-the-money-calls, which could mean some traders have bet on the stock continuing its rally a little further out in time.
Today's numbers (all times ET): Employment Report (8:30 a.m.), Wholesale Trade (10 a.m.).
Today's earnings include: Exelon (EXC), Ubiquiti (UI).
Click here to log on to your account or learn more about E*TRADE's trading platforms, or follow the Company on Twitter, @ETRADE, for useful trading and investing insights.  
---
1 StreetInsider.com. American Campus Communities (ACC) Tops Q1 EPS by 35c, Revenues Beat. 4/20/20.
What to read next...
05/07/20
Options traders especially may like the way its chart looks.
---
05/06/20
Meat shortage may feed trader appetite for food-industry stocks.
---
05/05/20
Low-flying airlines got Buffett-ed by news from Nebraska, but will short-term contrarians consider booking a flight?
---