Runs and ranges
APPS rallied more than 2,500% in less than a year
Shares have consolidated since February
Previous rebounds off range low have exceeded 30%
Most investors probably think of price consolidations as, at best, "down time"—interruptions to what are hopefully more profitable trending periods. Many shorter-term traders likely hold a similar opinion, seeing them mostly as staging grounds for breakout trades.
Some traders, though, may see more possibilities in trading ranges—especially the opportunity to adopt a more proactive stance about potential price developments.
Tuesday provided an example in Digital Turbine (APPS). The stock's 5% intraday drop extended a pullback from mid-April's swing high around $93 and dropped shares close to the bottom of the extremely wide (roughly $35–$40) trading range they've been in since February: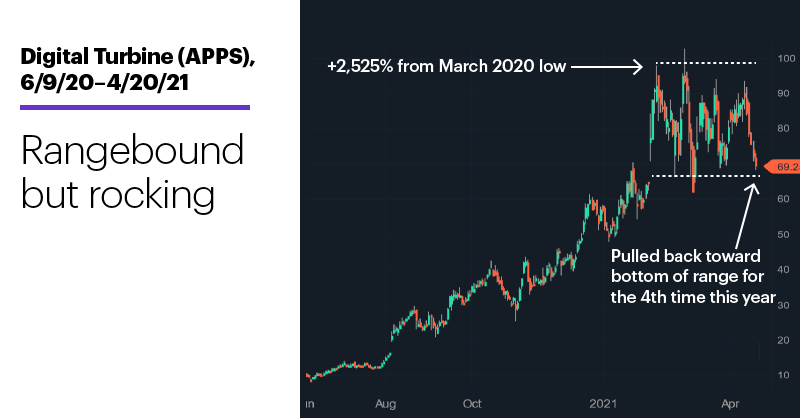 Source: Power E*TRADE
---
The chart doesn't show the entire run, but the buried headline here is that the stock's recent congestion was preceded by a 2,500%-plus rally off its March low (below $4) that peaked in early February, even though the stock swung briefly to a higher high above $100 in early March.
While some breakout traders may ignore a stock in this predicament until it pressures the top of the range, others—especially those with longer-term bullish outlooks—may look to play a potential rebound off the range low. In this case, for example, the stock has pulled back close to the bottom of its current consolidation three other times since the beginning of the year, and each of the subsequent rallies have all been in excess of 30%.
Of course, patterns repeat until they don't. There's always the chance in these types of situations that prices will instead break down out of the bottom of a range, but that uncertainty is an unavoidable part of trading—and the reason it's always necessary to plan ahead and manage risk accordingly.
A final note for options traders: Although APPS appeared on Tuesday's LiveAction scan for symbols with implied volatility (IV) below their historical volatility (HV)—sometimes a signal that some options may be potentially underpriced—traders who dug a little deeper would have discovered that IV was also above its 30-day average.
In other words, IV may have been low relative to HV, but HV had only recently dipped from its highest levels in more than a year—so IV (and by extension, options prices) may not have been quite as low as some traders initially thought.
Market Mover Update: In case you've been wondering when you'd see signs of the inflation everyone's been talking about, Coca Cola (KO) warned earlier this week it would be hiking prices because of rising commodity prices1—and Procter & Gamble (PG), J.M. Smucker (SJM), and Kimberly Clark (KMB) have made similar announcements over the past week or so.
Perhaps not coincidentally, one of the commodities that's been on a tear is corn—the source of the primary Coke sweetener, high-fructose corn syrup: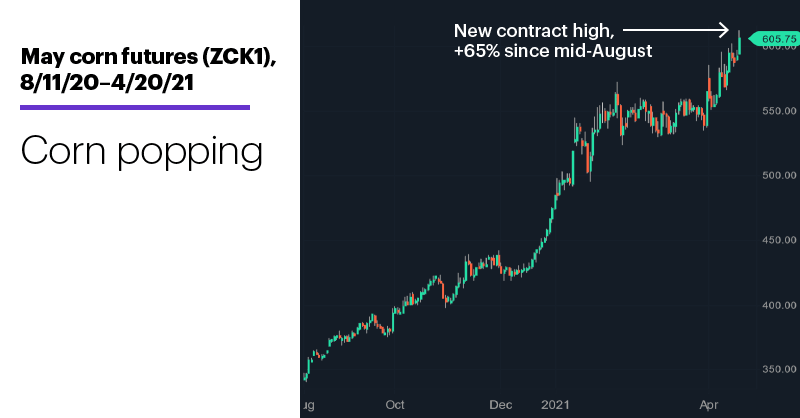 Source: Power E*TRADE
---
Corn prices are at their highest levels since September 2013. As of Tuesday, May corn futures had rallied more than 65% over the past eight months, and hit a new contract high of 628.50 yesterday after a 3% rally.
A couple of pharma names were among the stocks that bucked the market's weakness early this week. AbbVie (ABBV) rallied for a fifth-straight day on Wednesday (see " Growth, value, and breakouts"), while Eli Lilly (LLY) extended its winning streak to seven days after hitting a six-week high on Tuesday (see "Great expectations").
Today's earnings include: American Airlines (AAL), Alaska Air (ALK), Southwest Airlines (LUV), AT&T (T), Biogen (BIIB), Intel (INTC), Danaher (DHR), Dow (DOW), Quest Diagnostics (DGX), D.R. Horton (DHI), Freeport-McMoRan (FCX), Snap (SNAP), Mattel (MAT), Verisign (VRSN).

Today's IPOs include: KnowBe4 (KNBE), DHB Capital (DHBC), Zymergen (ZY).
Click here to log on to your account or learn more about E*TRADE's trading platforms, or follow the Company on Twitter, @ETRADE, for useful trading and investing insights.
---
1 CNBC.com. Coca-Cola CEO says company will raise prices to offset higher commodity costs. 4/19/21.
What to read next...
04/20/21
Outperforming semiconductor support stock pulls back—reversal or pullback?
---
04/19/21
Nasdaq stays hot, but defensive sectors also warm up as stocks extend run.
---
04/16/21
Options prices tumble as volatility slides after stock's big earnings move.
---