Rotation watch
Financials and industrials have lagged the market
Some beaten-down cyclical stocks have edged higher after forming bases
Rotation could dovetail with short-term momentum moves
There's no point in being a contrarian just for the sake of contrarianism, but with so many stocks in hot areas of the market—we're looking in your direction, tech—again trading at or near record highs, it's worth wondering if bulls will turn their attention to neglected corners of the market.
(By the way, if you don't believe that bit about "at or near record highs," check out today's Market Mover Update.)
Over the past three months, no sector has gotten less love than financials. While even the long-dismissed energy sector was able to partially piggyback on crude oil's remarkable rebound, financials—and especially banks—are still much closer to their March lows than their February highs.
The following chart shows JPMorgan Chase (JPM) knocking on the door of a short-term down trendline yesterday after testing its early-April lows on May 14 and pivoting roughly 12% higher over the past four days:
Source: Power E*TRADE
---
Even if the stock's February top around $140 still seems like a tall mountain to climb, some traders may see a breakout above the down trendline as a chance for the stock to at least challenge its late-April highs around $100. And if there's some investor rotation into financials that can provide additional tailwinds, so much the better.
Industrials have been another one of the market's "Do not enter" zones in recent months, and aerospace and defense has been one of its weaker industries. Although most people think of it as a commercial airline manufacturer, Boeing (BA) is also a big player in the aerospace/defense arena—and it's also been one of its hardest-hit stocks: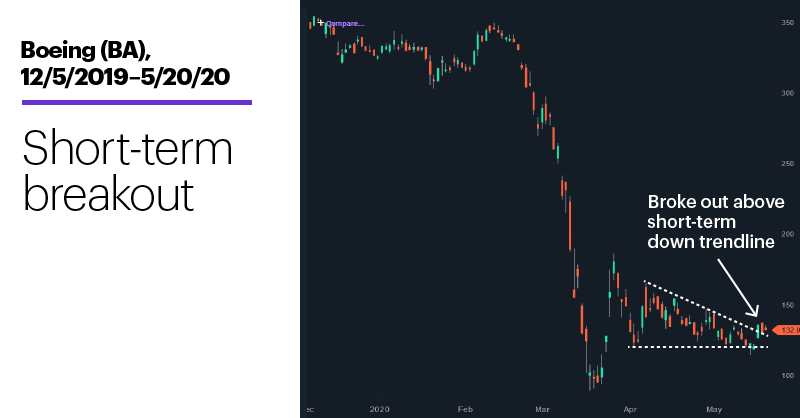 Source: Power E*TRADE
---
But its recent price action is actually quite similar to JPM's, with one big difference: It recently rebounded after testing (for a third time) its early-April lows, but instead of simply tagging its short-term downtrend line, it popped above it on Monday. And for all its woes in the commercial space, it still has huge  defense contracts to lean on (more than $26 billion in revenues last year1).
For good measure, another aerospace/defense giant, General Dynamics (GD) recently rallied into the upper half of the horizontal trading range its been in since early April:
Chart 3: General Dynamics (GD), 1/22/20–5/19/20. General Dynamics (GD) price chart. Top-of-range test?
---
Rotation into neglected sectors isn't a foregone conclusion—and a broad-market retrenchment can never be discounted in this environment—but if the bulls continue to hold sway, it could be a factor that jump-starts some stocks that haven't been able to get into gear in a while.
Market Mover Update: Yesterday's stock rally may have nudged the S&P 500 (SPX) above the top of its recent trading range, but it pushed the Nasdaq 100 (NDX) to levels it hasn't seen since February 21—just two days after it hit its February 19 all-time peak. At yesterday's high, the tech index was only 2.6% from its record of 9,736.57.
July WTI crude oil (CLN0) extended its breakout rally to more than 28% over the past five days, rallying close to $34/barrel on Wednesday. Qualcomm (QCOM) rallied more than 4% intraday on a big day for chip stocks, as well as 5G tech suppliers like Skyworks Solutions (SWKS), Qorvo (QRVO), and Marvell Technologies (MRVL).
Today's numbers (all times ET): Weekly Jobless Claims (8:30 a.m.), Philadelphia Fed Business Outlook Survey (8:30 a.m.), PMI Composite Flash (9:45 a.m.), Existing Home Sales (10 a.m.), Leading Indicators (10 a.m.).
Today's earnings include: Agilent (A), Palo Alto Networks (PANW), NVIDIA (NVDA), TJX (TJX), Ross Stores (ROST), Intuit (INTU), Teekay Tankers (TNK), Medtronic (MDT).
Click here to log on to your account or learn more about E*TRADE's trading platforms, or follow the Company on Twitter, @ETRADE, for useful trading and investing insights.  
---
1 Investors Business Daily. The Best Defense Stocks For Today — And The Future. 4/29/20.
What to read next...
05/20/20
Security tech stock seeks open skies after forming consolidation.
---
05/19/20
Some market watchers think stocks with big stakes in the 5G space could get a boost in the post-coronavirus world.
---
05/18/20
Stocks lost ground, but once again shrugged off the week's worst economic data.
---