Rolling retail
GES calls outnumbered puts more than 600-to-1 on Tuesday
Open interest suggests activity established new positions
Stock up more than 25% since early July test of 2022 lows
Although mega-chains like Home Depot (HD) and Walmart (HD) have received most of the attention as the retail portion of earnings season kicked off this week, there's been noteworthy trading activity in some of the less-traveled corners of the sector.
Options traders were busy this week in apparel maker Guess (GES), which is scheduled to release its numbers after the close on August 24. On Tuesday, GES had the highest call-put ratio of any individual US stock (616.6 calls for every put).
Or, was it more likely a single large trader? The distinguishing charatceristic of Tuesday's call activity was that it was dominated by two identical trades—4,000 contracts in the both the August $18 monthly call options (expiring tomorrow) and the September $19 monthly calls: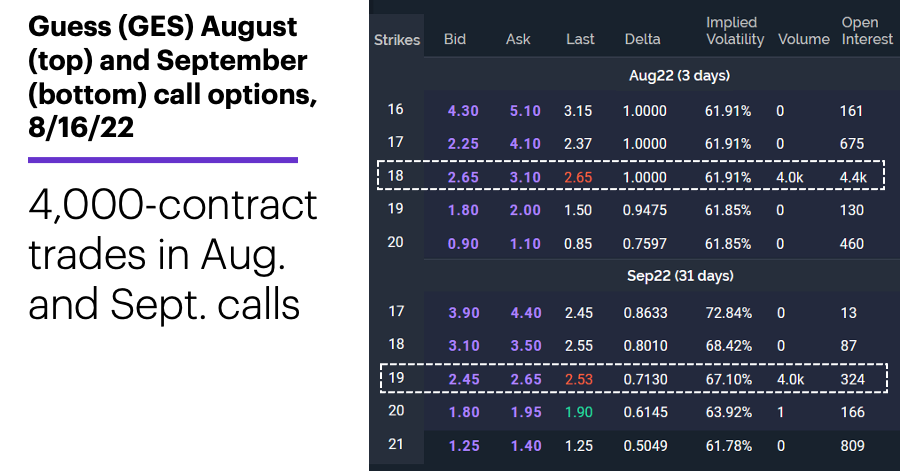 Source: Power E*TRADE. (For illustrative purposes. Not a recommendation.)
---
Same-sized options trades can sometimes mean a trader is "rolling" a position forward—closing it out in the nearby expiration month and opening (re-establishing) it in a later month. In this case, the relationship between the trade volume and the existing open interest (OI) supported that possibility: In the August calls, the OI (4,400 contracts) was greater than the volume, which means some or all of Tuesday's big trade could have been a liquidation of existing positions, while the OI in the September calls (324) was less than one-tenth of the trade volume, which means at least some new positions were being opened.
Wednesday's options chain appeared to support the "roll" hypothesis, since the August $18 calls had much lower OI than they did on Tuesday, while the OI in the September $19 calls was almost exactly 4,000 contracts higher than on Tuesday: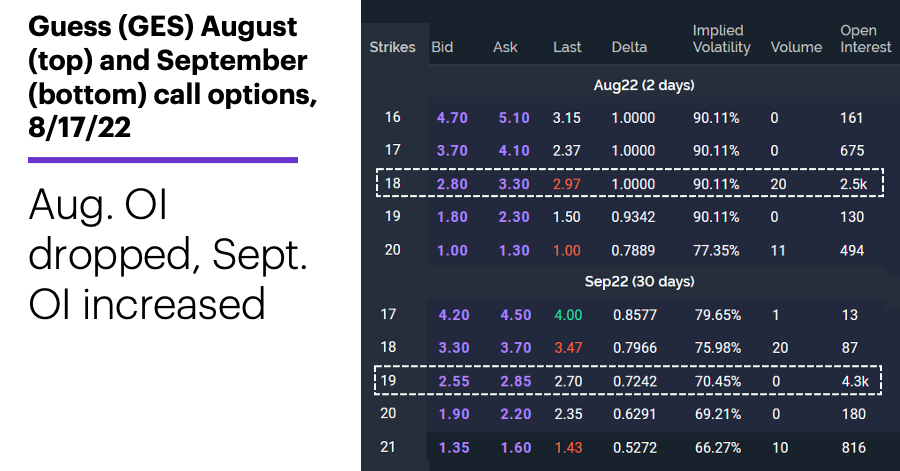 Source: Power E*TRADE. (For illustrative purposes. Not a recommendation.)
---
The net result: an increase in the number of in-the-money September call options, which (unlike the August options) will still be trading when GES reports earnings next week.
Meanwhile, thanks in no small part to Tuesday's rally, GES shares are up more than 25% since July 6 after a second test of their year-to-date lows around $16.50. The bottom half of the chart below shows how the stock performed after its previous four earnings releases: one decline (the red column) and three rallies (green columns), with an average move of +10.3% (yellow dashed line). The final purple column ("NEXT") shows the options market was estimating a roughly  +/- 7.5% earnings move after next week's announcement: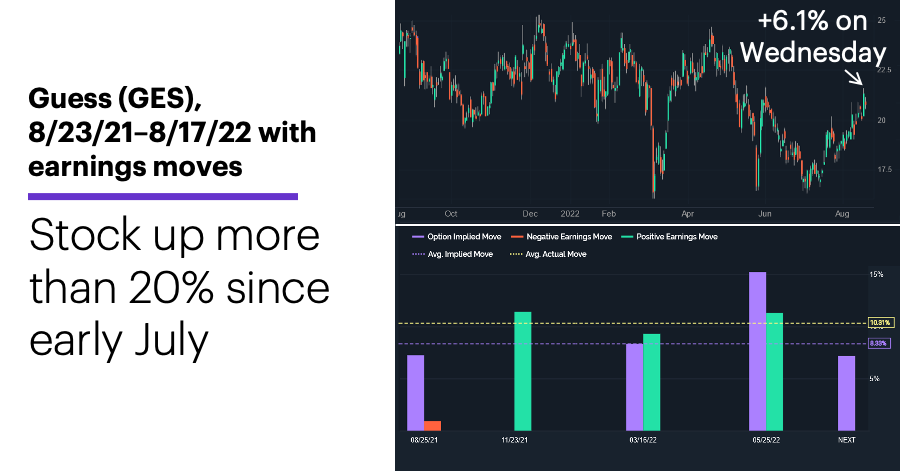 Source: Power E*TRADE. (For illustrative purposes. Not a recommendation.)
---
Longer term, GES has rallied after 13 of its past 20 earnings releases.1 Also, in the first five trading days after its past 46 earnings announcements, GES gained ground (that is, it traded at least temporarily above the closing price immediately preceding the announcement) 31 times, with an average maximum gain of 7%.2
No one knows what will happen next week. But this week's options market activity suggests traders were looking beyond the HDs and WMTs of the retail world.
Market Mover Update: On Wednesday, Albermarle (ALB) pulled back for a second day after nearly matching its all-time high on Monday (see "Batteries up"). Cloudflare (NET) also dropped Tuesday and Wednesday after testing the top of its recent consolidation on Monday (see "Cloudy volatility").
Today's numbers include (all times ET): Weekly Jobless Claims (8:30 a.m.), Existing Home Sales (10 a.m.), Leading Indicators (10 a.m.), EIA Natural Gas Report (10:30 a.m.).
Today's earnings include: Estee Lauder (EL), Applied Materials (AMAT), NetEase (NTES), Ross Stores (ROST), Bill.com (BILL), BJ's Wholesale Club (BJ), Tapestry (TPR), Kohl's Corp (KSS), Canadian Solar (CSIQ).
Friday's numbers include (all times ET): E-Commerce Retail Sales (10 a.m.).
Friday's earnings include: Deere (DE), Foot Locker (FL), Buckle (BKE).
Click here to log on to your account or learn more about E*TRADE's trading platforms, or follow the Company on Twitter, @ETRADE, for useful trading and investing insights.
---
1 Source: Power E*TRADE Earnings Analyzer. 8/17/22.
2 Reflects Guess (GES) daily price data, August 2010–June 2022. The five-day "maximum gain" was measured from the closing price on the day earnings were released to the highest high of the next five trading days. Supporting document available upon request.
What to read next...
08/16/22
Is this surging tech stock's volatility attracting buyers or sellers?
---
08/15/22
Stocks notch first four-week win streak since November 2021.
---
08/12/22
The recent performance of lithium stocks suggests a less-than-straightforward connection to the lithium market.
---