Rocktober market
Stocks slide amid weak manufacturing data, then rebound
Tech-fueled turnaround extended after Friday's jobs report
This week: FOMC minutes, inflation data
Traders looking for volatility in October got their wish immediately last week, as US stocks tumbled the first couple days of the month before roaring to the upside on Thursday and Friday. The week's big economic data points—manufacturing and jobs—figured prominently in the market's gyrations
October started last Tuesday with the S&P 500 (SPX) dropping 1.2% in the wake of the weakest ISM index reading since 20091—47.8, the second-straight month the manufacturing barometer came in below 50, the level that separates growth from contraction: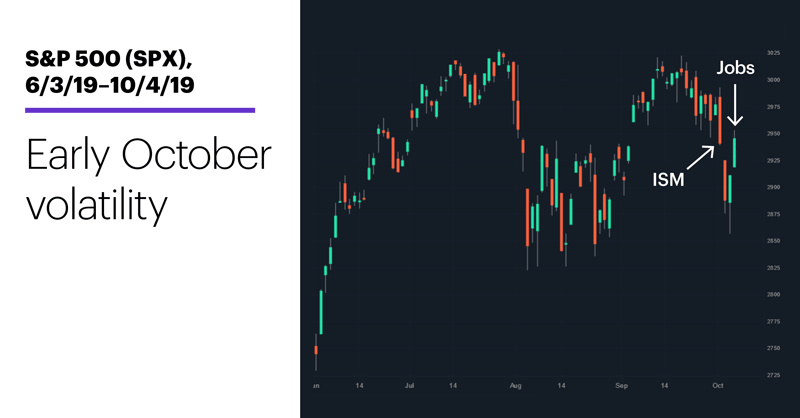 Source: Power E*TRADE
---
A Wednesday hangover dropped the SPX another -1.8%, extending the month-starting slide to -3%. But after dropping to a fresh intraday low on Thursday, the market charged to the upside and closed in the green. And after Friday's employment report, which came in a little weak on new jobs but showed unemployment at a 50-year low of 3.5%,2 the SPX tagged on an additional 1.4% to close out the week with a two-day, 3.4% rally.
With tech leading the Thursday–Friday rebound, the Nasdaq 100 (NDX) came out on top of the index rankings, distinguishing itself as the only major stock gauge to notch a gain for the week: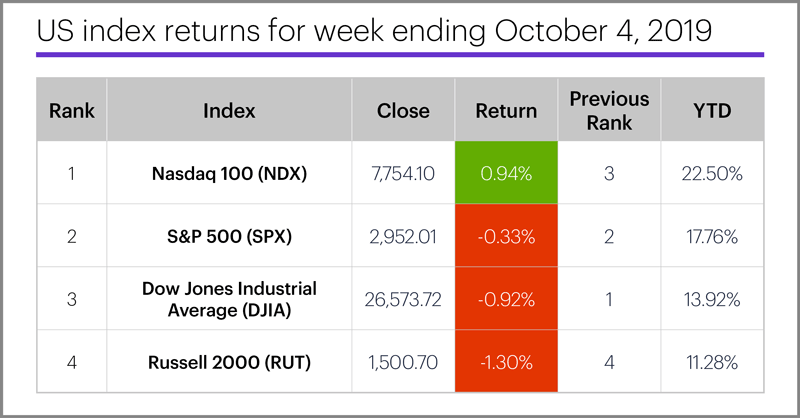 Source: Power E*TRADE
---
Sector roundup: The strongest S&P 500 sectors last week were information technology (+1.2%), health care (+0.9%), and consumer staples (+0.5%). The weakest sectors were energy (-3.9%), materials (-2.5%), and industrials (-2.4%).
Power moves: On Monday Dova Pharmaceuticals (DOVA) surged 38% to $27.95 on news of a buyout deal, while G1 Therapeutics (GTHX) fell -33% to $22.78 after releasing mixed clinical trial data for its cancer treatments.
Futures action: After selling off the first four days of last week to test support near the June and August lows (around $51/barrel), November WTI crude oil futures (CLX9) rebounded to close Friday around $53. December gold (GCZ9) fell to $1,465/ounce on Tuesday—a nearly two-month low—but turned higher as the stock market weakened, closing the week around $1,510.
Coming this week
The latest inflation data comes out this week, but the Street likely will be focusing its attention on Wednesday's FOMC minutes release:
●Monday: Consumer Credit  
●Tuesday: Producer Price Index (PPI), NFIB Small Business Optimism Index
●Wednesday: JOLTS, Wholesale Trade, FOMC minutes
●Thursday: Consumer Price Index (CPI)  
●Friday: Import and Export Prices, Consumer Sentiment
Earnings this week include:
●Monday: GW Pharmaceuticals (GWPH)
●Tuesday: AZZ (AZZ), Levi Strauss (LEVI), Domino's Pizza (DPZ)
●Wednesday: Commerce Bancshares (CBSH), Saratoga Investment (SAR)
●Thursday: Delta Air Lines (DAL), Tootsie Roll Industries (TR)
●Friday: Fastenal (FAST)
Go to the E*TRADE market calendar (logon required) for an up-to-date earnings schedule and a complete list of splits, dividends, IPOs, and economic reports. The Active Trader Commentary also lists earnings announcements, IPOs and economic report times each morning.
Aerospace and defense flags favorably in our work. I think you're looking to buy those names on this market pullback and steer clear of the transports.
Bad news, good news? Following a now-familiar narrative, last week's subpar manufacturing data, while initially knocking the market for a loop, also fueled speculation that the risk of economic weakness increased the odds the Fed would continue to cut interest rates,4 something that's typically perceived as a net positive for the stock market.
It's never too early to begin preparing. The next FOMC meeting is scheduled for October 29-30. (The CME FedWatch tool currently attaches an 80% probability of a rate cut at that meeting.5) And the next jobs report? Two days after that, November 1—the same day the next ISM number is due.
Should be fun. In the meantime, traders will likely be tracking every news report on this month's US–China trade negotiations.
Click here to log on to your account or learn more about E*TRADE's trading platforms, or follow the Company on Twitter, @ETRADE, for useful trading and investing insights.
---
1 Econoday. ISM Manufacturing Index. 10/1/19.
2 Bloomberg.com. U.S. Payrolls and Wages Miss Estimates in New Sign of Downshift. 10/4/19.
3 CNBC.com. Buy this one industrials group as the others slump, Oppenheimer technician says. 10/2/19.
4 MarketWatch.com. Fed rate-cut in October seen as more likely after weak ISM report. 10/1/19.
5 CMEGroup.com. CME FedWatch Tool. 10/4/19.
What to read next...
10/04/19
Seemingly out-of-sync stock and options action puts spotlight on under-the-radar tech company.
---
10/03/19
October's volatile start may mean something very different from what most people think.
---
10/02/19
Will ESG tailwinds help favored stocks reach new heights?
---