Risk, opportunity, and sentiment
WYNN fell more than 20% in late January
Traders circling potentially oversold stocks?
Shares have rebounded nearly 11% off lows
Want to see a cool snapshot of market sentiment in action?
Take a look at the following chart, which shows the S&P 500 (SPX), along with the popularity of "coronavirus" as a Google search term, from January 16–February 11. The disease didn't even register on the world's virtual radar until January 20, but it took off over the next 11 days, with interest peaking on Friday, January 31—which just happened to be the same day the SPX suffered its worst loss in more than three months:
Source: Power E*TRADE
---
January 31 also turned out to be the market's pullback low. Funny how that happens sometimes.
But that doesn't mean the virus has totally lost its ability to rattle trader nerves, as yesterday's market action showed. Amid reports of another spike in coronavirus cases1—which had appeared to be leveling off—global equities retreated and the SPX fell nearly 0.6% in early trading.
In a potentially encouraging sign for bulls, though, the market rebounded to scratch its way back to breakeven by midday, and by 2 p.m. ET the SPX was trading at a new record high.
The possibility that even bad coronavirus headlines could be losing some of their ability to derail the market may have opportunistic traders eying some of the most beaten-down stocks from the past few weeks, especially travel and gaming (casino) names.
It may seem strange that certain casino operators have suffered during the coronavirus outbreak, until you find out that many of them have huge operations in China—Macau, in fact, is the gambling capital of the world (sorry, Vegas), and it's where Wynn Resorts (WYNN), for example, generates most of its revenue.2
No wonder the stock tumbled 21% from January 17 (its highest high since August 2018) to January 27: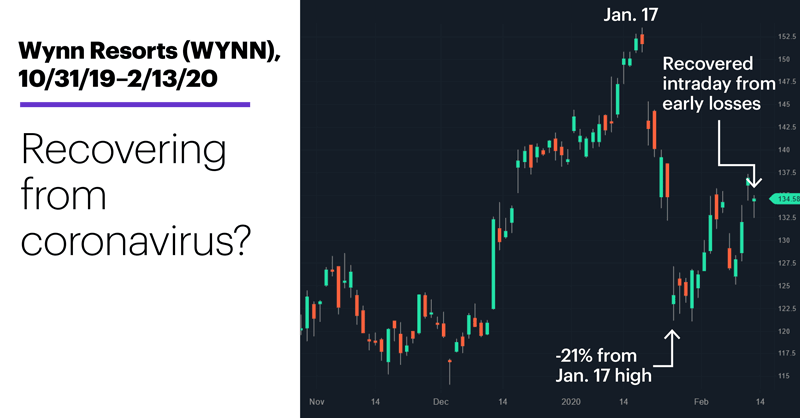 Source: Power E*TRADE
---
Some traders may be surprised the stock has been able to rebound as much as it has since then (nearly 11%), given China on February 4 announced it was shutting down Macau's casinos for 15 days. A growing resistance to virus news?
In a way, yesterday's trading in WYNN was a microcosm of the ongoing market dynamic: The stock initially slid 3.2% on the morning's negative headlines, but by midday it had cut that loss in half and was  trading above its opening price.
Bad news, good news. Down moves, up moves. If stocks like WYNN can bounce back on bad news like they did Thursday, bulls may be wondering what things could be like on a good news day.
Today's numbers (all times ET): Retail Sales (8:30 a.m.), Import and Export Prices (8:30 a.m.), Industrial Production (9:15 a.m.), Business Inventories (10 a.m.), Consumer Sentiment (10 a.m.), Baker-Hughes oil rig count (1 p.m.).
Today's earnings include: Astrazeneca (AZN), Canopy Growth (CGC), Newell Brands (NWL), PPL (PPL).
Click here to log on to your account or learn more about E*TRADE's trading platforms, or follow the Company on Twitter, @ETRADE, for useful trading and investing insights.  
---
1 CNN.com. Coronavirus cases spike as China sacks senior officials. 2/13/20.
2 MarketWatch. Casino stocks fall as Macau shuts down for 2 weeks on coronavirus concerns. 2/4/20.
What to read next...
02/13/20
As risk factors appear to ease, traders push key semiconductor stock back toward highs.
---
02/12/20
Options traders ante up in wake of last week's earnings report from "growth" cyclical stock.
---
02/11/20
Can already hot fast-food stock keep the price action spicy?
---