Risk appetite
SYY fell more than 7% intraday on Monday
Stock gained 36% in 2019
Sell-off approached support level at previous highs
Is this a case of a falling knife, or a falling fork?
Either way, food-service giant Sysco (SYY) fell off the edge of the table yesterday, slipping more than 7% intraday after topping its earnings estimate but coming up a bit short on revenues ($15 billion vs $15.09 billion).1
No surprise, then, that a LiveAction scan showed SYY put options volume was around 380% of its average level by midday: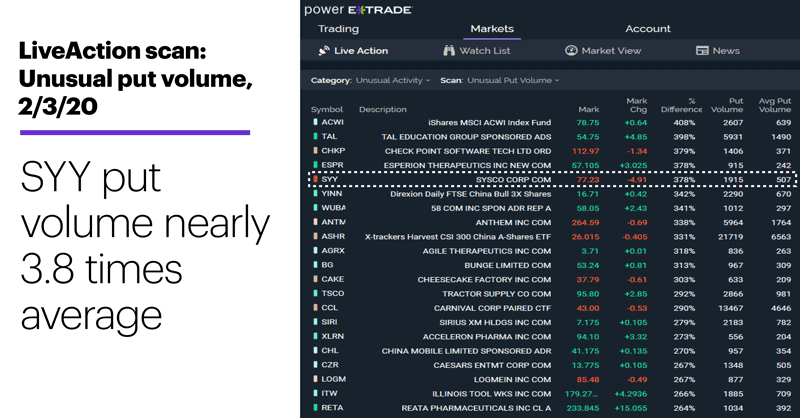 Source: Power E*TRADE
---
Quick sidebar: SYY also landed on the high put-call ratio scan yesterday morning, but fell off that list before the day was half over, a potential sign that what may have initially been considered "extreme" put volume in early trading had morphed into merely "heavy."
The sell-off turned what had been a ho-hum 5% pullback from the stock's late-December all-time high of $85.98 into an "ahem" retreat of more than 11%.
Traders attempting to determine if the utensil safely landed on the floor may have noticed a few conspicuous developments yesterday. First, the move marked a 50% retracement of SYY's 27% August–December rally, and dropped prices fairly close to the support level implied by the June 2018 and May 2019 highs:
Source: Power E*TRADE
---
Second, Sysco has missed revenue estimates six out of the past seven quarters, so Monday's results weren't out of the ordinary in that regard.
Third, as a prime dividend stock,2 there's always the potential for the long-term crowd to pile into SYY if they've decided one of their favorites is trading at a sufficient discount.
Finally, SYY is no stranger to big down days—it's dropped between 5–10% 39 other times over the past 30 years. The price chart marks four of those days. The nearly instantaneous short-term rebounds that followed these one-day sell-offs are exceptionally strong examples of what is a milder net-bullish pattern: SYY was higher 10 days later 59% of the time after such days, with an average gain of 2.6%, but there also tended to be some volatility between point A and point B.3
In light of these realities, conservative short-term bulls may see the benefit of playing a potential rebound after the stock has worked through some of that volatility (perhaps after a slight penetration of that support level?).
Risk appetite is one thing, risk gluttony is another.
Market Mover Update: The moment of truth for oil? Yesterday March WTI crude oil futures hit the key levels noted in "Initial impressions, trading reflections."
Today's numbers (all times ET): Factory orders (10 a.m.).
Today's earnings include: Walt Disney (DIS), Gilead Sciences (GILD), Clorox (CLX), Chipotle (CMG), Ralph Lauren (RL), ConocoPhillips (COP), Match Group (MTCH), Snap (SNAP), Bio-Techne (TECH), Allstate (ALL).
Click here to log on to your account or learn more about E*TRADE's trading platforms, or follow the Company on Twitter, @ETRADE, for useful trading and investing insights.  
---
1 StreetInsider.com. Sysco Corp. (SYY) Earnings. 2/3/20.
2 MotleyFool.com. Dividend Aristocrats: Definition & List. 12/19/19.
3 Reflects Sysco (SYY) daily price data from 12/31/99–2/3/20; supporting document available upon request.
What to read next...
02/03/20
February kicks off with stocks battling their first downturn of the year, courtesy of the coronavirus.
---
01/31/20
Earnings opportunities: There's the initial reaction, and what traders see after the smoke clears. They're not always the same.
---
01/30/20
Sports-betting deal shines light on industry growth story.
---