Right place at the right time?
More than 800 LPSN call options traded for every put yesterday
Company's tech may be in demand during pandemic lockdown
Triangle pattern on price chart may have heightened breakout expectations
A little over two months ago, when the coronavirus story was still in the shadow of the US stock market's push to new all-time highs, communications tech company LivePerson (LPSN) got a bit of a head start on the carnage that was about to engulf the whole market.
One day after hitting a record close of $44.98, LPSN plunged 24.5% on February 14 after beating Q4 earnings and revenue estimates but lowering its outlook. The stock kept sliding as the coronavirus story derailed the markets, and by the time the bleeding stopped on March 18, LPSN had fallen to $14.95, down 67% from its high: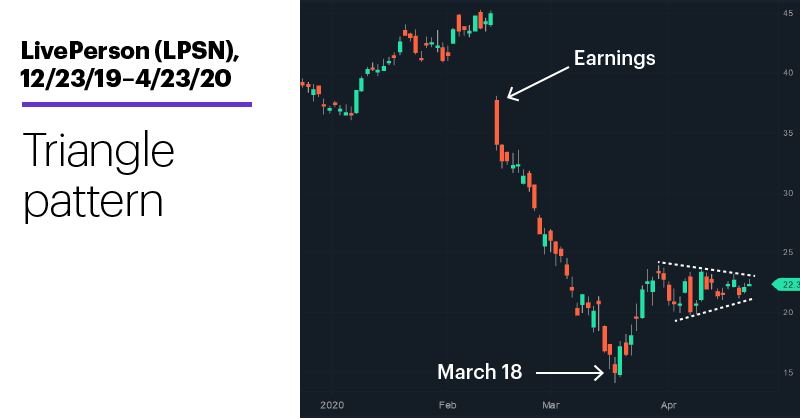 Source: Power E*TRADE
---
The stock rebounded close to $24 by March 30, but since then it's put together an increasingly tight consolidation—what most chartists would recognize as a classic "triangle" pattern. The implication of such formations is that because volatility tends to cycle between highs and lows, and because a triangle by definition represents progressively lower volatility, a breakout of the pattern could be a potentially high-momentum move since volatility could be expected to cycle higher again.
That's all well and good, but aside from traders who may look to buy an option straddle or strangle to potentially profit from a move in either direction (and they'll want to do that if options are relatively underpriced), most people would be looking to handicap the breakout's direction.
A bit of backstory: When LPSN sold off after its February earnings announcement, one of the apparent reasons for its lowered outlook was that the company, which provides messaging tech companies use to interact with customers (think chat bots and other automated tools), planned to keep devoting capital to product innovation.1
Ironically, what appeared to disappoint analysts two months ago may be one of the things attracting curious traders and investors now, as the firm's automation tech has reportedly been in high demand as many customer call centers have been overwhelmed during the lockdown.2
On the options front, yesterday LPSN topped the LiveAction scan for high call/put ratios, with more than 800 calls trading for every put:
Source: Power E*TRADE
---
Checking out the options data revealed a couple of things. First, while only a handful of put options had traded by midday, traders bought 220 of the May $25 calls and 1,500 of the November $40 calls. While the big November call position may be about the longer-term outlook (the current average 12-month analyst target for LPSN is around $35.503), the May options are about the here-and-now. Bottom line, the stock would need to rally at least 4% from yesterday's levels to get those options into the money.
Second, there may have been an interesting volatility story. The following chart of LPSN's option implied volatility (IV) yesterday shows May options IV (solid line) was running a little above the 30-day average (dashed line), which suggests the options market may have been expecting the stock to make a move before these options expire in three weeks: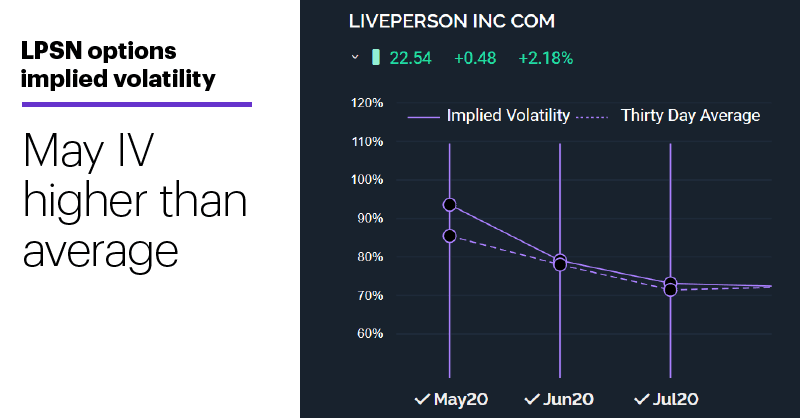 Source: Power E*TRADE
---
That brings things full circle to the LPSN price chart. While IV is the market's estimate of future volatility, price volatility is about what's happened in the past. In this case, you have a stock whose price volatility has recently come to a near standstill, while the options market seems to be signaling the potential for momentum to ramp up in the near future.
Are the options traders right? We should find out soon enough, because LPSN's consolidation can't be much tighter than it is now.
Market Mover Update: Williams-Sonoma's (WSM) 4%-plus breakout move yesterday pushed the stock to its highest level in six weeks (see "Cooking up a trade"). Teekay Tankers (TNK) tanked more than 11% intraday yesterday as crude oil extended its rebound (see "Storage wars"). June WTI crude oil futures (CLM0) surged more than 23% yesterday to around $17/barrel—more than 160% above Tuesday's implosion low of $6.50.
Finally, although the underlying stories aren't the same, if you're interested in another stock that's been forming a triangular consolidation, check out a daily chart of Boeing (BA).
Today's numbers (all times ET): Durable Goods Orders (8:30 a.m.), Consumer Sentiment (10 a.m.), Baker-Hughes oil rig count (1 p.m.).
Today's earnings include: American Airlines (AAL), American Express (AXP).
Click here to log on to your account or learn more about E*TRADE's trading platforms, or follow the Company on Twitter, @ETRADE, for useful trading and investing insights.  
---
1 TheStreet.com. LivePerson's Weak Charts Need Repair. 2/19/20.
2 The Information. Amazon, Startups See Surge in Demand for Automation Tech Amid Pandemic. 3/25/20.
3 TipRanks. LPSN LivePerson Analyst Price Targets. 4/23/20.
What to read next...
04/23/20
High-end retailer's options activity kicks into gear during a pause in the stock action.
---
04/22/20
Tanker stocks soar on oil surplus: Will the storage squeeze last?
---
04/21/20
Liquor distributor makes a big print on the options tape, even as its stock price hunkers down.
---