Riding the volatility wave
PANW option implied volatility jumped from last week
Options expiring next week trading at relatively high levels
"Strangle" strategy can gain if volatility stabilizes or declines
Nasty stock-market downswings like the one that unfolded this week don't make too many people happy, aside from dedicated (and nimble) short sellers, and traders who were long volatility before the market tumbled.
But when volatility spikes, many options traders look for opportunities to sell it.
People outside the options universe can be a little thrown off by the concept of buying and selling volatility, but just like price action itself, volatility goes up and down—just not necessarily in the same direction, as everyone who follows the Cboe Volatility Index (VIX) knows. When the market sells off sharply, volatility can surge even more dramatically, which explains the VIX's +40% jump on Monday when the S&P 500 (SPX) dropped "only" -3%.
In a nutshell, high volatility—specifically, high implied volatility (IV)—tends to inflate options prices. IV represents the market's estimate of the stock's future volatility, and it's baked into an options price. That estimate tends to get jacked up whenever a stock, or the market as a whole, makes a big move. As a result, options traders know, all else being equal, it's better to sell options when volatility is high, and buy them when it's low, regardless of your outlook on the underlying stock's direction.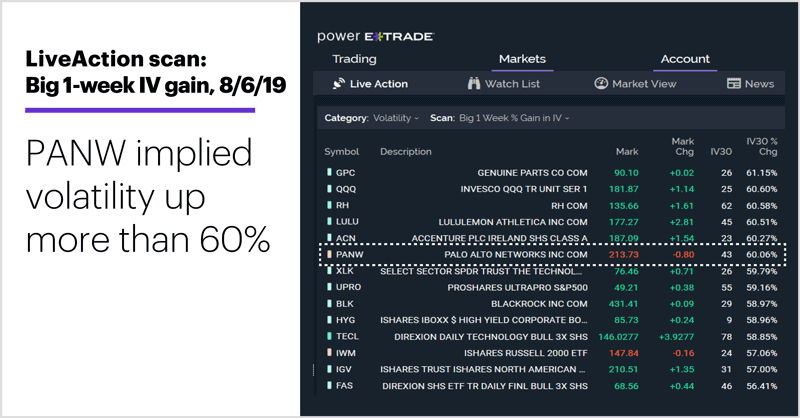 Source: Power E*TRADE
---
Volatility has been up across the board recently, but the LiveAction scan above shows that Palo Alto Networks (PANW) options had exceptionally high IV yesterday, up more than 60% from a week earlier.
PANW stock took its lumps with the rest of the market during the recent downturn, dropping from $227.78 on July 30 to around $213.20 midday on Tuesday, a loss of more than -6%. The daily chart below shows the stock's most recent upswing halted in the vicinity of $230, the approximate support level at the bottom of the February–May consolidation, which has now become resistance, having also turned back a rebound on May 22. Further downside support is apparent near the June lows (roughly $195).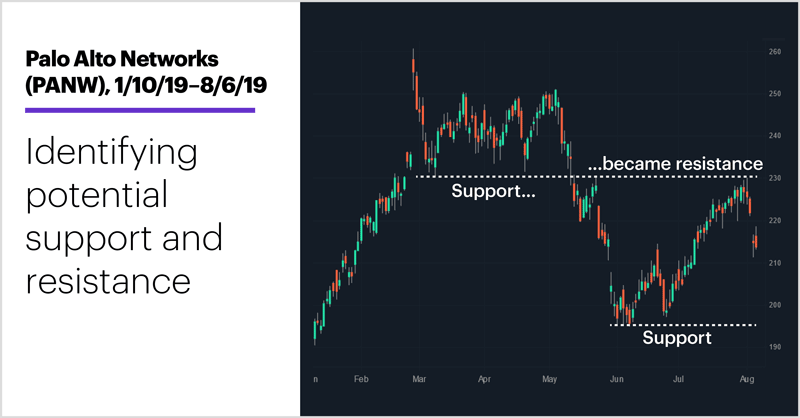 Source: Power E*TRADE
---
If you're wondering what any of that has to do with options, remember that high IV can translate into high options prices, and PANW's IV was up significantly. That could have tipped off traders to the fact that PANW options expiring on August 16 were trading at relatively high prices yesterday, which could lead some of them to "go short" volatility—by selling options—with the expectation that volatility may revert to more moderate levels after its recent surge.
Rather than selling only calls (which would imply a bearish stock outlook) or only puts (implying a bullish outlook), some traders in these situations choose the "directionally neutral" strategy of selling both. The chart below shows the risk-reward profile for an options "strangle" consisting of a short August $195 put and a short August $230 call—yes, those strike prices correspond to the stock's support and resistance levels. A trader would collect 1.53 ($153) per short strangle.
Source: Power E*TRADE
---
Traders who put on this type of position are expecting the stock to remain between the two strike prices (which in this case are based on technical price levels) until expiration. Basically, it's a trade that says, "I don't know, or care, which way the stock moves, but volatility is high and I think that's going to drop."
In this case, the strangle's profitability zone ranges from $193.47 on the downside to $231.53 on the upside, which means PANW would have to trade (by August 16) roughly -9.4% below or 8.5% above where it was trading yesterday around noon ET. That's obviously not impossible, since the stock had fallen more than -6% since July 30.
The question is whether the stock will, after a significant volatility surge, maintain that level of movement, or calm down a bit. There are never any guarantees, but longtime traders know that volatility sometimes retreats from an extreme as quickly as it reaches it.
Today's numbers (all times ET): Germany Industrial Production (2 a.m.), EIA Petroleum Status Report (10:30 a.m.), Consumer Credit (3 p.m.).
Market Mover Update: The stock market bounced yesterday, in keeping with the patterns outlined in "Rebound or rout?"
Today's earnings include: Booking Holdings (BKNG), Roku (ROKU), Worldpay (WP), LYFT (LYFT), CVS Health (CVS), American International Group (AIG), Zillow (ZG), TripAdvisor (TRIP), Shutterfly (SFLY), New York Times Co (NYT), Marathon Oil (MRO), Jack in the Box (JACK), Gaming and Leisure Properties (GLPI), Albemarle (ALB), Fox (FOXA), Horizon Therapeutics (HZNP).
Click here to log on to your account or learn more about E*TRADE's trading platforms, or follow the Company on Twitter, @ETRADE, for useful trading and investing insights.
---
What to read next...
08/06/19
History—both recent and more distant—has some interesting things to say about yesterday's stock sell-off.
---
08/05/19
Stock retrench amid Fed frets and trade tweets.
---
08/02/19
The VIX Also Rises: The "fear index" has signaled its fair share of market turning points in recent months.
---