Retracements and rebounds
Last week PG approached 50% retracement of last year's rally
Stock has outpaced market over past two days
Crude oil reversed yesterday after red-hot run
When the market pulls back—especially after the type of no-holds-barred rally we've seen over the past year—it's only natural for people to wonder how much more downside, if any, they may be in for.
While most of the attention has been focused on the recent tech retreat, there are many other formerly high-flying names that have gotten their wings clipped over the past several weeks. When that happens, rebound-minded traders often look for names they think may have fallen to levels that could bring bulls back into the pasture.
For example, last week household goods giant Procter & Gamble (PG) retreated very close to the 50% retracement level of its March–November 2020 rally from $97.70 to $146.92:
Source: Power E*TRADE
---
Although PG has never been known as a "momentum" stock, it was a pandemic winner last year, rallying more than 50% off its March lows. Perhaps more importantly, though, it was doing just fine before that, having more than doubled over the course of a "slow" but relentless May 2018–February 2020 rally.
By last Thursday the stock was down around 17% from its November high—nearly three times as much as the S&P 500's (SPX) pullback from its February high—and roughly 24% below its average Street analyst target of $151.89.1
But aside from giving back half of its recent uptrend, some traders may have also noticed PG's 4.2% bounce over the past two days left the SPX in the dust, and was also the stock's biggest two-day gain since last April.
Jumping over to the futures markets, the commodity behind the stock market's hottest sector of the year (energy) just pivoted in the opposite direction. After rallying to within two cents of $68/barrel on Monday, April WTI crude oil (CLJ1) backtracked nearly 5%—the market's biggest intraday reversal of the year: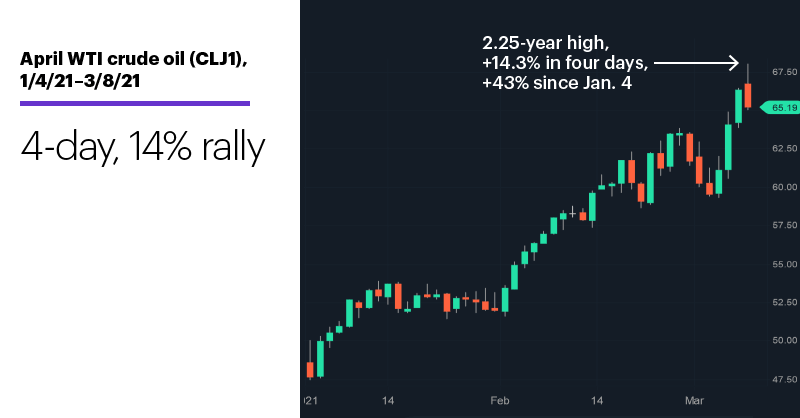 Source: Power E*TRADE
---
At yesterday's peak, April crude had rallied 14.3% in just four days—it's biggest four-day jump of the year—and was up 43% since January 4. The recent surge had pushed oil to its highest levels in more than two years (cash crude oil has reached the potential resistance zone noted in "Oil gets energized") amid the recent OPEC+ decision to keep supply curbs intact, and news of the (unsuccessful) attack on Saudi oil production facilities over the weekend.2
It's true that a day or two of price action often doesn't mean anything in the big picture. Nonetheless, short-term market reversals are worth monitoring, especially if they accompany news "surprises" or develop near potentially widely watched price levels, since there's always the chance they may represent something more significant.
Today's numbers: NFIB Small Business Optimism Index (6 a.m.).
Today's earnings include: Sumo Logic (SUMO), Array Technologies (ARRY), Cantel Medical (CMD), Dick's Sporting Goods (DKS), Ontrak (OTRK).
Click here to log on to your account or learn more about E*TRADE's trading platforms, or follow the Company on Twitter, @ETRADE, for useful trading and investing insights.  
---
1 TipRanks. Procter & Gamble Stock Forecast and Price Targets. 3/8/21.
2 AP News. Attack on Saudi oil site fuels upward march for crude prices. 3/8/21.
What to read next...
03/04/21
Semiconductor specialist spikes, then pulls back after earnings beat.
---
03/03/21
Telemedicine bulls may see options spread opportunities after recent pullbacks.
---
03/02/21
Sector strength, options activity may raise financial stock's profile among traders.
---