Stock market spree
Back-to-back retail sales strength in June and July
Most high-profile retail stocks beat earnings this past week
S&P retail sector up more than 5% since August 15
On August 15, when many investors were probably dabbing the sweat on their brows as the major stock indexes tested their early-August sell-off lows, one piece of economic data managed to offset some of the doom-and-gloom brought on by the first two-year/10-year yield curve inversion since 2007.
Retail Sales for July were up 0.7%—more than double the estimate, which was especially surprising since many analysts had expected the number to contract a bit following June's strong showing.1
Now, while it's impossible to know whether this unexpected strength is a one-off—Retail Sales data tells you what happened last month, after all—in the week or so since the number came out, most of the big-name retail stocks that have released earnings have crushed estimates and pumped up their share prices: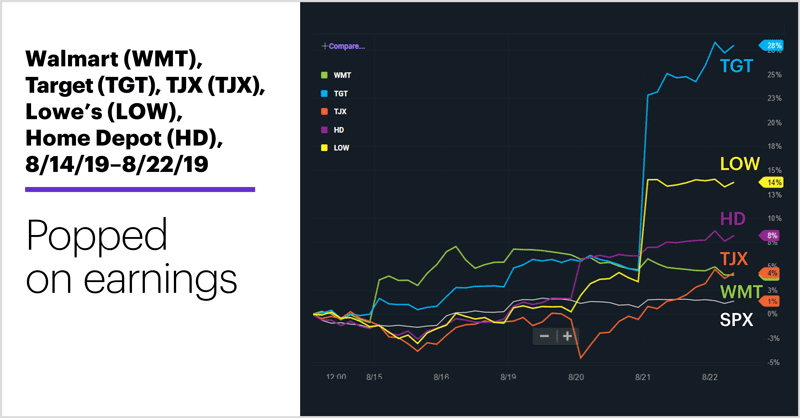 Source: Power E*TRADE
---
Walmart (WMT), Target (TGT), TJX (TJX), Lowe's (LOW), Home Depot (HD)—all are up 4% or more since August 14, with the biggest leaps in each stock corresponding to their earnings releases.
The S&P 500 (SPX) retail sector, which lost roughly twice as much as the broad index during the July 25–August 15 downturn, turned the tables and gained more than twice as much (around 5.2%) as the SPX over the past five days.
Trade wars and recession fears, meet the undefeatable consumer.
That's the narrative in some circles, but the issue for traders is whether the sector can continue to outperform. First things first: Each successive retail-stock earnings beat has provided a shot in the arm to its brethren—those that have already released their numbers, as well as those that are about to, like Williams Sonoma (WSM, on August 28), which rallied more than 3.5% intraday yesterday, and punched its way out of a short-term consolidation: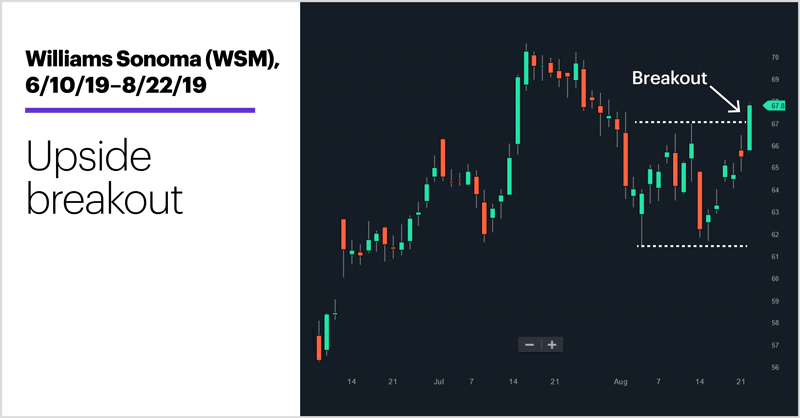 Source: Power E*TRADE
---
But when the numbers stop coming in (and they're mostly out now), that self-reinforcing upside momentum for retail will likely ebb—that's the nature of the earnings cycle. That doesn't mean the sector won't have any further upside, just that there's the potential for some near-term retrenchment even if it does.
Second, it can't be said often enough that no stock—or sector—operates in a vacuum. The major themes at the top of the market's mind these days—the yield curve, trade, Fed policy, the approach of what is historically the stock market's most volatile time of the year—have the potential to drive a move in the broad market, up or down, that will take almost all sectors with it.
That type of movement is good for traders, but it's also a reminder of the perennially wise advice to pick your spots. With continued low unemployment and a Fed that still appears to be leaning toward cutting interest rates in September,2 there's reason to believe the consumer and the stock market can put together another bullish push, regardless of where the economy may be in 24 months.
In which case, traders alerted by so many high-profile retail stocks reversing off lows and breaking out of  consolidations may be looking for short-term pullbacks (tests of breakout points, gaps, or other technical levels) to catch the next potential upswing.
It's just like retail—pouncing on what you want to buy when it's on sale.
Today's numbers (all times ET): Jackson Hole Economic Symposium (Fed chief Jerome Powell scheduled to speak at 10:00 a.m.), New Home Sales (10 a.m.), Baker-Hughes oil rig count (1 p.m.).
Today's earnings include: Foot Locker (FL), Hibbett Sports (HIBB).
Click here to log on to your account or learn more about E*TRADE's trading platforms, or follow the Company on Twitter, @ETRADE, for useful trading and investing insights.
---
1 Econoday. Retail Sales. 8/15/19.
2 Bloomberg. Powell Expected to Seek Another Cut Despite Strong Spending. 8/15/19.
What to read next...
08/22/19
Housing market split could move different home-building stocks in different directions.
---
08/21/19
Want the market to rally next week? You may not want it to this week.
---
08/20/19
Oil stocks bucked the crude bounce. Was yesterday's rally a sign the sector is getting in sync with its commodity?
---