Knocking on the price ceiling
Silver retreated this week after a one-month, 15% rally
Prices pivoted lower after reaching resistance level
Because commonly referenced concepts like support and resistance can sometimes seem vague or difficult to apply in real time, it can help to review recent examples that have played out in the markets—and how traders may act on them.
For example, after rallying more than 15% from September 29 to Monday of this week, December silver futures (SIZ1) pulled back over the past three days: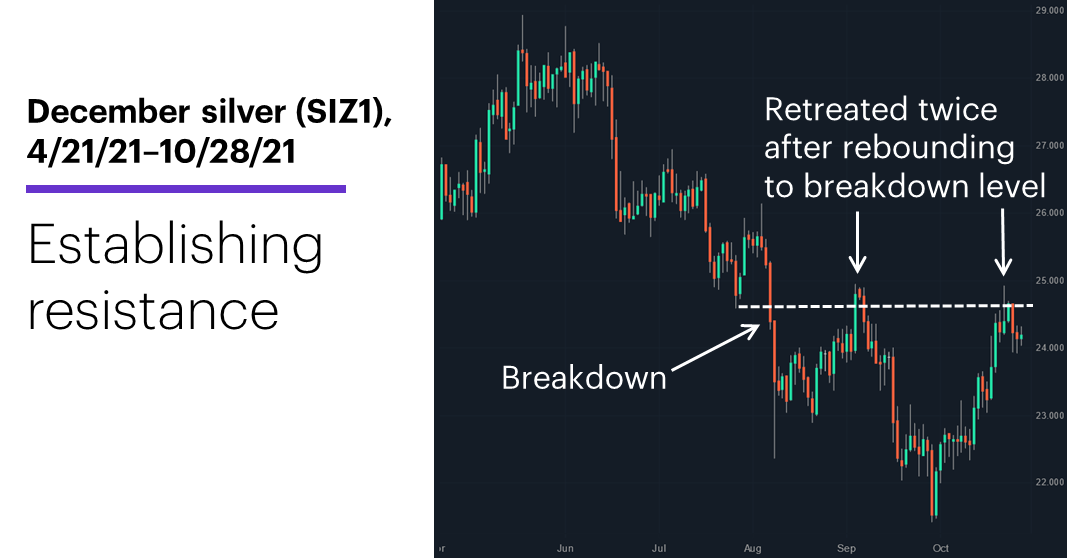 Source: Power E*TRADE (For illustrative purposes. Not a recommendation.)
---
This 2-3% retreat may not appear to be particulary noteworthy, but if you consider its larger context, it may take on a little more signficance—especially for technical traders.
After a sharp breakdown below its late-July low, silver rallied to test the former breakdown level (temporarily rallying slightly above it), then reversed to the downside in early September.
Thus, a resistance level was born, which is nothing more or less than an aproximate price point that "resisted" further advances (the reason, most technical would likely say, is unimportant). And because of this simple fact, some traders will look for such levels to turn back prices—at least temporarily—in the future. That's what happened with this week's pullback. This resistance may be broken tomorrow or next week, but as of yesterday, silver had retreated from this level for the second time in less than two months.
One aspect of this principle is that traders may use it in different ways. While some traders would think of these levels in terms of initiating a position—in this case, a short trade at the resistance level in anticipation of another downturn—others may use it to take profits on an existing position.
For example, a trader who bought silver in mid-August or late September may have chosen to exit the position (or at least part of it) around the resistance level for the same reason a short seller may have chosen to get into the market. And in the same vein, a trader who was considering going long silver may have delayed entry if prices were approaching the resistance level, since there was a chance the market could retreat and offer a better entry price.
Trading concepts—and trading patterns—don't necessarily have to be complex to be useful. Anything that helps define risk and reward is potentially useful.
Today's numbers include (all times ET): Employment Cost Index (8:30 a.m.), Personal Income and Outlays (8:30 a.m.), Chicago PMI (9:45 a.m.), Consumer Sentiment (10 a.m.).
Today's earnings include: Phillips 66 (PSX), AbbVie (ABBV), Aon (AON), Exxon Mobil (XOM), Colgate-Palmolive (CL), Chevron (CVX).
Today's IPOs include: AirSculpt Technologies (AIRS), Sonendo (SONX), HireRight (HRT), Aura Biosciences (AURA), Udemy (UDMY).
Click here to log on to your account or learn more about E*TRADE's trading platforms, or follow the Company on Twitter, @ETRADE, for useful trading and investing insights
---
What to read next...
10/27/21
Recent price action shows the importance of knowing which options to trade in a given situation.
---
10/26/21
Are conditions in this retail stock attractive to bargain hunters—especially options traders?
---
10/25/21
Friday dip fails to derail weekly gain as earnings season kept market chugging.
---