Rent-to-own options
Exceptionally high call volume in AAN yesterday
Stock has rallied around 10% since "bear-trap" breakdown
Gold goes bold, punches to six-week high
Even if you don't trade options, ya gotta keep an eye on the options market. You never know what you may stumble across.
Yesterday, for example, traders were scooping up roughly 75 times more call options than puts in lease-to-own retailer Aaron's (AAN), on a day the stock was padding a recent bounce off a two-month low with a 3%-plus rally: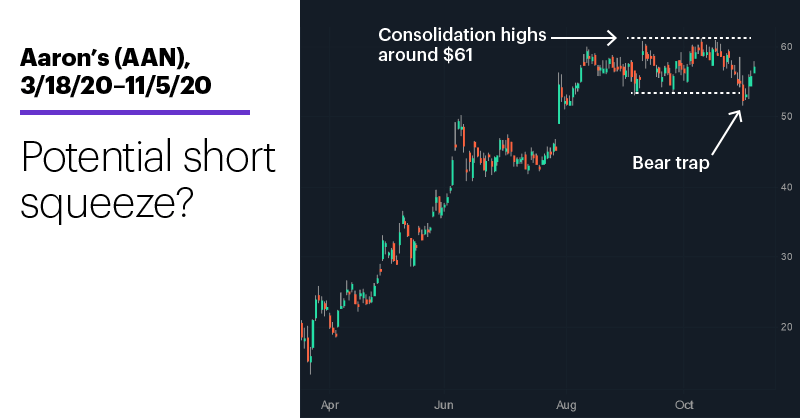 Source: Power E*TRADE
---
As the chart highlights, the recent bounce has some of the hallmarks of a "bear trap"—a breakdown below support (in this case, the lower boundary of a two-month consolidation) that entices sellers, but quickly reverses to the upside, potentially fueling a "short-squeeze" rally as the bears climb over each other to get out of their positions.
By the way, that breakdown on October 29 followed AAN's most recent earnings announcement—which topped estimates handily (the company also provided solid forward guidance).1 Regardless of whether the move was simply a typical earnings head-fake or part of the market-wide sell-off that dominated the end of October (or a little of both?), the reactionary bounce has pushed the stock back into the upper half of its trading range, with a shot of challenging the highs around $61.
Yesterday's options action, coincidentally or not, ties into the price chart rather neatly. With the stock trading between $56.50–$57 much of yesterday morning, almost all the volume occurred in the December $60 and $65 calls: 800 and 150 contracts, respectively, with open interest of 1,300 and 3,000 contracts. (AAN is relatively low-volume stock, so these are big numbers.) 
Traders seeing the potential for a full-fledged short squeeze and an upside breakout of the range may, in fact, consider a bull call spread combining these options: Buying the $60 call while shorting the $65 call creates a trade with a maximum risk of $155 per spread and a maximum profit of $345, which means a trader has the potential to earn $2.20 for every dollar risked: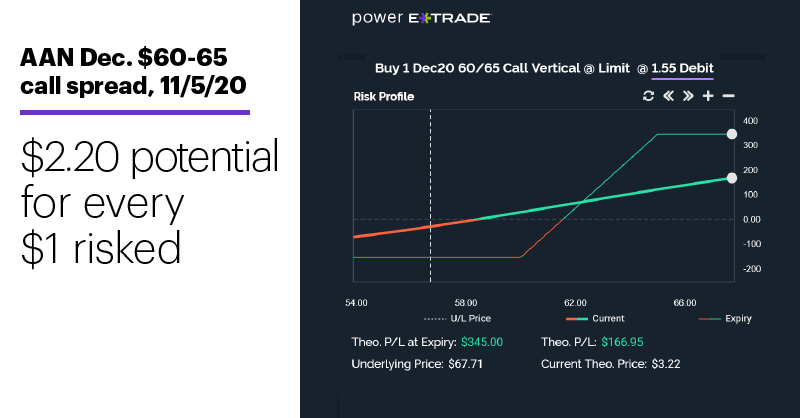 Source: Power E*TRADE
---
As long as the stock is above $60 at expiration, there's some potential for profit. Even if it's not the strategy some big player was deploying yesterday, some traders may find it to be a compelling way to potentially capture upside while capping risk in a volatile environment.
Gold goes bold: The stock market was up big again yesterday, but interestingly, gold was up even more. Just five days after falling close to its September lows, December gold (GCZ0) had rallied more than $95 to $1,954.30, poking its head above the resistance of its October highs and notching its biggest up day (+3.1% intraday) in more than six months:
Source: Power E*TRADE
---
While it's never a good idea to read too much into a single day of price action, given gold's traditionally perceived roles as an inflation hedge and a safe haven in turbulent times, it's fair to wonder whether its recent upswing reflects worries:
1. about a potentially disruptive contested presidential election, and/or,
2. a continued decline in the dollar if, on top of the already massive monetary stimulus unleashed this year, a Biden presidency opens the door to accelerated federal spending.
The buck did, in fact, fall to a two-week low yesterday.
Market Mover Update: Renewable Energy Group (REGI) and First Solar (FSLR) both rebounded from their Wednesday's sell-off, jumping more than 11% and 9%, respectively (see "Sunset or sunrise for clean energy stocks?").
Today's numbers (all times ET): Employment report (8:30 a.m.), Preliminary Wholesale Inventories, 10 a.m.), Consumer Credit (3 p.m.).
Today's earnings include: CVS (CVS), Hershey (HSY), Ubiquiti (UI), ViacomCBS (VIAC), Marriott (MAR).
Click here to log on to your account or learn more about E*TRADE's trading platforms, or follow the Company on Twitter, @ETRADE, for useful trading and investing insights.  
---
1 StreetInsider.com. Aaron's (AAN) Tops Q3 EPS by 36c, Revenues Beat; Offers 4Q EPS/Revenue Guidance. 10/29/20.
What to read next...
11/05/20
After some 1,000-watt rallies, many renewable energy stocks dimmed recently—and plummeted early yesterday—but traders may see opportunities amid the volatility.
---
11/04/20
Traders may be looking at an under-the-radar 5G infrastructure stock with fresh eyes after its recent move.
---