Sunset or sunrise for clean energy stocks?
Many renewable energy stocks sold off sharply early Wednesday
Red-hot pre-election rally in clean energy a potential bet on Biden
FSLR, REGI retraced 50% of recent rallies
If you're interested in a snapshot of how shifting election sentiment played out in the stock market in recent weeks, you could do worse than to look at charts of renewable energy stocks.
Many of them shot to the upside in late September and early October, in many cases padding already huge gains off their COVID-crisis lows. Solar module and systems maker First Solar (FSLR) was typical: It went supernova between September 24 and October 28 (the day it released earnings), rallying 52% to a record close of $93.31—the cherry on top of a 209% rally off its March low: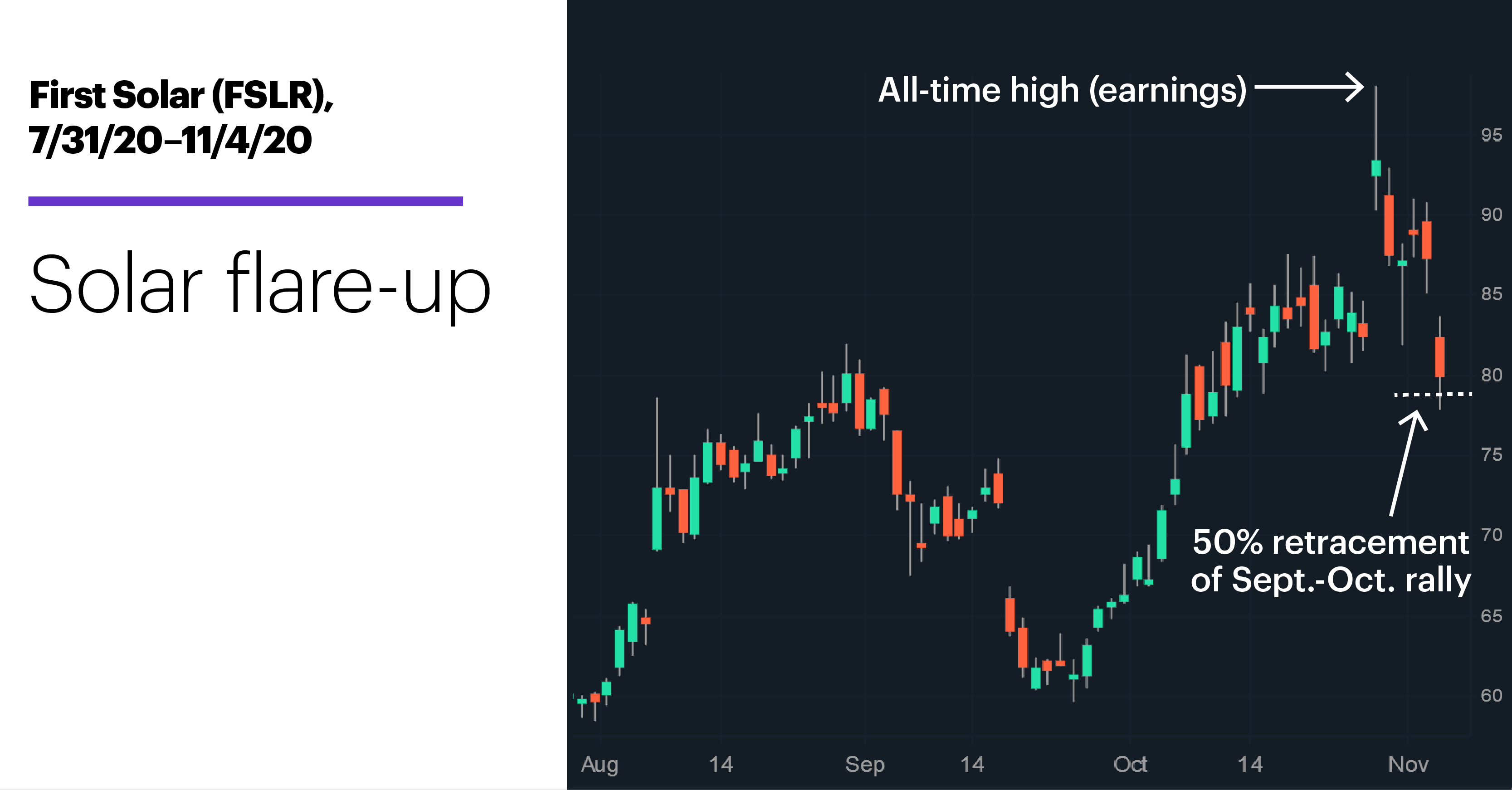 Source: Power E*TRADE
---
Not surprisingly, the synchronized moonshot in renewable energy in the weeks leading up to the election was widely seen as a sign that the Street thought Joe Biden—a clean-energy proponent—had a shot at winning the presidency.1
But many of these green stocks began pulling back in the second half of October (FSLR's continued rally was more the exception than the rule), the possible interplay of a tightening election, broad-market weakness (fueled in part by renewed COVID worries), and perhaps some good-old-fashioned profit-taking in stocks that had gone on a bullish joy ride.
The soap opera appeared to play out in microcosm yesterday, as clean-energy shares tumbled in early trading as election results in battleground states appeared to favor Trump, then rebounded sharply off their lows as Biden pulled slightly ahead in some key races. FSLR, which had fallen as much as 11% intraday, had cut that loss to around 6% by midday—reversing around the 50% retracement level of the September-October rally, which will hardly have gone unnoticed by technical traders.
First Solar's action was far from isolated. Biodiesel leader Renewable Energy Group (REGI) dropped a similar amount in early trading and, after reaching its 50% retracement level—which also represented a test of the late-September breakout point—rallied to trim its loss to less than 4% by 1 p.m. ET:
Source: Power E*TRADE
---
But the ride wasn't over: Both REGI and FSLR and gave back some of these rebounds later in the day after the White House sued to stop the Michigan vote count.2
Long-term outlooks aside, whether yesterday's tentative intraday rebounds in stocks like FSLR and REGI turn out to have near-term legs will likely depend on the outcome—or at least, the expected outcome—of the election, which was still up in the air when the closing bell rang on Wednesday. But these stocks are clearly in play, and many of them have tagged conspicuous technical levels.
Note: Renewable Energy Group is scheduled to announce earnings today.
Market Mover Update: The election may still be undecided, but the market appears to be much less anxious than it was a week ago. While the S&P 500's 5.3% gain so far this week—its biggest three-day rally around a presidential election since 1984—was impressive, the Cboe Volatility Index (VIX) dropped 17% yesterday, and was down 28% from Friday's high. SBA Communications (SBAC) jumped 3.8% yesterday, hitting a five-day high of $302.02 (see "Towers of power"). December WTI crude oil (CLZ0) shot up more than 3% (see "Oil pivot").
Today's numbers (all times ET): Jobless Claims (8:30 a.m.), Productivity and Costs (8:30 a.m.), FOMC announcement (2 p.m.).
Today's earnings include: Alibaba (BABA), Electronic Arts (EA), Bristol-Myers Squibb (BMY), Vulcan Materials (VMC), Trade Desk (TTD), Epam Systems (EPAM), Renewable Energy (REGI), Zillow (ZG), Virgin Galactic (SPCE), T-Mobile US (TMUS), Square (SQ), Uber Technologies (UBER), Roku (ROKU).
Click here to log on to your account or learn more about E*TRADE's trading platforms, or follow the Company on Twitter, @ETRADE, for useful trading and investing insights.  
---
1 CNBC.com. Solar stocks are rising as investors bet on a possible Biden tailwind. 11/2/20.
2 The Hill. Trump campaign sues to halt vote counting in Michigan. 11/4/20.
What to read next...
11/04/20
Traders may be looking at an under-the-radar 5G infrastructure stock with fresh eyes after its recent move.
---