Remember December
2018 wasn't typical: S&P 500 usually rallies in December
December has one of the strongest average returns of all months
Synergy between December and Thanksgiving pattern this year?
December may be about holidays and down time for most people, but traders (especially bullish ones) may not want to take too many vacation days away from the markets given the month's history.
But what about last year, you ask? The following chart, which shows the S&P 500's December returns since 1960, highlights how exceptional 2018's 9.2% sell-off was: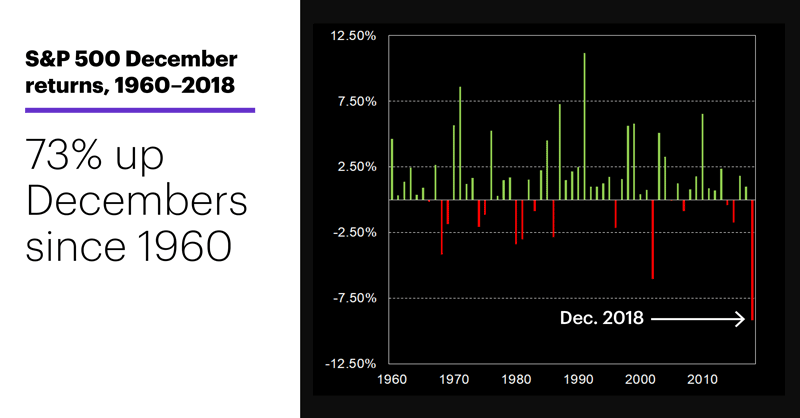 Source: Power E*TRADE
---
Not only was it the largest December loss of the past 59 years, it was one of only 16 total declines the SPX suffered in the final month of the year. The index gained ground the remaining 43 Decembers, a 73% win rate that tops all other months of the year. (More pessimistic types may note that there have been four sets of back-to-back negative Decembers, most recently in 2014–2015.)
Also, December's average return of 1.3% makes it the third-strongest month of the year in that regard.1
A final note: While the SPX has posted a net gain 66% of the time in first five trading days of December (i.e., next week), the first day of the month hasn't been as bullish: Since 1960 the SPX has kicked off December with an up day only 46% of the time, something that potentially dovetails this year with the tendency for the Monday after Thanksgiving to be a down day (see "Stock market turkey trot").  
Today's numbers (all times ET): Chicago PMI (9:45 a.m.), early stock market close (1 p.m.).
Click here to log on to your account or learn more about E*TRADE's trading platforms, or follow the Company on Twitter, @ETRADE, for useful trading and investing insights. Online stock, ETF, and options trades1 are now commission-free.
---
1 Reflects S&P 500 closing price data from 12/1/60–12/31/18. Supporting document available upon request.
What to read next...
11/20/19
Reports suggest hedge funds have been upping their China exposure to profit from a trade deal. What can traders learn from their move?
---
11/19/19
Retail stocks may be about to show whether the consumer is poised to continue carrying the economy—and the market—into the holiday season.
---
11/18/19
Stocks roll to new highs as renewed trade-deal optimism heats Street.
---