Volatility "relativity"
UNP retraced more than 60% of its Sept. '21–March '22 rally
Stock trading near former resistance level
Options volatility moderate despite sell-off?
Given the industrial sector's so-so performance in recent months—it's down less than the S&P 500 this year, but still off nearly 10%—traders could be forgiven for skimming over Union Pacific's (UNP) appearance on the LiveAction scan for largest positive net deltas on Monday.
Union Pacific itself has had a rocky few weeks since closing at an all-time high of $276.69 on March 30. After outperforming the broad market during the March rebound, UNP has fallen more than 17%, giving back more than 60% of its September–March rally: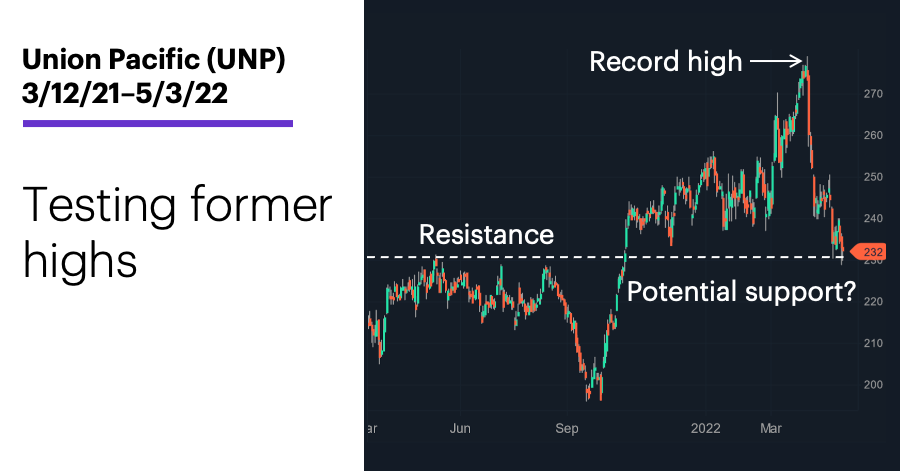 Source: Power E*TRADE. (For illustrative purposes. Not a recommendation.)
---
But traders who clicked through to UNP's price chart on Monday after seeing it on the LiveAction delta scan would have seen that the stock had also fallen to the vicinity of a former resistance level that turned back several up moves between May and August 2021.
Whether this level will turn out to provide ongoing price support will depend on many factors, not least of which is the broad market's ability to hold its recent lows. But for options traders—especially UNP bulls looking to buy calls—volatility would likely be just as big a consideration.
Yesterday, UNP's overall implied volatility (IV) and historical volatility (HV) levels were both well above their November 2021 lows, and close to their highest levels of the past year or so. Buying calls in anticipation of an up move in a stock won't necessarily be profitable if those options are overpriced because of excessively high IV. If volatility falls significantly, the options can lose a good portion of their value, even if the stock does, in fact, rally.
In this case, the flipside was that UNP's November volatility levels (especially HV) were some of the lowest since at least summer 2020. In other words, volatility was arguably high relative to November, but not necessarily extreme. A different perspective: UNP's volatility constellation, which shows that for several upcoming options expirations, IV was only moderately above its 30-day average:
Source: Power E*TRADE. (For illustrative purposes. Not a recommendation.)
---
That's the rub—relativity. An aspect of market action like volatility that appears to be high or low relative to one reference point may not be relative to another. Markets don't stand still, and conditions are rarely "perfect" for a given trade—any potential reward comes with risk.
But options traders can potentially improve their performance by ensuring their market forecasts aren't fighting unnecessary, uphill battles against other factors, like volatility and time.
Market Mover Update: Does oil have a viscosity problem? While it certainly seems like crude has matched the stock market in terms of day-to-day volatility in recent weeks, from a larger perspective its price action has become increasingly congested since its early March upsurge and sell-off, swinging within an increasingly narrow, triangular consolidation: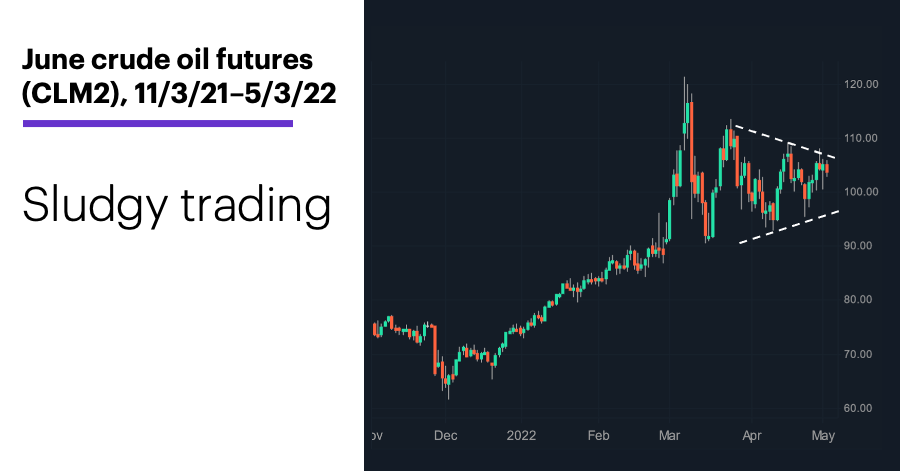 Source: Power E*TRADE. (For illustrative purposes. Not a recommendation.)
---
The price chart is essentially a profile of declining volatility—something that may attract the attention of traders anticipating an uptick in volatility by way of a price breakout.
Today's numbers include (all times ET): Mortgage Applications (7 a.m.), ADP Employment Report (8:15 a.m.), International Trade in Goods and Services (8:30 a.m.), PMI Composite (9:45 a.m.), ISM Services Index (10 a.m.), EIA Petroleum Status Report (10:30 a.m.), Fed interest rate announcement (2 p.m.).
Today's earnings include: Uber (UBER), Moderna (MRNA), Royal Gold (RGLD), Vulcan Materials (VMC), Bio-Techne (TECH), Qorvo (QRVO), Twilio (TWLO), Albemarle (ALB), iRobot (IRBT), SunRun (RUN), Etsy (ETSY).
Click here to log on to your account or learn more about E*TRADE's trading platforms, or follow the Company on Twitter, @ETRADE, for useful trading and investing insights.
---
What to read next...
05/02/22
Losing streak extends to four weeks as market enters key reporting stretch.
---
04/29/22
Recent price action shows why traders should guard against reacting emotionally in volatile markets.
---
04/28/22
In the market, have April showers been followed by May flowers?
---