Beyond the bigs
Earnings season begins this week with big banks
The more numerous regional banks will dominate the earnings calendar next week
Watch for reactions to initial bank numbers this week
Most traders know that banks unofficially kick off earnings season every quarter, but not all of them pay attention to the group after that first week, when the biggest of the big post their numbers.
But after the headlines from this initial barrage have faded, banks and other financial institutions tend to dominate the earnings calendar for at least another week or so. For example, of the 80 or so companies currently scheduled to release earnings a week from today (July 20), at least 21 are regional banks, including Citizens Financial Group (CFG) and Signature Bank (SBNY):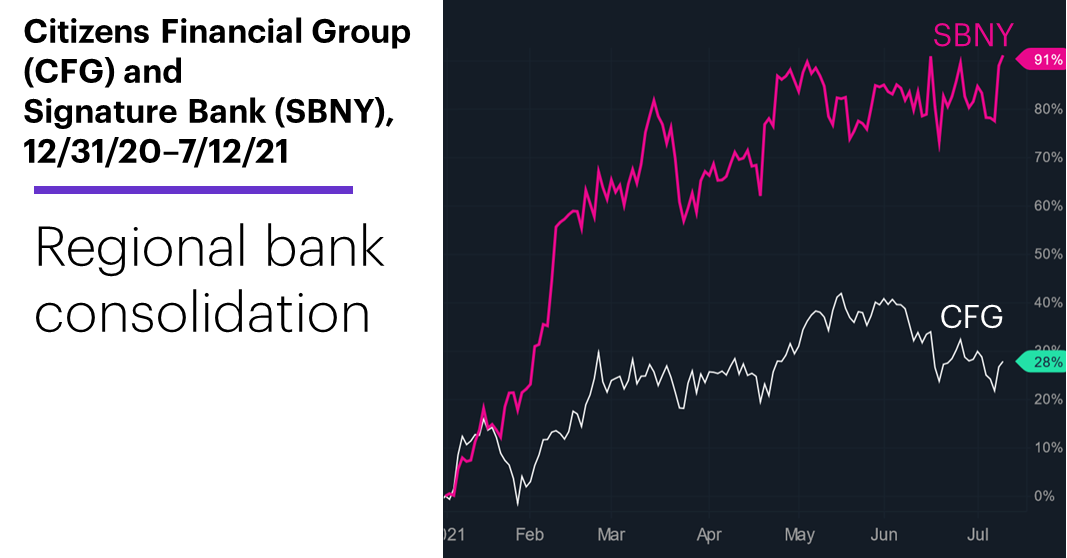 Source: Power E*TRADE
---
Of the two, CFG is probably more representative of the group, which has mostly tread water since March, despite individual names that pushed to equal or higher highs in June. Although CFG has bounced in recent days (like most of its regional brethren), last Thursday the stock approached its March–April lows and was down more than 15% from its early-June high.
Signature Bank has been more of an outlier. Although its upward momentum has also slowed since March, the stock has gained more than three times as much as either the S&P financial sector or regional bank indexes this year, and pushed to a new record close yesterday, pressuring the top of its recent consolidation: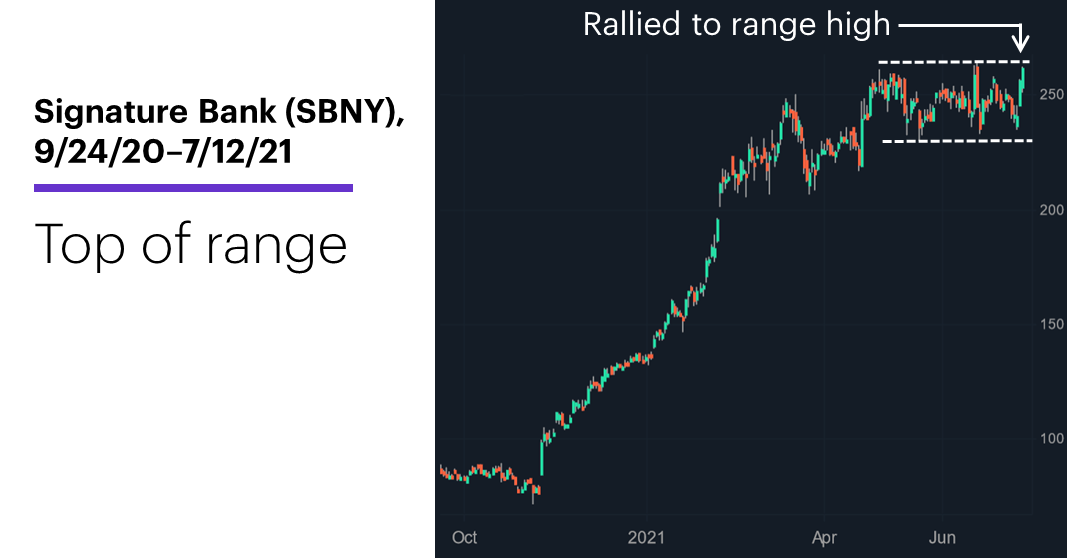 Source: Power E*TRADE
---
Some traders may have noticed a pattern in recent quarters: Many big banks have rallied before earnings, topped their headline numbers, then pulled back, at least temporarily, soon after releasing them. Whether this particular pattern plays out again, the effect this week's bank numbers could have on the group as a whole means traders may be keeping an eye on two related price dynamics: How regional banks react to the big banks' numbers, and how they react to their own. For example, SBNY pulled back before releasing earnings in January and April (i.e., when big banks dipped after posting their numbers) and rallied immediately after.
A final note for options traders: While CFG and SBNY July options expiring this Friday had implied volatility (IV) well above average yesterday, the August options for both stocks had IV only four percentage points above their 30-day average, which means options premiums may not have been exceptionally over-inflated, as they often are in the days leading up to an earnings release.
Market Mover Update: The S&P 500 erased an early loss to close at another record high yesterday, but the Cboe Volatility Index also closed (slightly) higher—a signal the options market may be more anxious despite the rally (see "VIX in spotlight as market hugs highs").
Schnitzer Steel (SCHN) consolidated yesterday after Friday's 5.8% breakout move (see "Calls in play as steel stock strengthens").
Click here to log on to your account or learn more about E*TRADE's trading platforms, or follow the Company on Twitter, @ETRADE, for useful trading and investing insights.
---
What to read next...
07/12/21
Market dips, then rebounds after Covid elbows its way back into the spotlight.
---
07/09/21
Real estate stock looks for more room as options market builds inventory.
---
07/08/21
Traders favor call options in a rangebound steel stock as expiration approaches.
---