Record sales, record highs
Toyota (TM) jumped to new high on Tuesday after US sales news
Move broke stock out of multi-month trading range
Nearly worthless call options surged on move
On Tuesday Toyota (TM) broke out of a roughly six-month consolidation with a 7% rally that propelled shares to a new record close of $199.19. Yesterday the stock followed through in early trading, pushing above $200: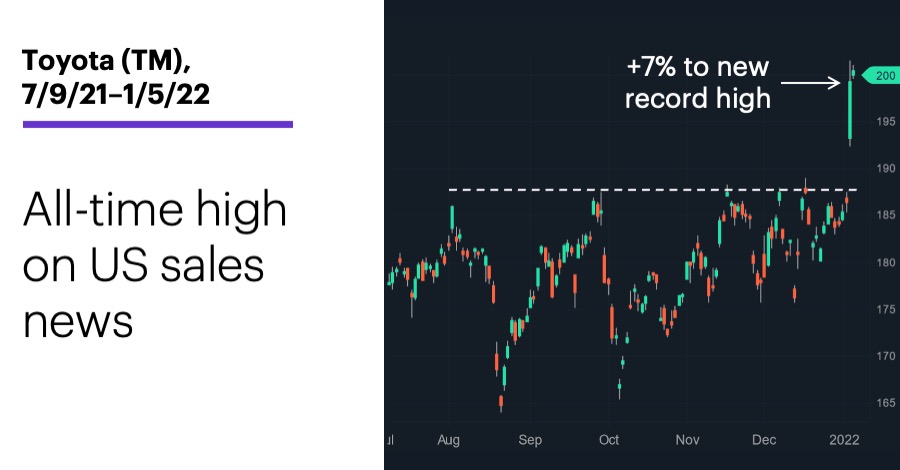 Source: Power E*TRADE (For illustrative purposes. Not a recommendation.)
---
Call it a coincidence, but most market watchers would likely connect the surge to news that last year Toyota sold more cars in America than any other automaker—the first time a non-US company claimed that title.1
One could argue that it shouldn't be particularly surprising that Toyota topped sales in the US last year. It's the world's second-largest automaker (trailing only Volkswagen), and it placed third in US sales in 20192 and second in 2020.3 But while there appears to be plenty of industry debate whether Toyota will be able to hold on to its new title,4 coming in first certainly makes for better headlines than coming in second or third, as evidenced by TM's Tuesday–Wednesday rally.
On a percentage basis, the moves in some TM options were even more dramatic. The January $200 calls, which closed at 35 cents on Monday, spiked as high as $5 on Tuesday and closed at $3.90 for a 1,014% gain: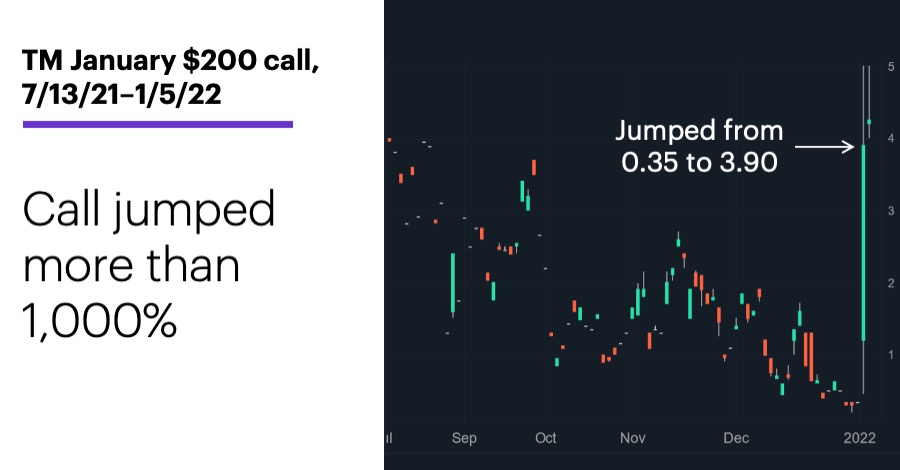 Source: Power E*TRADE (For illustrative purposes. Not a recommendation.)
---
That was as expensive as those options had been since early August, and with just two weeks and a day until expiration, they had already entered the period when time value evaporates increasingly quickly.
Since headlines like Tuesday's can only happen once ("We STILL sold more cars than anybody else last year" doesn't pack the same punch), some traders in these situations explore the possibility of selling potentially overpriced options. But that always carries the risk of assignment—in the case of shorting calls, traders who get assigned may have to sell shares at a losing price if the stock continues to rally.
That's why some traders who sell calls after unexpected stock surges simultaneously buy a higher-strike call to protect themselves in the event the rally doesn't turn out to be temporary. For example, let's say the stock pushes above the short call's strike price and the trader is forced to sell shares below the market price. Regardless of how far the stock climbs, the trader could always exercise the long call, limiting the loss to the difference between the two strike prices.
If that position rings a bell, that's because it's a bearish "vertical" call spread, the short version of the familiar bull call spread many traders use as a long-side strategy.
Market Mover Update: After jumping as much as 12.6% intraday on Monday amid news it was being added to the S&P SmallCap 600 index, iTeos Therapeutics (ITOS) found itself roughly 20% below that high yesterday—another example of a short-lived "index effect" (see "Beware the index bump?"). However, Alcoa (AA) enjoyed a more sustained upswing after being added to the S&P MidCap 400 index in mid-December, although it has consolidated over the past couple of weeks.
Today's numbers include (all times ET): Challenger Job-Cut Report (7:30 a.m.), International Trade in Goods and Services (8:30 a.m.), Weekly Jobless Claims (8:30 a.m.), Factory Orders (10 a.m.), ISM Services Index (10 a.m.).
Today's earnings include: Walgreens (WBA), Conagra Brands (CAG), Bed Bath & Beyond (BBBY), Constellation Brands (STZ), WD-40 (WDFC).
Click here to log on to your account or learn more about E*TRADE's trading platforms, or follow the Company on Twitter, @ETRADE, for useful trading and investing insights
---
1 The Wall Street Journal. Toyota Overtakes GM as Bestselling Auto Maker in U.S. 1/4/22.
2 MotorTrend.com. The Year in Auto Sales: 2019 Facts, Figures, and Bestsellers. 1/5/20.
3 Statista.com. Leading car brands in the United States in 2020, based on vehicle sales. 8/4/21.
4 CNN.com. GM was America's largest automaker for nearly a century. It was just dethroned by Toyota. 1/4/22.
What to read next...
01/05/22
Tuesday offered a lesson in what volatility can—and can't—tell you about what a stock may do.
---
01/04/22
Sector performance this year diverged a bit from its recent pattern. What will traders be looking for in 2022?
---
01/03/22
Stocks enter 2022 near all-time highs after rebounding from a shaky start to December.
---