Rebound week
Best week for broad market since November
Tech grabs reins, energy slides
This week: GDP, FOMC meeting, big tech earnings
A Friday pullback and only four days of trading weren't enough to prevent US stocks from posting their best week since November, as the market heads into the home stretch of January hovering near record levels.
The S&P 500 (SPX) hit new highs on Wednesday and Thursday before giving back a little ground at the end of the week: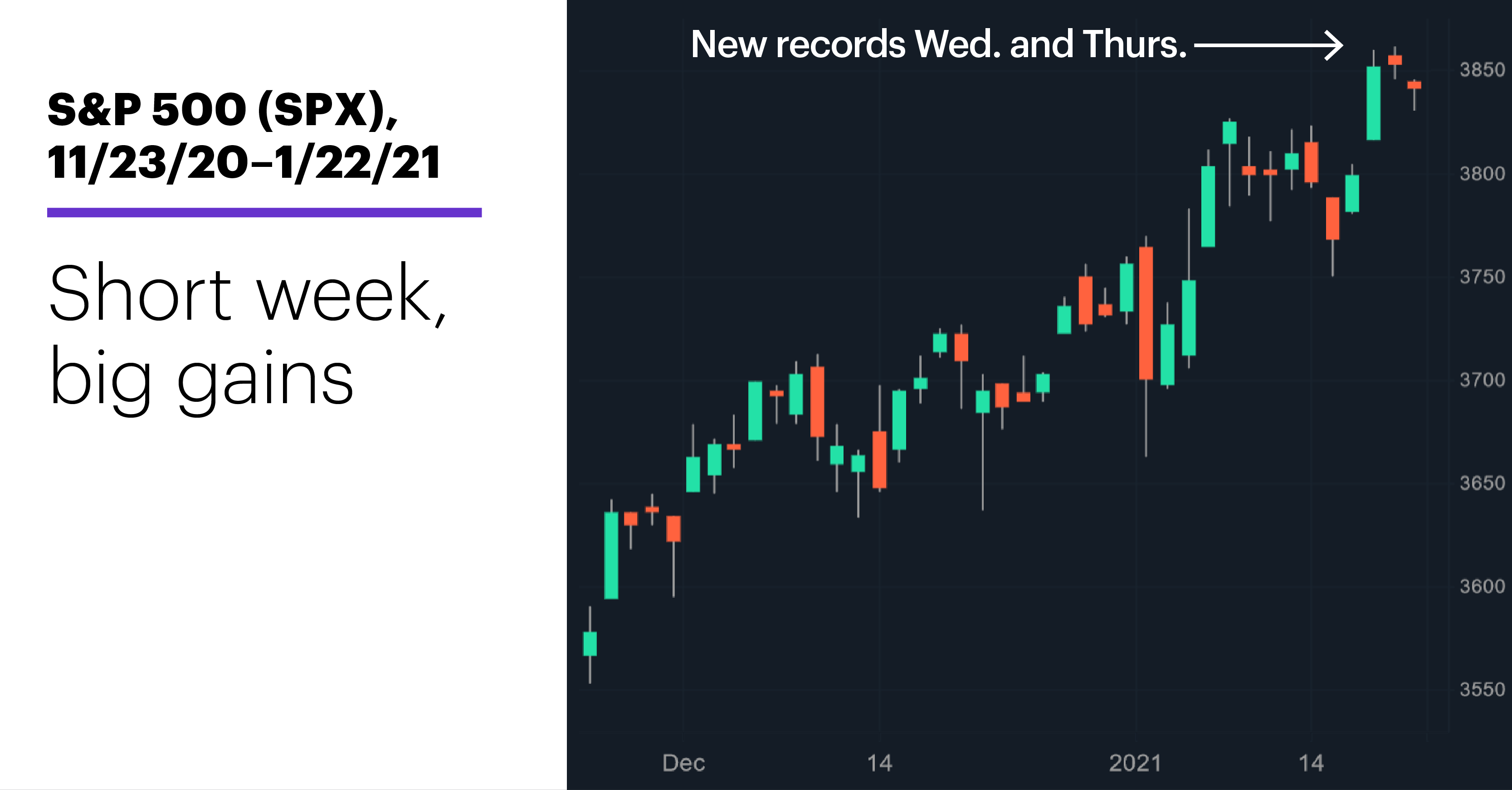 Source: Power E*TRADE
---
The headline: Tech returns to form as stocks reverse previous week's pullback.
The fine print: Big gains in the communications services sector—and explosive moves in a few high-profile names, including Netflix (NFLX)—helped push the Nasdaq 100 (NDX) to its best week since November 6, and its second-best since last July.

The move: 220%, Aclaris Therapeutics' (ACRS) Tuesday rally on positive trial results for its rheumatoid arthritis drug.
The scorecard: The red-hot Russell 2000 (RUT) looked like it was destined for a last-place finish until a huge rally in the final hour of trading on Friday catapulted it to No. 2 spot:
Source (data): Power E*TRADE
---
Sector roundup: The strongest S&P 500 sectors last week were communication services (+6.1%), information technology (+3.4%), and real estate (+2.9%). The weakest sectors were energy (-5.5%), financials (-3.6%), and materials (-2.6%).
Highlight reel: Coherent (COHR) +30% to $197.01 on Tuesday, GameStop (GME) +51% to 65.01 on Friday. On the downside, Lithium Americas (LAC) -17% to $22.23 on Wednesday, Passage Bio (PASG) -16% to $22.82 on Thursday.
Futures action: March WTI crude oil (CLH1) fell to a 10-day low of $51.44/barrel on Friday and closed at $51.98. February gold (GCG1) also slumped into the weekend, but still closed Friday at $1,855.50/ounce for a modest gain on the week. March US dollar index futures (DXH1) ended a mild pullback week at 90.20.
Last week's biggest futures up moves: March lumber (LBSH1) +16.5%, March feeder cattle (GFH1) +8.1%, February pork cutouts (PRKG1) +5.6%. Last week's biggest futures down moves: January bitcoin (BTCF1) -15.3%, February milk (DCG1) -13%, March soybean meal (ZMH1) -9.3%.
Coming this week
Earnings season heats up with big tech, pharma, airlines—and a little of everything else. Here's a sample:
●Monday: Kimberly-Clark (KMB), Steel Dynamics (STLD), Rambus (RMBS)
●Tuesday: Advanced Micro Devices (AMD), Rockwell Automation (ROK), General Electric (GE), Lockheed Martin (LMT), Verizon Communications (VZ), Starbucks (SBUX), Microsoft (MSFT), Freeport-McMoRan (FCX), MicroStrategy (MSTR), Xilinx (XLNX), Johnson & Johnson (JNJ)
●Wednesday: Apple (AAPL), Abbott Laboratories (ABT), AT&T (T), Boeing (BA), General Dynamics (GD), Facebook (FB), Qorvo (QRVO), Tesla (TSLA)
●Thursday: American Airlines (AAL), Southwest Airlines (LUV), McDonald's (MCD), Northrop Grumman (NOC), Eagle Materials (EXP), Mastercard (MA), Juniper Networks (JNPR), Visa (V)
●Friday: Phillips 66 (PSX), Eli Lilly and (LLY), Colgate-Palmolive (CL), Caterpillar (CAT), Chevron (CVX), Synchrony Financial (SYF)
IPOs this week include: Qualtrics (XM) on Thursday.
The week's economic calendar includes an FOMC meeting, the initial Q4 GDP reading, and more housing numbers:
●Tuesday: S&P/Case-Shiller Home Price Index, FHFA House Price Index, Consumer Confidence
●Wednesday: Durable Goods Orders, Fed interest rate announcement
●Thursday: GDP (initial), Advance Trade in Goods, New Home Sales, Leading Economic Indicators
●Friday: Personal Income, Consumer Spending, Core Inflation, Employment Cost Index, Pending Home Sales, Consumer Sentiment
Go to the E*TRADE market calendar for an up-to-date earnings schedule and complete list of splits, dividends, IPOs, and economic reports. The Active Trader Commentary also lists earnings announcements, IPOs, and economic report times each morning.
It's a small world
Does the Nasdaq 100's (NDX) return to dominance last week mean the small-cap Russell 2000's (RUT) resurgence has run its course?
Hardly, although contrarians would point out that, by any measure, the Russell has been in rarified territory lately. On a long-term basis, though, Morgan Stanley's outlook on the post-pandemic economy highlights the case for sustained small-cap strength: Innovative small companies could gain ground as the digital and social media giants that have driven the US market in recent years potentially lose some of their momentum.
Since October 30, the RUT has put together the second-strongest 12 weeks in its history1—a 41% gain that was more than twice as large as the SPX's return and nearly double the NDX's rally:
Source: Power E*TRADE
---
In fact, Friday marked the ninth week in a row (and the 10th out of the past 11) that the RUT's 12-week return was at least 50% larger than either the SPX's or the NDX's—by that metric, the longest stretch of outperformance in the small-cap index's history.
Since 1987 there have been only 11 other 12-week periods when the RUT gained 30% or more, and the index's returns over the next couple of months hint at a possible loss of relative strength—although not immediately: On average, the RUT actually outperformed the SPX and NDX the next week, but tended to underperform—although not necessarily decline—after eight weeks.
Click here to log on to your account or learn more about E*TRADE's trading platforms, or follow the Company on Twitter, @ETRADE, for useful trading and investing insights.
---
1 All figures based on weekly closing prices for the Russell 2000 (RUT), S&P 500 (SPX), Nasdaq 100 (NDX), November 1987–January 2021. Supporting document available upon request.
What to read next...
01/22/21
Stock's consolidation sets up potential breakout trade, but some options may offer more of an edge than others.
---
01/21/21
This automaker's surging options volume may have caught the eyes of traders, but those who didn't pay attention may have gotten the wrong impression.
---
01/20/21
Pullbacks in certain food stocks may look tasty to traders who see the potential for renewed interest in the group.
---