Rebound or rout?
Monday was biggest intraday loss of year for SPX
Sixth-straight losing day, down -6% since July 25
Some price models signal potential short-term rebound
"As China retaliated against the latest U.S. tariffs Monday, the Dow and S&P 500 were both down more than 2% in their worst day since Jan. 3."1
That's not about yesterday, by the way. True, it accurately describes Monday's price action, but it's actually taken from a May 13 news report, the last time the S&P 500 (SPX) had a day something like  yesterday's.
We're in familiar territory, as far as that goes—a bad report from the front lines of the trade war that knocks the market for a loop. The following chart goes back just far enough to show the -2.4% loss from May 13;  yesterday, the SPX closed down around -3%, making it the worst day of the year: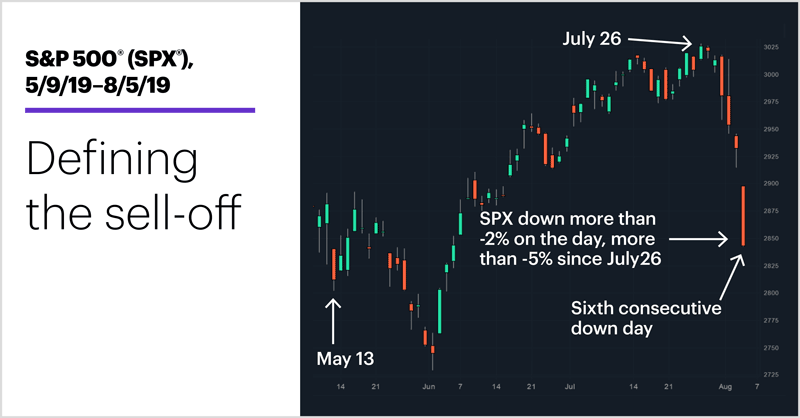 Source: Power E*TRADE
---
Whether or not yesterday was the biggest one-day drop of 2019 is not as important as the fact that the SPX has pulled back sharply from its record highs over the past several days: Monday was the index's sixth-straight down day, and it had fallen more than 6% from its July 26 close.
There may not be "blood flowing in the street," as the old buy-when-things-look-bad saying goes, but the market has certainly cut its finger, and may require a band-aid or even a stitch or two. Whenever that's the case, calm trading heads tend to reflect on what the market has historically done in similar situations—allowing, of course, for the fact that historical comparisons are never perfect.
That said, yesterday's action fell into the broad category of the market alternating between selling off on negative trade-war headlines and rallying on positive trade-war headlines. There are certainly other factors at work (interest rates, seasonal considerations), but precedent, if not emotion, would argue for a positive development to come across the wire in the not-too-distant future.  
That said, there are several ways to describe the SPX's recent price action in more concrete terms. Here are a couple of representative pattern definitions that capture two key facets of the recent sell-off—its duration, and its magnitude:
Pattern A: After an up day, the SPX records six consecutive down days.
Pattern B: The SPX falls -5% or more over a six-day period, with the last day of that period closing down -2% or more.
Are these the only ways to describe what's happened recently? Nope, but they are accurate, and going back around six decades, both have fairly meaty historical records. For example, here's what the SPX did in the five days following the 97 other instances of Pattern A since August 1959:

Source: Power E*TRADE
---
"Gain/loss" represents each day's median return, while "% up" is the percentage of times each day closed higher. What we see here is a tendency for the SPX to rebound for a couple of days (positive median returns, plus better-than-50% odds of closing up), followed by a few days of weakness—which was more-or-less what happened after May 13.
And here's what the index did after the 117 previous instances of Pattern B:

Source: Power E*TRADE
---
This pattern implies a more bullish scenario, although the rebound momentum still appears to ebb at day 3, which is pretty much a coin toss—a marginal (0.02%) median gain and 50-50 odds of an up close.
Also, altering Pattern B to more closely matched the SPX's performance through yesterday (i.e., a -6% drop over the past six days and a -3% drop on the last day) produced similar overall results, except that the odds of an up move were higher on day 1, while days 2 and 3 were weaker.2
Any trader could think of a dozen reasons why the short-term rebound scenario represented by these patterns is unlikely to occur this time. But in a business where one of the most dangerous mantras is "This time it's different," its important to keep in mind what the market usually does in a given situation.
Market Mover Update: 3M (MMM) fell to a three-week low yesterday, extending its loss from July 25 to more than -6%.
December gold futures (GCZ9) jumped above $1470 (see "The rally and the range").
Today's numbers (all times ET): Reserve Bank of Australia (RBA) announcement (12:30 a.m.), Germany Manufacturers' Orders (2 a.m.), JOLTS (10 a.m.).
Today's earnings include: Walt Disney Co (DIS), Match Group (MTCH), LGI Homes (LGIH), NetEase (NTES), Aramark (ARMK), AES (AES), Monster Beverage (MNST), Devon Energy (DVN), Mosaic (MOS), US Foods (USFD), SailPoint Technologies (SAIL), Sangamo Therapeutics (SGMO), Welbilt (WBT), Sarepta Therapeutics (SRPT), SAGE Therapeutics (SAGE), Solaredge Technologies (SEDG), Regeneron Pharmaceuticals (REGN), Steris (STE).
Click here to log on to your account or learn more about E*TRADE's trading platforms, or follow the Company on Twitter, @ETRADE, for useful trading and investing insights.
---
1 CNBC.com. $1.1 trillion in stock market value lost so far from trade war sell-off with more expected. 5/13/19.
2 Supporting document available upon request.
What to read next...
07/29/19
Earnings season still in overdrive as closely watched interest-rate announcement looms.
---
07/26/19
Stock's intraday rally-and-dump highlights potential mood change regarding earnings.
---
07/25/19
There's more to the tech sector than the names that dominate financial news.
---