Really unusual options trading
Some traders think unusual options activity can signal potential stock moves
Sometimes, though, it's not as unusual as it initially appears to be
Heavy put options activity in SGMS on Tuesday
Many stock traders look for unusual patterns in the options market because it can sometimes highlight dynamics that wouldn't immediately be evident in a stock's price action.
That "sometimes" can't be stressed enough, though, since what may at first glance look like a significant options trade can turn out to be a red herring—in other words, it may look out of step with what's happening in a stock when it really isn't.
Gaming stock Scientific Games (SGMS) provides an example of how some traders try to get a handle on what a day's options activity may represent.
The stock may have initially come to the attention of traders yesterday courtesy of the LiveAction scan for unusual put volume, which showed SGMS puts were trading at more than 27 times their average daily pace: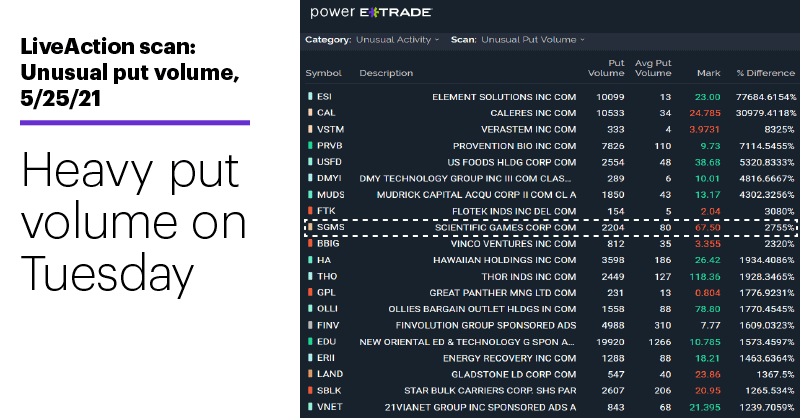 Source: Power E*TRADE
---
That may sound like a potentially bearish development, but what if:
1. call volume was just as high, or higher?
2. open interest was less than the options volume?
In the first scenario, if call volume was also unusually high, that could mean traders on both sides of the market were equally busy, in which case that bearish first impression may seem a bit less bearish. Similarly, if open interest in puts—the number of unclosed positions—was lower than the put volume itself, that would suggest at least some traders were getting out of existing positions instead of establishing new ones. Again, that casts the high put volume in a different light.
In this case, the LiveAction scan for high put-call ratios showed SGMS put volume was outnumbering call volume by more than 11 to 1, which means put volume wasn't just heavier than normal, it was also heavy relative to call volume. Also, a quick check of the options chain showed the main source of the high put volume was a 2,100-contract trade in the June $60 puts (the stock was trading around $67), which had open interest of 2,200 contracts—higher than the volume, and also the highest open interest of any June, July, or October put option.
The following chart shows that SGMS reversed to close lower yesterday after hitting its seventh-straight intraday record high: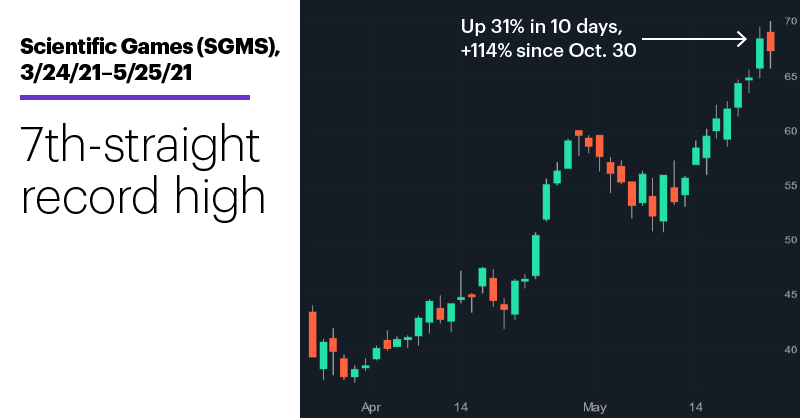 Source: Power E*TRADE
---
Even though the stock rallied 114% from October 30 to Monday, and its 31% gain from May 10 to Monday was its third-biggest 10-day up move of the year, none of this means yesterday's put volume was unequivocally bearish—after all, a big trader (or traders) could simply have bought puts to hedge long stock positions.
Yes, unusual options activity can highlight under-the-radar market dynamics. But experienced traders perform the due diligence necessary to determine whether what they're looking at actually represents something out of the ordinary.
Market Mover Update: Some of the red-hot commodities that shot higher in the first half of May have continued to cool down recently. July lumber (LBSN1) fell 3% yesterday after a 2.6% loss on Monday, July corn (ZCN1) tumbled 5.5% to its lowest level in more than a month, and July copper (HGN1) lost ground for the seventh time in the past nine days: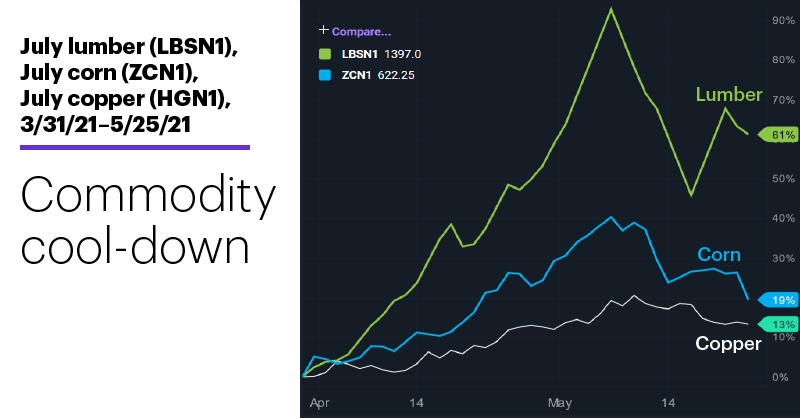 Source: Power E*TRADE
---
Homebuilders were one of yesterday's stock market bright spots—the S&P homebuilders index rallied more than 1% even though new home sales in April were lighter than expected (863,000 vs. 955,000). But two other housing numbers that came out yesterday highlight the other side of the housing coin: Both the FHFA House Price Index and the S&P Case-Shiller Home Price Index showed housing prices continued to soar amid continued tight inventory and still-high materials prices (despite those pullbacks in lumber and copper).1
Today's numbers include (all times ET): Mortgage Applications (7 a.m.), EIA Petroleum Status Report (10:30 a.m.), Survey of Business Uncertainty (11 a.m.).
Today's earnings include: American Eagle Outfitters (AEO), elf Beauty (ELF), Nvidia (NVDA), Dick's Sporting Goods (DKS), Snowflake (SNOW), Pinduoduo (PDD), Williams-Sonoma (WSM), Okta (OKTA).
Today's IPOs include: Paymentus Holdings (PAY), ZipRecruiter (ZIP), Flywire (FLYW)
Click here to log on to your account or learn more about E*TRADE's trading platforms, or follow the Company on Twitter, @ETRADE, for useful trading and investing insights.
---
1 Bankrate. Why are house prices going up, and how long will it last? 5/4/21.
What to read next...
05/24/21
Another choppy week of trading, but this time tech managed to pull out the win.
---
05/21/21
In certain situations, selling puts is a bullish strategy that can benefit from multiple market forces.
---
05/20/21
The pivot off Wednesday's lows is a pattern with an interesting history.
---