Ready to shine?
Gold and gold stocks stalled since hitting YTD highs in early September
Gold futures still up more than S&P 500 since mid-May
Breakout watch: Market has formed a tight consolidation
After stocks retreated from their late-July records, the gold market gobbled up the slack, as gold futures shot above $1,550/ounce—their highest level since 2013—and ran their year-to-date gain to around 21% by early September.
Even after retreating below $1,500/ounce since then, gold is still up around 16% since May 21, more than three times as much as the S&P 500 (SPX). But with equities again knocking on the door of all-time highs, attention has shifted away from gold—and gold stocks, some of which staged even more impressive rallies than the metal itself.
But the chart below suggests something may happen in gold land in the near future. After bouncing off a low of $1,465 on October 1, December gold futures (GCZ9) have traded in a progressively tighter trading range, settling in just a hair below $1,500: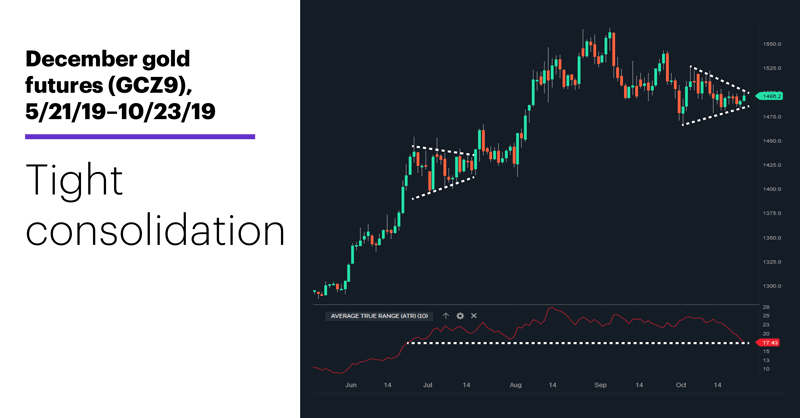 Source: Power E*TRADE
---
The bottom of the chart shows average true range (ATR), a measure of volatility that confirms price movement has ebbed to its lowest level since the market began a previous, somewhat similar compression in late June.
Although consolidations, like trends, can persist much longer than people may think, they can't last forever, and when prices compress to this degree, traders tend to pay attention because low volatility can sometimes be followed by high volatility—i.e., a breakout.
Some traders may expect new stock market highs to put bearish pressure on gold, while a sharp pullback could have the opposite effect.
As the chart shows, though, it's not necessarily a neat-and-clean process. Yes, gold made a dramatic upside breakout from its June–July trading range, but the first up thrust on July 17–18 was a bit of a red herring—the move quickly reversed, and prices pulled back for several days before jumping higher in earnest.
Aside from the issue of whether gold is more likely to break out to the upside or the downside (some traders would expect new stock market highs to put bearish pressure on the market, while a sharp pullback could have the opposite effect), another consideration is the difference between gold and gold stocks.
The following chart shows three high-profile gold stocks—Barrick Gold (GOLD), Royal Gold (RGLD), and Newmont Goldcorp (NEM)—have all outperformed gold futures since the market's May 21 low: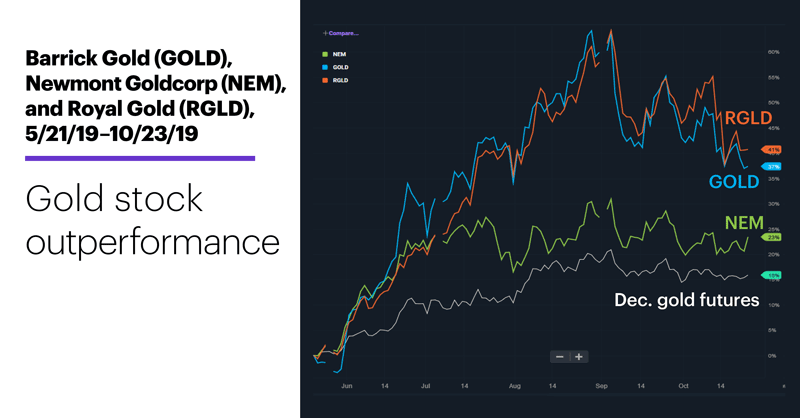 Source: Power E*TRADE
---
While GOLD and RGLD have been the highest flyers (still up 37% and 41%, respectively), they've also pulled back more sharply than either NEM or gold futures in recent weeks. (NEM, like gold itself, traded toward the upper boundary of its consolidation yesterday.)
After a bit of a siesta, volatility may be coming back to gold arena, and that could mean more gold headlines and more trader interest…a possible recipe for a short-term momentum move.
Market Mover Update: Amphenol (APH) rallied to its highest level since late April after yesterday's earnings bear (see "A bullish put development?"). Aimmune Therapeutics (AIMT) extended it rally this week, and is now up more than 13% from where it was on September 20 (see "Stock's move ain't peanuts").
Today's numbers (all times ET): Durable Goods Orders (8:30 a.m.), New Home Sales (10 a.m.), EIA Natural Gas Report (10:30 a.m.).
Today's earnings include: Amazon.com (AMZN), American Airlines (AAL), Southwest Airlines (LUV), Baxter International (BAX), Intel (INTC), Raytheon (RTN), Northrop Grumman (NOC), Citrix Systems (CTXS), Danaher (DHR), Cypress Semiconductor (CY), Dow (DOW), Gilead Sciences (GILD), Visa (V), Twitter (TWTR).
Click here to log on to your account or learn more about E*TRADE's trading platforms, or follow the Company on Twitter, @ETRADE, for useful trading and investing insights. Online stock, ETF, and options trades1 are now commission-free.
---
What to read next...
10/23/19
A big day for biotech presents the possibility of follow-through in a potentially oversold sector.
---
10/22/19
Now that the numbers are in, streaming stock seeks to confirm trend.
---
10/21/19
Positive earnings surprises last week helped market extend winning streak.
---