Rates and rallies
Stocks bounce back despite interest rate rollercoaster
S&P 500, Russell 2K, and Dow hit all-time highs last week
This week: FOMC meeting, retail sales, quarterly expiration
Heading into the second half of March, US stocks are coming off their second-best week of the year—although not without some drama, as rising interest rates continued to demonstrate their potential to trip up the market (especially tech) on any given day.
A robust Tuesday–Thursday upswing more than offset the inflation jitters the S&P 500 (SPX) experienced on Monday, and thanks to another late-day rally on Friday, the index clawed its way to a positive close despite the biggest interest-rate surge of the week:
Source: Power E*TRADE
---
The headline: Stocks weather rate surges to hit new record highs.
The fine print: Tech continued to bear the brunt of the worries about rising rates. The market's two weakest days last week (Monday and Friday) were also the days that long-term interest rates jumped the most. On Monday the Nasdaq 100 (NDX) tech index fell five times as much as the SPX on a percentage basis, and it also closed down on Friday even though the SPX closed marginally higher.
The numbers: +0.1%, the smaller-than-expected monthly increase in core consumer prices (CPI) reported last Wednesday. But that don't-worry-about-inflation moment was followed by Friday's larger-than-expected increase core producer prices (PPI), which came in at 2.5% vs. the 2.4% estimate.
The scorecard: The small-cap Russell 2000 (RUT) notched its second-best week since last June, but hats off to the Dow, which set a new record every day last week:
Source (data): Power E*TRADE
---
Sector roundup: The strongest S&P 500 sectors last week were consumer discretionary (+5.7%), real estate (+5.7%), and utilities (+4.4%). The weakest sectors were communication services (+0.7%), energy (+1%), and health care (+1.3%).
Highlight reel: Canaan (CAN) +50% to $28.69 on Tuesday, Aveo Pharmaceuticals (AVEO) +89% to $15.28 on Wednesday, AnaptysBio (ANAB) -34% to $19.51 on Monday, Acadia Pharmaceuticals (ACAD) -45% to $25.02 on Tuesday.
Futures action: April WTI crude oil (CLJ1) started last week by hitting a two-year-plus high of $67.98/barrel, pulled back, then bounced to end the week at $66.02. April gold (GCJ1) closed Friday at $1,719.80/ounce after trading as low as $1,673.30 on Monday.
Last week's biggest futures up moves: March bitcoin (BTCH1) +15.2%, March E-Mini Russell 2000 (RTYH1) +7.4%, April platinum (PLJ1) +7.1%. Last week's biggest futures down moves: April VIX (VXJ1) -6.5%, May soybean meal (ZMK1) -4.2%, April natural gas (NGJ1) -4%.
Coming this week
Before Friday's quarterly expiration rolls around, traders will be treated to retail sales, a Fed announcement, and leading indicators:
●Monday: Empire State Manufacturing Index
●Tuesday: Retail Sales, Import and Export Price Indexes, Industrial Production, Capacity Utilization, NAHB Housing Market Index, Business Inventories
●Wednesday: Housing Starts and Building Permits, FOMC announcement
●Thursday: Leading Indicators
●Friday: Quarterly expiration (equity and ETF options, stock index options, stock index futures, single-stock futures).
This week's earnings include:
●Monday: 360 DigiTech (QFIN), ZTO Express (ZTO), HealthEquity (HQY)
●Tuesday: FuelCell Energy (FCEL), Lennar (LEN), Coupa Software (COUP), CrowdStrike Holdings (CRWD), Guess (GES), Jabil (JBL), Smartsheet (SMAR)
●Wednesday: G-III Apparel (GIII), Five Below (FIVE), Cintas (CTAS), PagerDuty (PD)
●Thursday: Accenture (ACN), Ollie's Bargain Outlet (OLLI), Carnival (CCL), Weibo (WB), Dollar General (DG), Canadian Solar (CSIQ), FedEx (FDX), Nike (NKE)
This week IPOs include:
●Tuesday: Jowell Global (JWEL)
●Wednesday: Olo (OLO), Sun Country Airlines (SNCY)
●Thursday: Duckhorn Portfolio (NAPA), Vine Energy (VEI), Gain Therapeutics (GANX)
Go to the E*TRADE market calendar for an up-to-date earnings schedule and complete list of splits, dividends, IPOs, and economic reports. The Active Trader Commentary also lists earnings announcements, IPOs, and economic report times each morning.
A long-term view of long-term rates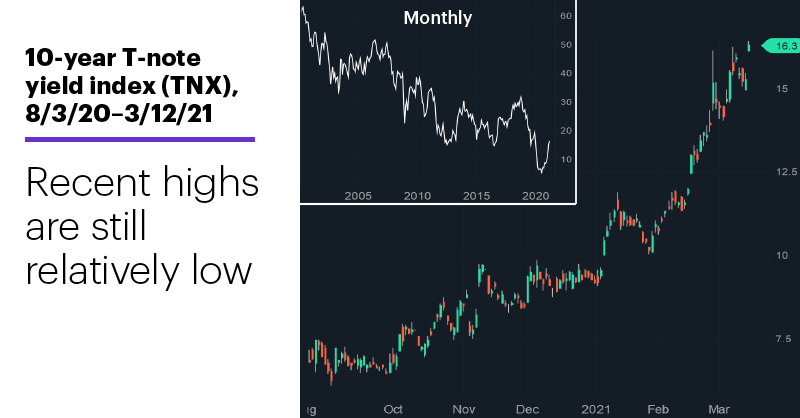 Source: Power E*TRADE
---
While the increase in the 10-year T-note yield over the past several months has been significant, the monthly chart inset (March 2000–present) shows rates have simply gotten back to where they were last February—levels that were, in fact, among the lowest of the past two decades—after falling to all-time lows last March.
Witchy week. Finally, quarterly "witching" expiration weeks have a reputation for volatility, although in recent years there hasn't been much evidence of that in March (last year's 15% expiration-week sell-off notwithstanding). But from March 1991–March 2000, the SPX has been a little less bullish than average during March expiration week, gaining ground only 50% of the time (15 out of 30 years),1 while posting a positive return in 59% of all other weeks during that period.
Click here to log on to your account or learn more about E*TRADE's trading platforms, or follow the Company on Twitter, @ETRADE, for useful trading and investing insights.
Ratings information and research reports are provided by Morgan Stanley are for informational and educational purposes only and should not be used or construed as investment advice, financial guidance, or an offer, solicitation, or recommendation to buy, sell, or hold any security, financial product or instrument discussed therein or to open a particular account or engage in any specific investment strategy.  The analysis and information provided is not individually tailored investment advice and is prepared and made available without regard to your individual financial circumstances and objectives. The securities and strategies discussed or referred to in this content may not be appropriate for you. Your decision to buy, hold or sell a security should depend on your individual circumstances (such as your investment objectives and experience, time horizon, liquidity needs, financial situation and existing holdings) and other considerations. Please see the relevant research report for additional important disclosures. E*TRADE Securities LLC is an affiliate of Morgan Stanley & Co. LLC and Morgan Stanley Smith Barney LLC. Please see vendor disclosures and provider methodologies for additional third party and affiliate supplied information regarding E*TRADE's non-affiliated and affiliated research providers and their reports.
---
1 Reflects S&P 500 (SPX) weekly closing prices, March 1991–March 2020, with "March expiration week" ending on the third Friday of the month. Supporting document available upon request.
What to read next...
03/12/21
A recent sell-off highlights a lesson in options spreads.
---
03/11/21
A niche biotech stock attempts to reverse recent losses after acquisition, sector retracement.
---
03/10/21
Options traders hop on board as EV stock seeks to get back on track after latest earnings release.
---