Snapshots from a rate hike
Treasuries jumped, stocks fell after Fed rate hike—then reversed
First rate increase of many as Fed sets tightening course
Interest rates not the only factor in play
We're now two days removed from the Fed's first rate hike (+0.25%) since 2018—the beginning of a new monetary tightening cycle that is still the subject of a great deal of debate among analysts and investors. The Fed indicated it intends to raise rates six more times this year (which would put the fed funds rate in a target range of 1.75%–2% by year end—the highest it's been since 2019), and three more times in 2023.1
As noted in "The Fed makes its move," while most past tightening cycles haven't been accompanied by longer-term stock market declines, individual rate changes are often accompanied by volatility—a tendency that was on full display Wednesday afternoon. Stocks, bonds, and precious metals all made head-fake moves before solidifying their intraday trends.
The S&P 500 (SPX), which was up as much as 2% early in the trading session, fell 1.5% in the first 30 minutes after the Fed's 2 p.m. ET announcement:
Source: Power E*TRADE. (For illustrative purposes. Not a recommendation.)
---
After slipping briefly into negative territory for the day, the index roared back to close 2.5% above its intraday low. It was the first time since 2015 the SPX gained more than 2% on back-to-back days within five days of closing at a one-month (or longer) low, which it did on March 8. The index followed through with another gain yesterday.
Meanwhile, the benchmark 10-year T-note yield, which had rallied aggressively for more than a week as the Fed meeting approached, hit a fresh multi-year high on Wednesday in the immediate aftermath of the hike, tagging 2.25% intraday—its highest high since May 30, 2019: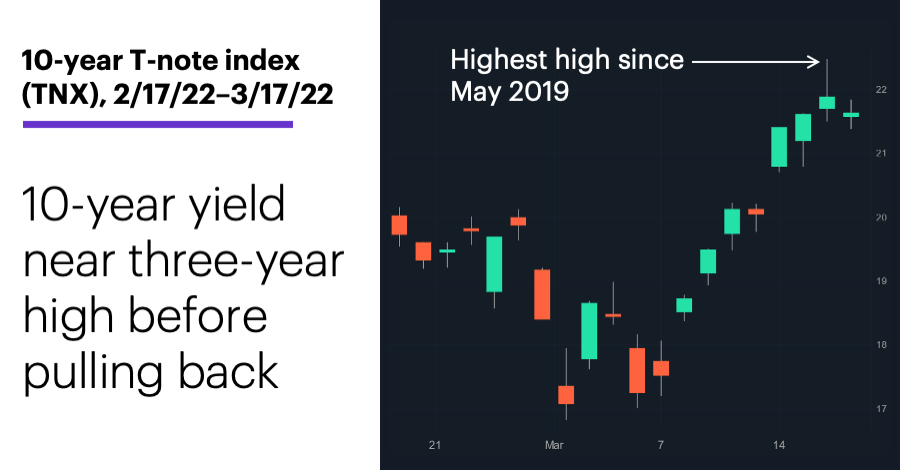 Source: Power E*TRADE. (For illustrative purposes. Not a recommendation.)
---
But the chart also shows the 10-year yield pulled back intraday on Wednesday to close in the bottom half of the day's range, and followed through to the downside on Thursday. While it's too soon to draw conclusions about the market's initial reaction to Wednesday's announcement, Morgan Stanley Wealth Management analysts noted earlier this week that if, as they expect, economic growth slows more than expected, longer-term rates could have more room to retreat (which, they also point out, could provide a cushion for stocks).2
The markets are still in the early stages of digesting the Fed's latest information. Going forward, traders and investors will need to separate the shorter-term volatility from the bigger-picture implications of the new rate regime.
Market Mover Update: The rate hike may have been the biggest story on Wednesday, but it wasn't necessarily the only thing moving the stock market. Traders who pulled up the LiveAction scan of the day's biggest percentage gainers may have noticed the majority of the names on the list were Chinese and Pacific Rim companies, or ETFs based on them: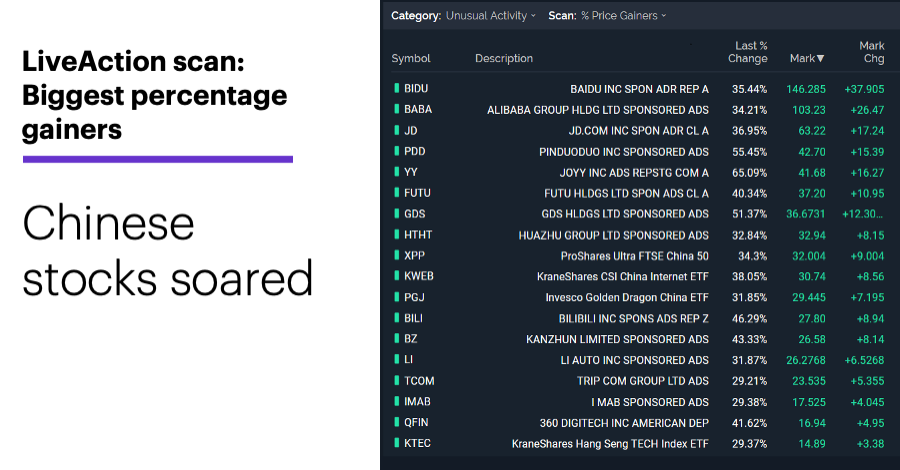 Source: Power E*TRADE. (For illustrative purposes. Not a recommendation.)
---
The gains followed assurances from Beijing that it would take steps to stabilize financial markets after months of selling amid a regulatory crackdown.3
EPAM Systems (EPAM) pulled back more than 4% intraday on Thursday, but is still up nearly 27% since March 3—thanks to Wednesday's 25% surge, which barely registered as a big move because of the outsized gains in Chinese stocks.
Today's numbers include (all times ET): Existing Home Sales (10 a.m.), Leading Economic Indicators (10 a.m.).
Today's earnings include: On Holding (ONON).
Click here to log on to your account or learn more about E*TRADE's trading platforms, or follow the Company on Twitter, @ETRADE, for useful trading and investing insights.
---
1 CNBC.com. Federal Reserve approves first interest rate hike in more than three years, sees six more ahead. 3/16/22.
2 MorganStanley.com. Thoughts on the Market Podcast: Will Slowing Growth Alter the Fed's Path? 3/14/22.
3 Reuters.com. China stocks leap after State Council pledges support for economy, capital markets. 3/16/22.
What to read next...
03/16/22
Europe plans to accelerate renewable initiatives to reduce reliance on Russian energy.
---
03/15/22
Large prints on Monday's options tape illustrate the logic behind non-directional options strategies.
---
03/14/22
More choppy trading as Ukraine war continues, markets eye upcoming interest rate announcement.
---