Ranges, rallies, and volatility
EGLE up more 30% this year despite two-month consolidation
Thursday sell-off pushed shares toward lower end of range
What choices face options traders in similar conditions?
In one sense, Eagle Bulk Shipping's (EGLE) sell-off yesterday was out of character with its performance in recent months. Early Thursday morning the shipping stock (as in maritime freight) may have been down more than 6%—and later, more than 8%—but it was still up more than 30% for the year: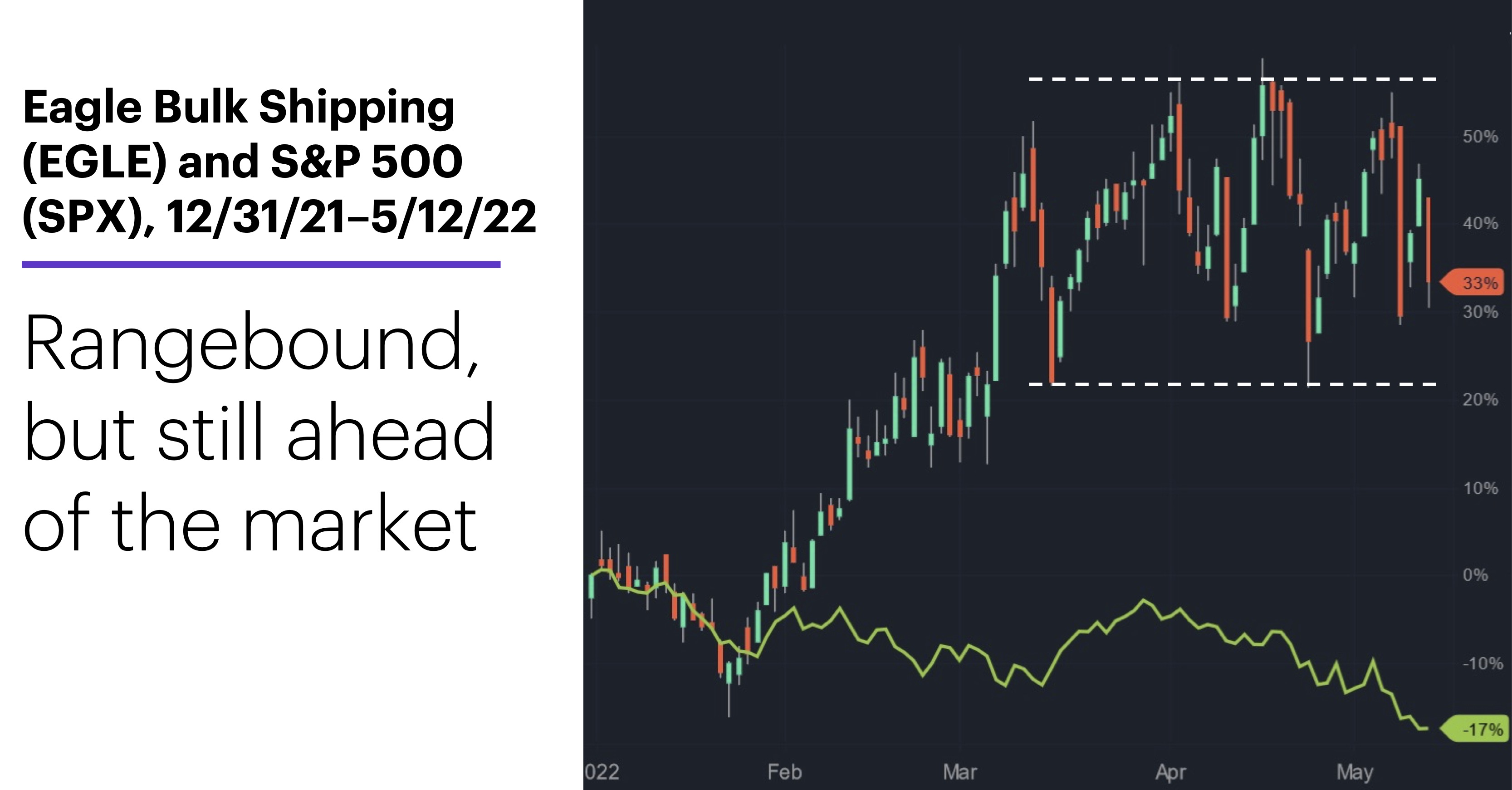 Source: Power E*TRADE. (For illustrative purposes. Not a recommendation.)
---
That year-to-date bullishness stood in stark contrast to the S&P 500's (SPX) roughly 17% loss.
It was also EGLE's second big down day of the week—the stock dropped 13.5% on Monday. But over the past couple of months, EGLE's price action has been characterized by a series of sharp sell-offs and robust rebounds, the end result of which has been a trading range between roughly $55–$71.
The fact that the stock has, so far, held the lower boundary of its range—especially while the broad market has continued to fall to new lows—could lead some traders to contemplate another possible EGLE rebound, at least to the point of challenging the top of the range.
The word "range" is associated in many options traders' minds with price-neutral strategies like strangles or straddles. For example, a trader who decides, for whatever reason, that a stock will trade between low price X and high price Y may decide to execute a short strangle: Sell puts with a strike price of X, simultaneously sell calls with a strike price of Y, and if the stock remains between X and Y until expiration, the trader gets to keep all the premium. But if the stock rallies above Y or falls below X—beyond the buffer provided by that collected premium—the position will lose money.
EGLE's recent condition offers some insight into of the challenges and potential benefits of a short strangle—which, while price neutral, is short volatility. Although EGLE has held up much better than the broad market, its choppy trading—aka, its "volatility"—has also resulted in high options implied volatility (IV):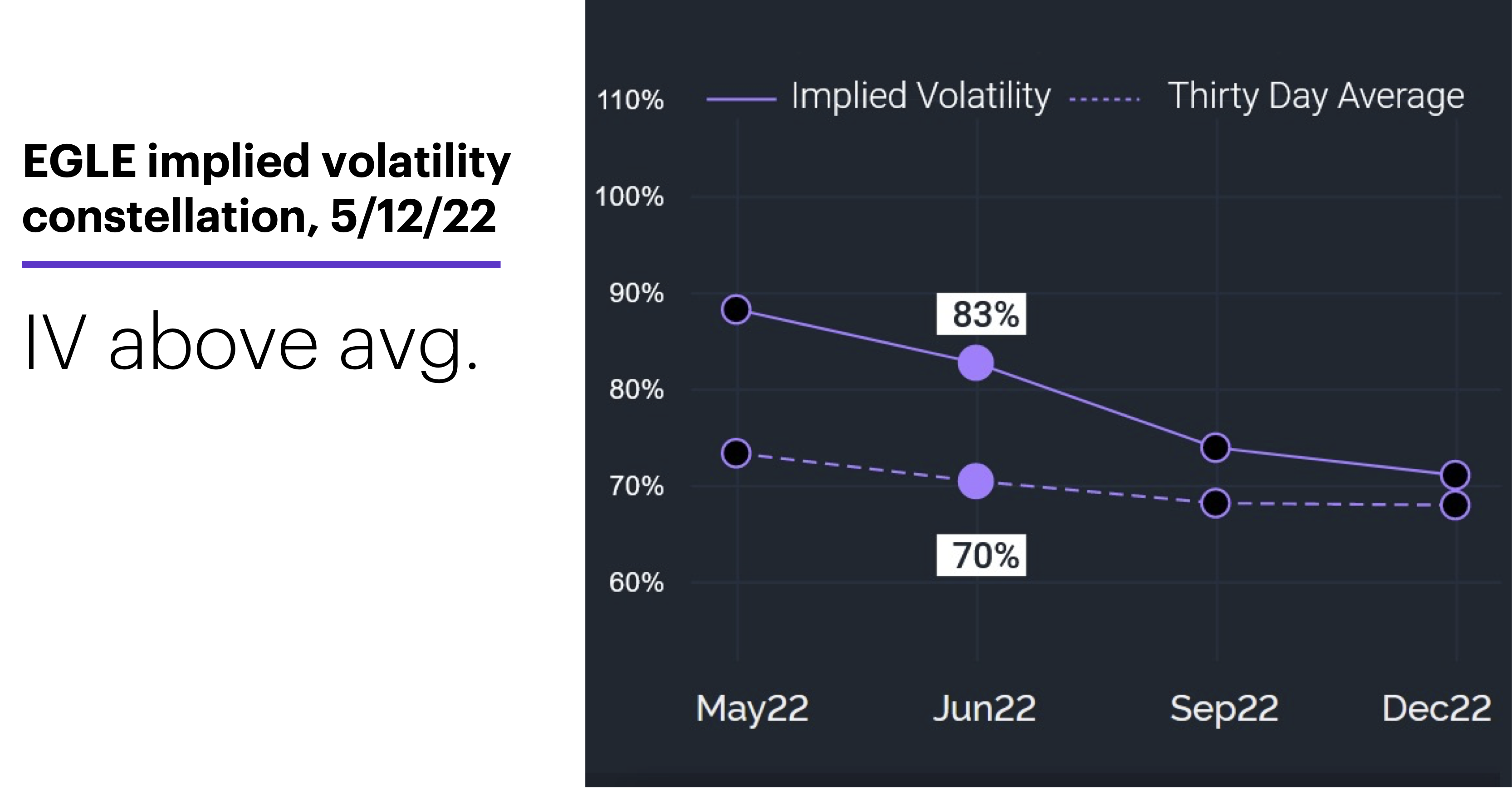 Source: Power E*TRADE. (For illustrative purposes. Not a recommendation.)
---
The IV for May and June options was well above the 30-day average, which was potentially good for options sellers, who can benefit from "selling volatility" high and buying it low.
Two catches: First, just as there's no guarantee a stock will rise or fall at any given time, there's no way to know if high IV will decrease (helping to decrease options prices) during a trade's lifetime.
Second, when a stock sells off and IV increases, put prices tend to jump while calls lose value—even if the latter may be a little more expensive than they would be if IV was low. For example, traders who may have been considering a EGLE short strangle yesterday may have noticed that June $55 puts (representing the lower end of the trading range) were up 50% to $4.20, but June $70 calls (representing the upper end), which had traded as high as $5.10 a week ago, were down more than 40% on the day to $1.85. In other words, traders may have been looking at collecting "fat" premiums on the put side of the strangle, but things were much skinnier on the call side.
That's why some traders in this type of situation may choose to "leg" into the position—i.e., sell the higher-priced option when the stock is near one end of the range, and wait for the stock to move back toward the other end to, hopefully, get a better price for the other option.
As discussed in "Spreads, step-by-step," there may be additional risks to this approach, but if it fits a trader's stock forecast—and that forecast turns out to be correct—it can sometimes provide a benefit.
Today's numbers include (all times ET): Import and Export Prices (8:30 a.m.), Consumer Sentiment (10 a.m.).
Today's earnings include: Honda Motor (HMC), New York City REIT (NYC).
Click here to log on to your account or learn more about E*TRADE's trading platforms, or follow the Company on Twitter, @ETRADE, for useful trading and investing insights.
---
What to read next...
05/12/22
Unusual options activity in retailer about to release earnings shines light on overlapping market dynamics.
---
05/11/22
Is crude oil's strength relative to the stock market a temporary divergence or something more significant?
---
05/10/22
On Monday the S&P 500 completed a three-day pattern with an interesting history.
---