Record rally gets a volatility reminder
S&P 500 fell more than 4% intraday on Thursday
Biggest down day since June
Evidence of consistent pattern after similar moves?
Besides being a wake-up call for complacent bulls who may have thought that big down days had been permanently banned from the stock market, yesterday's volatility probably had traders and investors asking themselves a few questions, maybe along the lines of:
1. Is this just a pullback, or the beginning of something bigger? (It is September, after all.)
2. Does someone know something about the monthly jobs report?
3. Why is tech down so much more than the rest of the market?
4. How will I know when the market has bottomed?
All these questions have one thing in common—they're unanswerable. (Well, you could argue the answer to number 3 is "because it's rallied so much more than everything else." That may be as good an answer as any.)
What traders can do in these situations is find out how similar events have played out in the past. Although "past performance does not guarantee future results" is the first rule of the markets, the second one may be "those who ignore (market) history are doomed to miss out when it repeats."
Let's look at where the SPX stood after yesterday's price action. At Wednesday's close the S&P 500 (SPX) had rallied 60% since March 23—its largest 114-trading-day gain on record: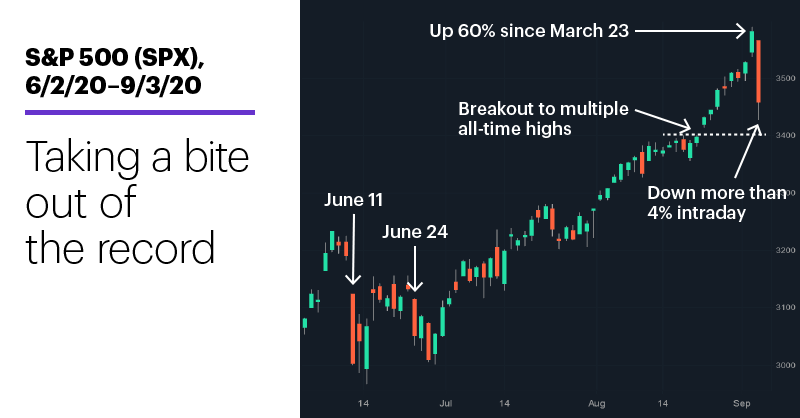 Source: Power E*TRADE
---
Given the magnitude of that rally, it may be more logical to ask why the market hadn't already pulled back more. But yesterday's sell-off—the SPX closed down 3.5% and was down as much as 4.3% intraday—was the index's worst day in nearly three months, when it fell 6% on June 11. It also slid 3.2% intraday on June 24.
While it's a bad idea to look at a couple of similar-looking patterns on a price chart and expect the same thing to happen this time, in this case those June sell-offs may be fairly representative of what the SPX has tended to do in similar situations. Let's paint the price action in broad strokes:
1. After the big down days, the SPX drifted lower—but not dramatically—for another 2-3 days before turning higher.
2. The index closed up the day after the big down days, even if it didn't make up all the ground it had lost.
Now check out the numbers—here's what the SPX has done after 27 similar 3%-or-larger intraday sell-offs over the past 60 years:1
Day 1: Closed up 56% of the time
Day 2: Closed down 52% of the time
Day 3: Closed up 52% of the time
Days 4 and 5: Closed up 59% of the time
After 10 days: Average gain of 0.76%, and above close of sell-off day 59% of the time
The takeaway here is that, more often than not (although probably not often enough for some people), this type of sharp down day has turned out to be part of a shorter-term pullback than a longer-term down move. Traders armed with this insight can factor it into a trading plan—say, look for the market to potentially find support in the next few days as it has in the past (in which case a test of the breakout level around 3,400 may come into the picture).
There are always plenty of reasons to say, "This time is different," but until the market clearly signals that's the case, prudent traders focus on what they know, rather than what they hope—or fear.
Today's numbers (all times ET): Employment Report (8:30 a.m.).
Today's earnings include: Hurco (HURC) , Mesabi Trust (MSB).     
Market holiday reminder: Don't forget, Monday is Labor Day. US equity markets will be closed.
Click here to log on to your account or learn more about E*TRADE's trading platforms, or follow the Company on Twitter, @ETRADE, for useful trading and investing insights.  
---
1 Based on S&P 500 (SPX) daily prices from 9/3/59–9/3/20. Pattern results reflect SPX performance after days: 1) the index fell 3% or more intraday, 2) that day followed a day the index made a higher high, and 3) the down day was no more than three days after a day that had a higher high than the preceding five days. Supporting document available upon request.
What to read next...
09/02/20
Tech stock's recent trading pattern shows why there's often more than one way to trade a breakout.
---
09/01/20
A couple of recent IPOs may have moved out of the headlines, but their price action could be attracting more eyes—and clicks—than ever.
---
08/31/20
Market rumbles into key stretch on the calendar as Fed steps up—again.
---