The rally and the range
Gold in roughly three-week trading range after 12% rally
Gold stocks have tracked the metal to the upside
Interest rates, trade negotiations may play central role in trend
Welcome back, gold bugs.
That subspecies of trader, rumored to be extinct, turned out to be alive and well, as last month a long-dormant gold market kicked into gear in a way it hasn't for several years. And as if it were waiting for everyone else to catch up, the yellow metal has spent the past few weeks in neutral, fueling speculation about whether the ride is over, or just beginning.
After jumping 12.3% from May 29 to the June 25 high of $1,442.90—the market's loftiest level since 2013—August gold futures (GCQ9) have traded entirely between the July 1 pullback low of $1,384.70 and the swing high of $1,441 established just two days later: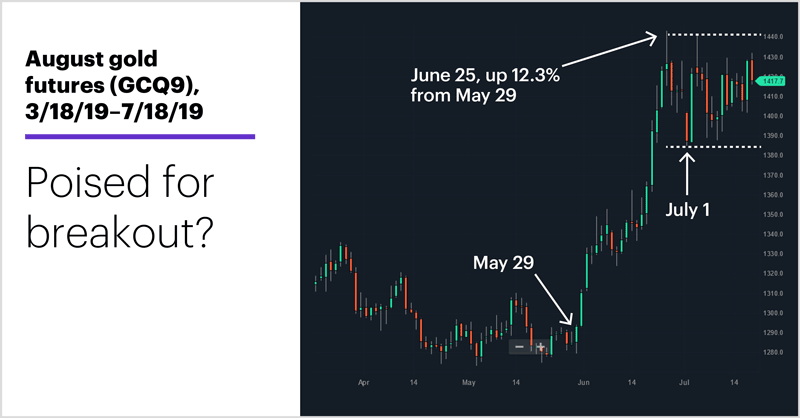 Source: Power E*TRADE
---
Roughly three weeks of range-bound trading after that kind of upsurge will have some traders (other than die-hard gold bugs) saying, "If it hasn't gone higher by now, it probably won't," and others arguing "If it hasn't pulled back significantly by now, it's going higher." That's what makes a market, after all.
The bullish case has gotten some backing from at least two hedge-fund heavyweights, the first being Paul Tudor Jones, who said (in mid-June, when gold was still below $1,350) that a move above $1,400 could lead to a relatively quick continuation to $1,700.1 (Hmmm…was Mr. Jones perhaps already long gold at the time?) More recently, Bridgewater's Ray Dalio cited gold's upside in circumstances "when the value of money is being depreciated and domestic and international conflicts are significant."2
There have been several well-publicized counter-arguments to Dalio's comments on Wednesday, but his take underscores the possible catalysts behind the recent gold rally and the rationale for its continuation:
A. The Fed is expected to cut interest rates (i.e., depreciation of the dollar).
B. China (trade and beyond).
In this view, the prospect of extended conflict between the U.S. and China weighs on the global economy, and thus equity markets, driving investors into what they've always flocked to in times of extreme stress—gold. It's a long-term perspective, but throw in a technical breakout in a market that hasn't done much breaking in recent years, and you have a potential recipe for a nearer-term momentum-fueled move, too.
In terms of equities, while it's helpful to remember that gold-mining stocks don't necessarily track gold prices with precision, they've done a pretty good job of it lately. The following chart shows Newmont Goldcorp (NEM) mimicked gold's run-up, but also did the market one better by breaking out of its consolidation last week before pulling back to the top of the range this week:
Source: Power E*TRADE
---
Of course, strong retail sales and manufacturing data this week likely upped angst among some traders that the Fed—while still expected to announce a rate cut on July 31—may not loosen monetary policy in coming months as aggressively as most people were hoping several weeks ago. After all, it's one thing to slash rates with the stock market buzzing around record highs. It's another to do so when the market is near record highs and economic indicators are signaling strength, not weakness.
Nonetheless, until conditions on the ground change—i.e., the Fed hints it will back off from rate cuts, the US and China suddenly buy each other flowers and chocolates, and gold plunges through the bottom of its consolidation, traders may be looking at long-side opportunities on dips in both gold and gold stocks.
Today's numbers: Consumer Sentiment (10 a.m.), Baker-Hughes Rig Count (1 p.m.).
Today's earnings include: American Express (AXP), BlackRock (BLK), State Street (STT), Kansas City Southern (KSU), Schlumberger (SLB).
Today's IPOs include: Medallia (MDLA), Afya (AFYA), Intercorp Financial Services (IFS).
Click here to log on to your account or learn more about E*TRADE's trading platforms, or follow the Company on Twitter, @ETRADE, for useful trading and investing insights.
---
1 Bloomberg.com. Gold Is Paul Tudor Jones's Favorite Trade for Next 12-24 Months. 6/12/19.
2 CNBC.com. Ray Dalio says gold will be a top investment during upcoming 'paradigm shift' for global markets. 7/17/19.
What to read next...
07/18/19
An under-the-radar volatility increase highlights potentially inflated options prices—and possible trade opportunities.
---
07/17/19
737 MAX woes have failed to ground the industry in recent weeks, and earnings are about to pull into the gate.
---
07/16/19
Attention shoppers: Negative headlines sometimes translate into favorable short-term buying opportunities.
---