Puts rock on news shock
Small-cap biofuel maker REGI dropped 20% Wednesday
Company lowered guidance less than 3 weeks after record high
Put premiums soared: Opportunity for bulls?
One thing about 20% one-day sell-offs: They tend to jump off your trading screen.
Yesterday biofuel manufacturer Renewable Energy Group (REGI), which turns animal and plant fats into low-carbon diesel fuel, landed on the LiveAction scan for biggest percentage declines when it dropped more than 20% in early trading: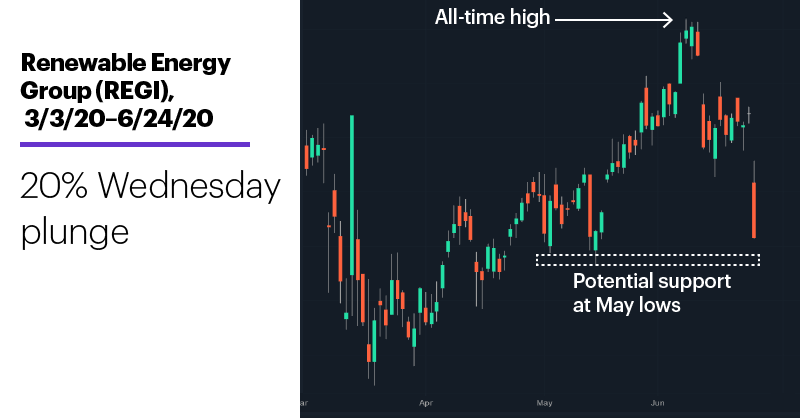 Source: Power E*TRADE
---
The news: The company lowered its Q2 earnings outlook from $20 to $35 million to -$2 to -$12 million, mainly because the company said it discovered a "calculation error" in the model it used to create the former estimate.1
That'll do it.
Releasing disappointing earnings guidance is one thing, catching the Street completely off guard with that news is another. The question now is whether this development means REGI's recent rally is history, or if it will turn out to be a bump in the long-term biodiesel road.
Traders who take the latter view may point out the stock had been doing pretty well since last summer (when it bottomed around $10.50), and had rallied to a new all-time high ($32.89) as recently as June 8. Also, diesel fuel demand has held up better than that of other fuel types during the pandemic era, and REGI, which is the largest US biodiesel fuel producer, reportedly earns a $1 per gallon tax credit for its products2—a potentially significant perk, especially in uncertain times.
Traders who smell the possibility of an overdone sell-off may look to the options market, since the stock's sell-off paled in comparison to the moves in REGI put options. For example, the July $22.50 puts, which had closed at a paltry $0.38 on Tuesday, skyrocketed as high as $1.60 yesterday morning—a 400% increase—even though they have only 22 days remaining to expiration: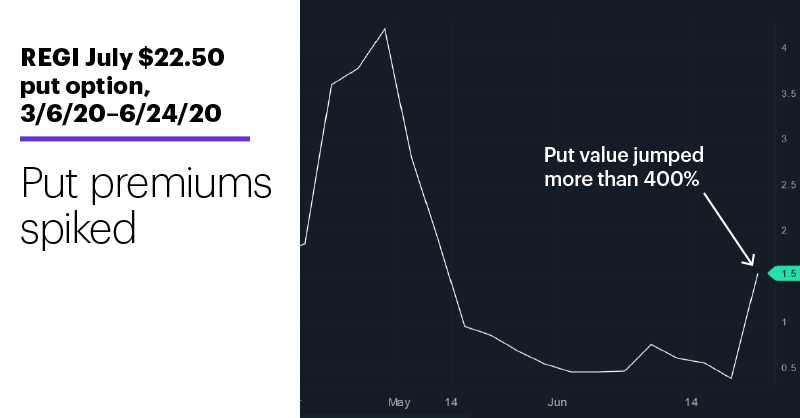 Source: Power E*TRADE
---
Depending on their market outlooks and risk profiles, traders can approach this type of situation from different angles. In addition to simply selling puts, bullish traders may also purchase a second put with a lower strike price, creating a bear put spread: The long put limits the downside risk on the trade while also capping its profit potential. Other traders may sell puts with the express intention of taking ownership of the shares if prices do, in fact, fall below the level of the strike price.
Whichever route they take, risk-conscious traders in these situations would certainly plan for the possibility of a deeper sell-off—for example, cutting their losses if the stock falls too far below the support of its May lows (see stock price chart). Others may simply wait for the stock to decline further (which would pump up put premiums even more) before attempting these types of trades.
Market Mover Update: The financial sector was one of the weakest pockets of the market yesterday, as various financial indexes tested recent lows and Voya Financial (VOYA) fell more than 3% intraday to a 16-day low (see "Financial flip").
August gold futures (GCQ0) tagged $1,796.10 yesterday (gold's highest level since October 2012) before pulling back into the $1,770s. Copper has got some press lately as some analysts cite the industrial metal's potential to rally if global fiscal stimulus measures (infrastructure spending) ramp up.3 But September copper futures (HGUO) have already rallied around 13% since "Beyond the breakout" noted the market was holding on to its range-breakout gains.
Today's numbers (all times ET): GDP, Q1 final (8:30 a.m.), Durable Goods Orders (8:30 a.m.), Jobless Claims (8:30 a.m.), Corporate Profits (8:30 a.m.), Retail Inventories (8:30 a.m.), Wholesale Inventories (8:30 a.m.), International Trade in Goods (8:30 a.m.).
Today's earnings include: Accenture (ACN), McCormick & Company (MKC), Darden Restaurants (DRI), FactSet Research (FDS), Nike (NKE).
Click here to log on to your account or learn more about E*TRADE's trading platforms, or follow the Company on Twitter, @ETRADE, for useful trading and investing insights. 

---
1 StreetInsider.com. Renewable Energy Group (REGI) Announces Revised 2Q Adj. EBITDA Outlook. 6/23/20.
2 MotleyFool.com. Here's Why Renewable Energy Group Dropped Over 10% Today. 6/11/20.
3 CNBC.com. 'Welcome to the age of copper': Why the coronavirus pandemic could spark a red metal rally. 6/24/20.
What to read next...
06/23/20
Stock's options activity may point to a potential weak link in the financial-sector chain.
---
06/22/20
Bulls stampede early, but bears take bite out of rebound on Friday.
---
06/19/20
With earnings around the corner, food stock seeks to retain some of its lockdown-fueled demand.
---