Put options for bulls
Short puts can have specific long-side advantages when volatility is high
PLAN's options IV elevated heading into next week's earnings
Stock has consolidated after February-March correction
When contemplating a potential up move, many options traders probably reflexively think of strategies based on buying calls.
Sometimes that will be the best choice. Other times, though, traders will look to sell puts instead—especially when they think a stock is underpriced but its options are overpriced. In these situations, short puts can be an alternate way to buy a stock low and sell it high—except that it consists of selling the options first and buying them back later (or letting them expire).
The recent price action in cloud stock Anaplan (PLAN) helps illustrate how this approach could potentially play out. After more than tripling off its 2020 lows, PLAN hit an all-time high of $86.17 in mid-February, then tumbled more than 40% to its late-March low of $49.91: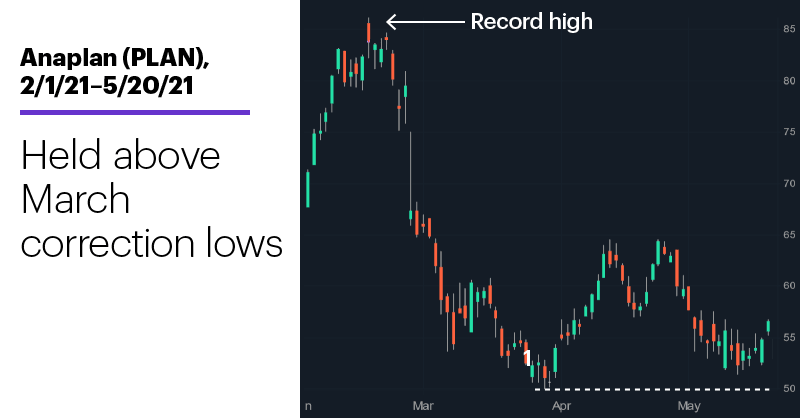 Source: Power E*TRADE
---
Let's say a trader, for whatever reason, thought the stock was poised to rebound and wanted to buy calls. But what if those options were potentially overpriced—despite the stock's correction—because of high implied volatility (IV)?
Yesterday, for example, IV was above its 30-day average for PLAN's May (expiring today), June, and July options, thanks at least in part to next Thursday's (May 27) earnings announcement: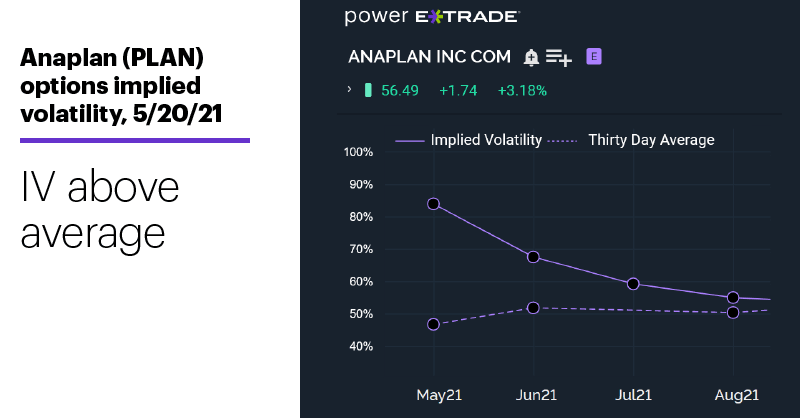 Source: Power E*TRADE
---
That means a bullish trader may have been running the risk of overpaying for call options because higher-than-normal IV was inflating their premiums. Of course, "Options for tech traders" showed how IV often collapses (and options premiums shrink) after an earnings announcement—which is why some traders may choose to buy options after the event. But what if you think the stock could make a significant move between now and then?
Because elevated IV also boosts put options premiums, bullish traders could look into shorting potentially overpriced put options. If the underlying stock does, in fact, rally, this approach would have three things working in its favor:
●Puts typically fall when the underlying rises.
●The possibility of a significant post-earnings IV contraction.
●All options lose value over time, and at an accelerated rate in the final weeks before expiration (time decay).
A long call, by contrast, would benefit only from the first factor (rising stock price) in this type of scenario.
Final note on earnings: Over its past 10 earnings releases, PLAN has moved up or down an average of 10.71% on earnings day, with its smallest move being 2.8% and its largest 24.2%:
Source: Power E*TRADE
---
Another consideration for a bullish short-put strategy is whether the goal is to simply collect premium or to also take possession of the stock. Either approach may be appropriate, depending on the situation, although the latter approach may be better suited to longer-term traders and investors. Either way, though, experienced traders tend to avoid using this strategy in stocks they'd be hesitant to own, since assignment is always a possibility if the stock drops instead of rallies.
In other words, just because it uses puts doesn't mean this approach is less bullish than going long stock or calls.
Market Mover Update: Chip stocks followed through on Wednesday's intraday pivot with a big rally on Thursday. The PHLX Semiconductor Index (SOX) rallied more than 3% intraday, outpacing the Nasdaq 100 (NDX), which in turn outgained the S&P 500 (SPX).
Today's numbers include (all times ET): Existing Home Sales (10 a.m.).
Today's earnings include: Deere (DE), Foot Locker (FL).
Click here to log on to your account or learn more about E*TRADE's trading platforms, or follow the Company on Twitter, @ETRADE, for useful trading and investing insights.
---
What to read next...
05/20/21
The pivot off Wednesday's lows is a pattern with an interesting history.
---
05/19/21
When does a big rally not result in out-of-the-reach call options prices?
---
05/18/21
Will renewed attention on cybersecurity provide a tailwind for this corner of tech?
---