Puts for more, stock for less
ROST reversed yesterday after a 70% rally off March low
Company well-positioned for post-coronavirus world?
Pullback could make traders eye put options
One of the most conspicuous business casualties of the coronavirus lockdown has been retailers, especially those with a heavy brick-and-mortar presence. Many large retail chains have laid off workers, including discount clothing and home furnishings outlet Ross Stores (ROST), which announced it would furlough staff and keep its stores closed until further notice.1
Recently, though, ROST shares have been anything but discounted. After selling off around 55% from February 20 to March 18, the stock rang up a 70% rally when it topped out at $95.97 yesterday: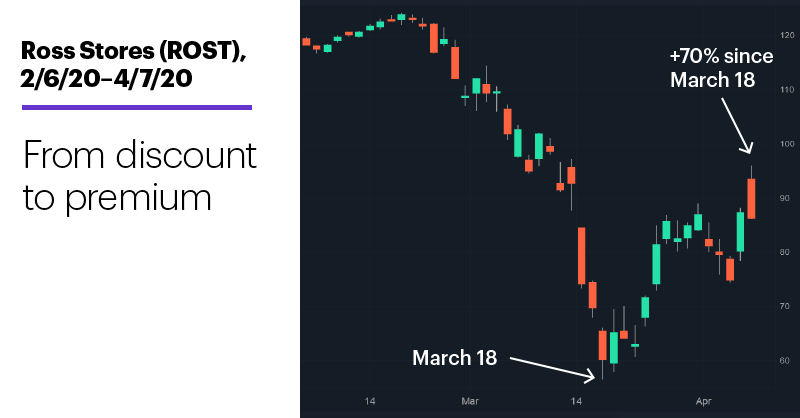 Source: Power E*TRADE
---
ROST, which operates the Ross Dress for Less chain, recently received some notices for being better positioned than many retailers to survive the coronavirus lockdown and thrive when it ends. (Before the pandemic, the stock was up more than 32% year-over-year when it hit its all-time high of $124.16 on February 20.) Wells Fargo, for example, noted ROST's "robust" balance sheet and its "defensive retail characteristics with meaningful outperformance in recovery periods."2
The stock may have gotten a head start on the rally such analysts were looking for, but that doesn't necessarily mean traders looking for long-side opportunities are out of alternatives. First, there's the possibility the stock could retrace some of its recent rally—high-momentum moves are always susceptible to give-backs, especially in the context of a broad market that is just coming off a major shock.
Yesterday's price action showed some evidence of a potential momentum shift: After surging 10.5% higher in early trading, ROST sold off to breakeven on the day by 2 p.m. ET.
A one-day reversal, or the beginning of a move to test last week's low—or even the March 18 low? There's no way to know of course, but some traders may have noticed yesterday that ROST appeared on a LiveAction scan for big one-week increases in options implied volatility (IV):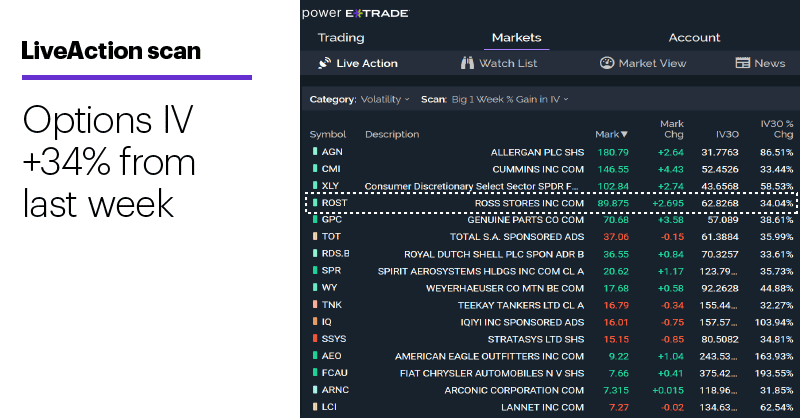 Source (data): Power E*TRADE
---
Because IV is an estimate of future volatility baked into options prices, higher IV usually translates into higher options premiums—which is why many options traders look to sell high-IV options.
This leads to the possibility of a twist on the standard buy-the-stock-on-a-dip scenario: If ROST puts are relatively expensive because of their high IV, some traders may choose to sell put options with the expectation of being assigned shares if the stock drops below their strike price.
For example, a trader who wanted to buy ROST at $70 could sell $70 put options. If the stock drops below that level before the options expire, the trader may be assigned the shares—with the advantage of pocketing the premium collected for selling the puts. The following chart shows ROST May 70 puts were trading around $2.15 yesterday morning: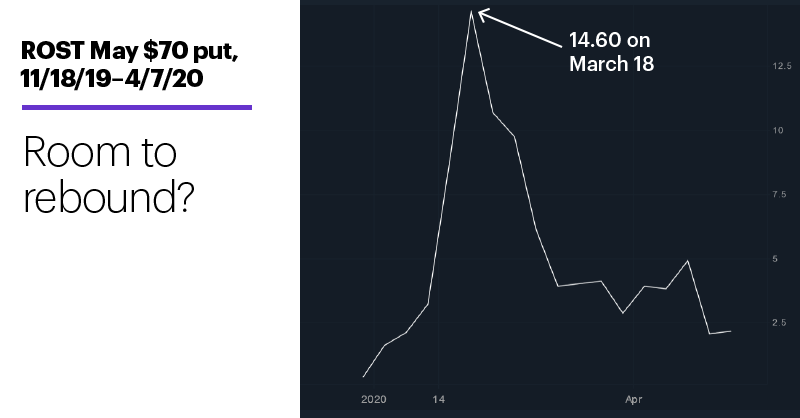 Source: Power E*TRADE
---
The good news for traders looking to go the short-put route is that a pullback in the stock price will likely pump up the put options premiums—the chart above shows the May $70 puts were trading nearly seven times higher on March 18.
For traders who truly want to be long shares (instead of just selling puts hoping they'll expire worthless), the risk is that the stock won't trade below the strike price (or will do so only briefly), in which case assignment won't occur.
But in situations where falling stock prices and high IV could mean puts are tagged at a premium rather than discount, it's a trade-off some may find acceptable.
Market Mover Update: LGI Homes (LGIH) didn't give traders time to catch their breath after Monday's 20% rally—the stock jumped another 16% intraday on Tuesday.
Carnival (CCL) jumped more than 20% intraday yesterday—forming a chart pattern similar to LGIH's—amid news that Saudi Arabia's sovereign wealth fund was scooping up shares of the battered cruise line.3
Yesterday the S&P 500 (SPX) came up just 1.3% shy of erasing half of its February–March sell-off loss—that is, just shy of the 50% retracement level noted in "View from the market trenches."
June gold futures (GCM0) popped to a new contract high of $1,742.60 early Tuesday but reversed to settle below the $1,700 threshold (see "Ground-floor rally").
Today's numbers (all times ET): EIA Petroleum Status Report (10:30 a.m.), FOMC minutes (2 p.m.).
Today's earnings include: Delta Airlines (DAL), PriceSmart (PSMT).
Click here to log on to your account or learn more about E*TRADE's trading platforms, or follow the Company on Twitter, @ETRADE, for useful trading and investing insights.  
---
1 Zacks Equity Research. Ross Stores Furloughs Staff to Prevent Spread of Coronavirus. 4/6/20.
2 Investor's Business Daily. These Retail Stocks Could Be Big Winners Post-Coronavirus: Analyst. 3/30/20.
3 CNBC. Carnival's stock soars after Saudi sovereign wealth fund takes stake in the crippled cruise company. 4/7/20.
What to read next...
04/07/20
Housing stock seeks to build on foundation, while gold regains its shine.
---
04/06/20
Modest losses for US stocks last week despite historic job-loss numbers.
---
04/03/20
Communications tech stock jumps after video chat announcement.
---