Puts in play
Huazhu Group (HTHT) owns and operates thousands of hotels in China
Shares retreated in recent days amid Beijing virus outbreak
Puts outnumbered calls nearly 80-to-1 yesterday
When a stock's put options volume is more than 12 times average, it's worth looking under the hood to see what's going on.
That was the case yesterday with Chinese hotel operator Huazhu Group (HTHT), which owns more than 5,900 properties, mostly in mainland China. A LiveAction scan yesterday morning showed a little more than 79 HTHT puts had changed hands for every call:
Source: Power E*TRADE
---
Around noon ET, more than 12,000 puts had traded, compared to a daily average of 950.
Although it's always difficult to know what any particular options trade represents—an outright bet on a stock's direction, a hedge, part of a non-directional spread designed to profit from shifting volatility—in this case there were some reasons market watchers may have thought the put trades represented an uptick in bearish sentiment. The majority of yesterday's volume—nearly 10,000 contracts—was in the July $30 puts: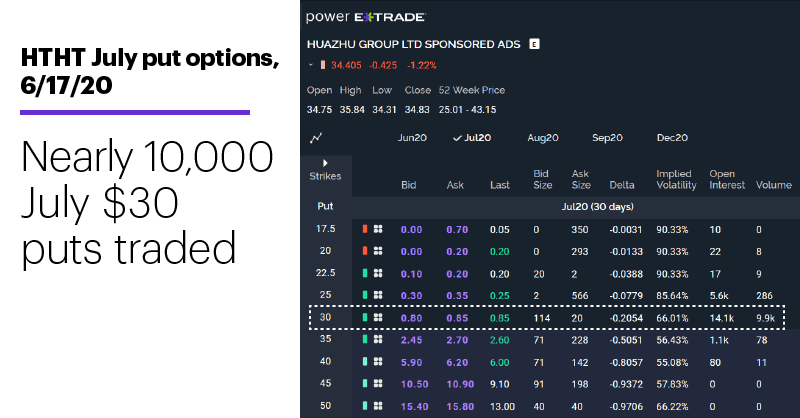 Source: Power E*TRADE
---
The next-biggest chunk of volume was in the July $25 calls, and these two contracts were also responsible for the bulk of HTHT's open interest (unclosed positions). With the stock trading a little above $34 at midday, it would have been reasonable to suspect that at least some traders were taking bearish positions on the stock, since $30 and $25 puts would have value at expiration only if the stock fell below these levels.
Also it's not much of a stretch to say that such an outlook could have been fueled by news about the coronavirus outbreak in Beijing, which has stoked fears of a second wave of the pandemic in China. Judging by what happened during the February-March sell-off, travel-related stocks could be punished disproportionally if those fears become reality.
The price chart below shows HTHT was pulling back even before the Beijing virus cases were reported—as of yesterday, shares were off around 12% from their early-June high. And after a spectacular downside reversal on Tuesday (the day the outbreak story appeared), the stock attempted to rally yesterday, only to retreat and make a fresh intraday low: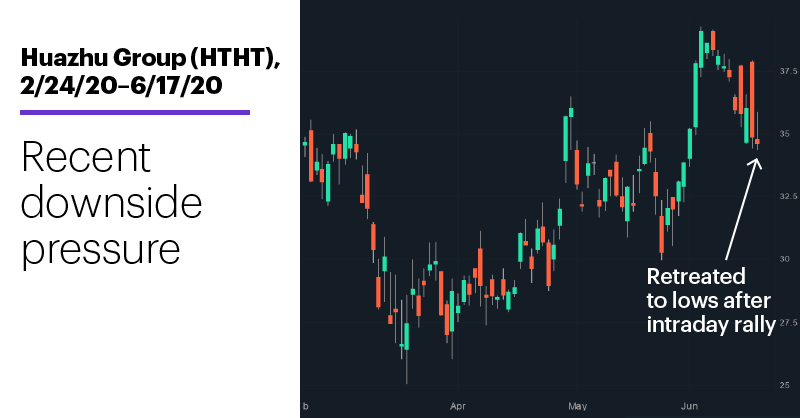 Source: Power E*TRADE
---
It's certainly logical to expect a serious second wave in China to weigh on Chinese hospitality stocks, but it's unknown whether the Beijing outbreak, which is currently estimated to have affected around 100 people (who have reportedly been quarantined),1 is an isolated event or the beginning of a bigger problem.
But the uncertainty could keep HTHT, and its options, in play in the near future.
Final note: Huazhu is currently scheduled to release earnings on Wednesday, June 24.
Market Mover Update: Many basic materials and construction stocks retreated yesterday after Tuesday's huge gains, amid reports that the White House's infrastructure-spending plan faces opposition from Senate Republicans2 (see "Infrastructure story becomes material issue").
Today's numbers (all times ET): Jobless Claims (8:30 a.m.), Leading Indicators (10 a.m.)..
Today's earnings include: Smith & Wesson (SWBI), Kroger (KR).
Click here to log on to your account or learn more about E*TRADE's trading platforms, or follow the Company on Twitter, @ETRADE, for useful trading and investing insights.  
---
1 Forbes. How Bad Is China's 'Second Wave' Coronavirus. 6/17/20.
2 The Hill. Trump's push for major infrastructure bill faces GOP opposition. 6/17/20.
What to read next...
06/17/20
Yesterday's market action showed the potential for certain stocks to move if infrastructure spending moves from proposal to reality.
---
06/16/20
Options action heats up amid stock's sharp turnaround from recent pullback.
---
06/15/20
Stocks experience first real pullback in a month, tested by second-wave concerns, Fed outlook.
---