Going long with puts
Shorting puts can be a viable way to buy a stock
Put premiums typically soar during sharp market sell-offs
Traders can collect premium while establishing long position
While the coronavirus may have rewritten the book on how the stock market reacts to health scares, one thing hasn't changed—put options get an extra boost during market meltdowns. That may open doors for cool–headed traders looking to take long positions in their favorite stocks.
Traders (and investors) who have been—wisely—hesitant to chase certain high-flying stocks may now be looking for opportunities to buy names that have offered nary a buyable dip for months. And traders who know their way around options may use puts to get into those positions, because the recent sell-off pumped up put options premiums as panicky investors sought protection against further downside.
The approach: A trader who wants to buy a stock at a specific price below the current market level could, instead of simply entering a limit order for the shares, sell put options with a strike price at the chosen buy level.
For example, take a look at Microsoft (MSFT), which gained 55% last year and rallied nearly 40% just between October 22 and February 11. At its lowest point on Friday, the stock had fallen 17.6% in just six days (February 20–28):
Source: Power E*TRADE
---
Let's say you expected MSFT to drop again—say, to $140, which is a little below the 50% retracement level of the stock's December 2018–February 2019 rally (the 61.8% Fib retracement of that uptrend is around $131). If you wanted to own MSFT at $140, no questions asked, you could short $140 put options—in which case you would likely be assigned the stock if prices dropped much below $140 by expiration, since many put holders would exercise their option to sell their shares.
But by shorting the puts, you collect money you wouldn't have seen if you simply bought the stock outright. (Another way of looking at it is that by selling puts, you lower your stock purchase price for the stock.)
The "risk," of course, is that the stock never reaches your buy level, in which case the only thing you have to show for your effort is the money you made from selling the puts. But again, that's money you wouldn't have seen if you had just entered a limit order to buy the stock.
The following chart gives a good idea of how much steep sell-offs can inflate put premiums. From February 20–28, the MSFT April $140 put skyrocketed from $0.28 to as high as $5.02—a nearly 1,700% increase: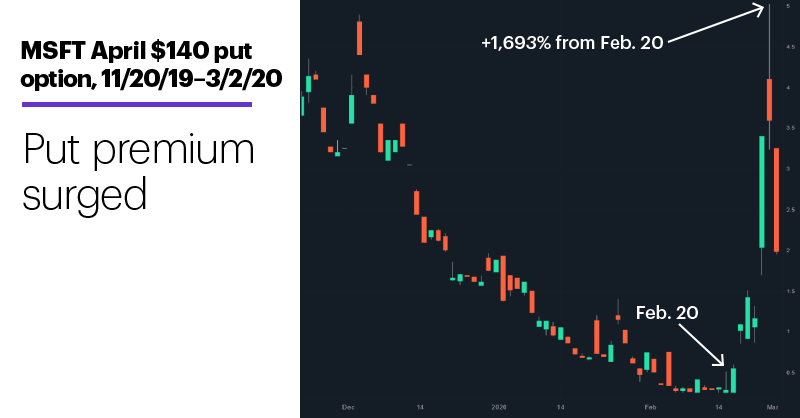 Source: Power E*TRADE
---
When the market rebounded strongly yesterday, of course, put premiums came back down to earth, although around 2 p.m. ET, MSFT's April $140s were still trading around $1.92—roughly 600% above their February 20 level.
And that's why some traders may be waiting for a possible test of last week's lows to roll out this type of strategy. As noted in "Navigating the volatility," sell-offs like last week's can be one-and-done events where prices rebound almost as quickly as they fall—never to look back—but history shows the market tends to test dramatic lows, or at least pull back sharply after an initial rebound.
In other words savvy traders who want to short puts as a way to go long their targeted stocks may want to do it when put premiums are getting inflated, not deflated.
Today's numbers (all times ET): Eurozone Unemployment Rate (5 a.m.), Motor Vehicle Sales.
Today's earnings include: Kohls (KSS), Hewlett Packard Enterprise (HPE), Target (TGT), Ross Stores (ROST), Urban Outfitters (URBN), Nordstrom (JWN)
Click here to log on to your account or learn more about E*TRADE's trading platforms, or follow the Company on Twitter, @ETRADE, for useful trading and investing insights.  
---
What to read next...
03/02/20
Stocks sink, Treasuries soar, yields plunge as coronavirus spread tips market into correction.
---