Pullback pumps up puts
Thursday was stock market's biggest down day in nearly three months
Put options premiums soared
Shorting puts can provide an edge for bullish stock traders
The market's worst day since March 16 may have been a bummer for bulls, but options traders know there's one thing that usually goes up when stock prices go down: implied volatility.
That means options premiums tend to get a boost, especially put options. That was certainly the case for many stocks yesterday. And just like in March, that can make selling puts a viable long-side alternative for stock traders.
The logic: If you want to buy a stock at price x (which is below the current market price), you could sell a put option with a strike price at that level and collect the premium—which is yours to keep, no matter what happens. If the stock drops below your strike price before expiration, you could be assigned the shares at your chosen entry level; if it doesn't, you'll still have the premium in your account.
For example, take a look at the following chart of Motorola Solutions (MSI), which was down more than 6% yesterday morning (and had an elevated put-call ratio), part of a 13% pullback from Monday's high of $159.76: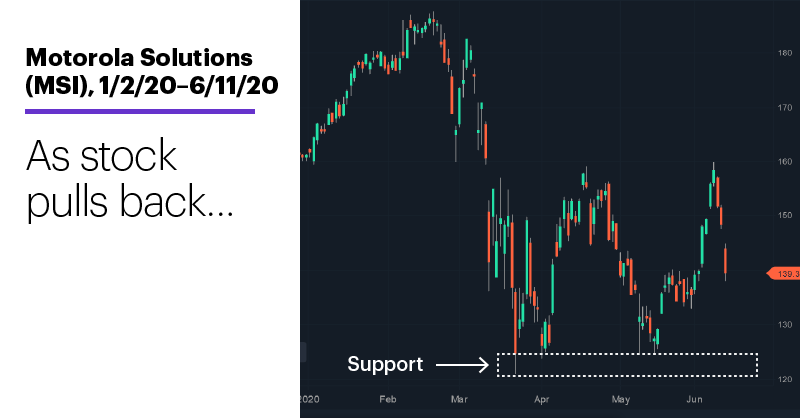 Source: Power E*TRADE
---
The chart also shows the stock has a well-defined support zone (roughly $120.75–$124.50) that has been the staging ground for three 20%-plus rallies since March. An MSI bull who expected support to hold again and was willing to own the stock at these levels could, instead of entering a limit order to buy the shares, sell $125 or $120 puts (two strike prices that are nearest to the support zone's top and bottom).
The chart below, for example, shows the MSI July $125 put was trading around 1.94 ($194 per contract) yesterday morning—well below the 7.95 it hit on May 14 (the last time the stock tested the support level), but nearly twice as high as it had been two days earlier: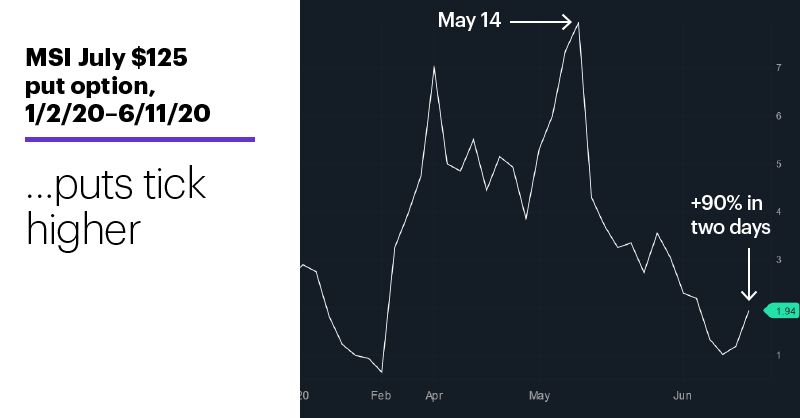 Source: Power E*TRADE
---
By selling the July $125 puts, you would have collected $194 per option, which would effectively lower your entry price for the stock to nearly $123, in the event the stock continued to fall and you were assigned the shares. (In this case, by the way, although 1.94 was the last trade price at the time, the bid-offer for the July $125 put was 2.63–2.84 around 1 p.m. ET, so you would have likely collected much more than 1.94.)
Of course, a deeper near-term stock sell-off would likely jack up put prices even more, which means traders who are willing to accept the possibility of an immediate rebound in their stock (which would deflate put prices) could choose to wait for the chance to sell options with even fatter premiums.
Market Mover Update: Crude oil's 9% sell-off yesterday took energy stocks along with it, as Royal Dutch Shell (RDS.A) and others took comparable hits (see "Energy throttles back").
Today's numbers (all times ET): Import and Export Prices (8:30 a.m.), Consumer Sentiment (10 a.m.).
Today's earnings include: AG Mortgage Investment Trust (MITT), Bitauto (BITA).
Click here to log on to your account or learn more about E*TRADE's trading platforms, or follow the Company on Twitter, @ETRADE, for useful trading and investing insights.  
---
What to read next...
06/11/20
Crude oil paused this week after hitting a three-month high as oversupply worries flared up again.
---
06/10/20
Some new stock listings have skyrocketed in recent days. Just a case of temporarily bottled-up demand, or a new market catalyst?
---
06/09/20
Semiconductor component stock slips from highs. A larger market forces aligning as stock nears potential test level?
---