Pullback possibilities
CDLX in pullback after 10-month, 400% rally
Stock participating in small-cap, financial trends?
Recent technical milestones may provide guideposts for traders
Cardlytics' (CDLX) 8%-plus sell-off early Thursday may not have been the day's biggest down move—even after it grew to 10%—but it stood out on the LiveAction scan for biggest percentage decliners for a couple of reasons: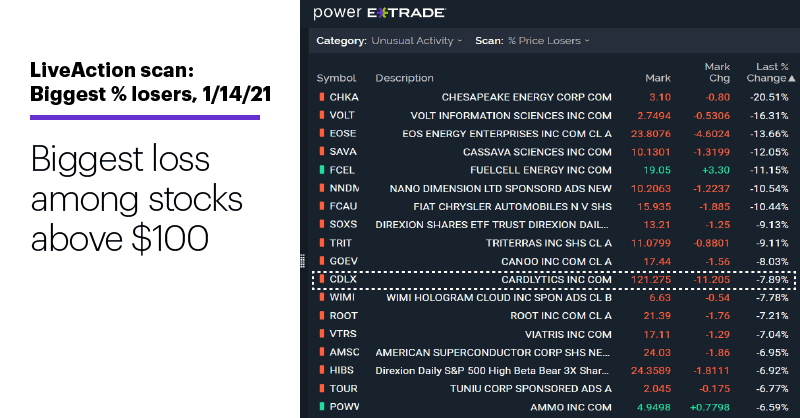 Source: Power E*TRADE
---
First, it was the biggest loss for a stock trading above the $100 threshold, and second, it was part of CDLX's biggest four-day sell-off (-19% at Thursday's low) since last June. Nonetheless, the stock is still up more than 120% from the last time it landed on our radar in early March 2020, and up more than 330% from last year's COVID-panic lows.
Cardlytics has established itself as a player in the marketing analytics/credit card space, providing the tech that targets consumers with specialized marketing and deals based on their credit and debit card activity. But after the stock soared to new record highs around $150 in December—perhaps participating in the overall small-cap surge, as well as a renewed strength in financials—it began to attract some "overheated" notices from analysts,1 including a downgrade yesterday. (That can happen when you overshoot 12-month Street price targets by roughly 60%.2)
Yesterday's move dropped the stock back into the short-term consolidation it broke out of in late December: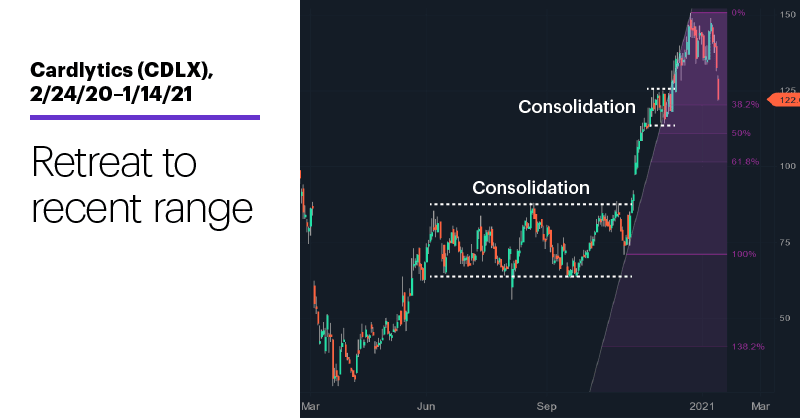 Source: Power E*TRADE
---
Traders operating on the assumption that this type of downturn is more likely to represent an interruption rather than an end of a stock's longer-term uptrend often look for prices to reverse, or at least bounce, around significant technical levels, which in this case could include several of the points on this chart, including:
1. The consolidation the stock entered yesterday, which also contains the 38.2% Fibonacci retracement level of the October–December rally. (The 50% retracement level is just below the bottom of the consolidation.)
2. The larger June–October consolidation. (Although it's not shown here, a 100% retracement of the October–December rally would also roughly coincide with a 61.8% retracement of the larger March–December rally.)
While that may seem like a wide window of potential price action, trading requires flexibility, and the ability to plan for more than one near-term outcome.
Market holiday reminder: US stock exchanges will be closed on Monday to observe Martin Luther King, Jr. Day. Most US futures contracts will trade limited hours.
Market Mover Update: Aerospace and defense names were among yesterday's market leaders—Lockheed Martin (LMT) and Northrop Grumman (NOC) both jumped more than 2.5% intraday (see "Offense, defense, and aerospace"). Taiwan Semiconductor (TSM) soared 13% intraday after topping earnings estimates (see "A chip off the old momentum block").
Today's numbers (all times ET): Producer Price Index, PPI (8:30 a.m.), Retail Sales (8:30 a.m.), Empire State Manufacturing Index (8:30 a.m.), Industrial Production (9:15 a.m.), Business Inventories (10 a.m.), Consumer Sentiment (10 a.m.).
Today's earnings include: Citigroup (C), JPMorgan Chase (JPM), Wells Fargo (WFC), PNC Financial Services (PNC).
Click here to log on to your account or learn more about E*TRADE's trading platforms, or follow the Company on Twitter, @ETRADE, for useful trading and investing insights.  
---
1 MarketBeat. Cardlytics (NASDAQ:CDLX) Cut to "Sell" at Zacks Investment Research. 12/22/20.
2 TipRanks. Cardlytics Stock Forecast & Price Targets. 1/14/21.
What to read next...
01/14/21
Are some "low-flying" aerospace and defense stocks attracting contrarian traders?
---
01/13/21
Breakout watch: Options positions pile up as stock's consolidation pattern tightens.
---
01/12/21
Some gene-editing stocks have recently cooled after red-hot rallies in 2020. Find out which levels traders may be watching.
---